Polish-Czech Forum 2022 – "What connects us, what separates us? Polish-Czech relations."
The project "What unites us, what separates us?" Polish-Czech relations. ", Assumes the initiation by the non-governmental sector of a public debate on Polish-Czech relations and their impact on the Polish and Czech state and society, as well as the importance of Poland and the Czech Republic in the world and their place in shaping the situation on the international arena.
The main goal of the task is to conduct a series of four online informational and educational events aimed at initiating a public debate on geopolitics, including the foreign policy of the Republic of Poland and its allies, as well as international security, energy, defense, disinformation, civic affairs, culture and other important issues of public interest. In addition, each event will be summarized by an expert article that will summarize and draw conclusions from the issues raised during the debates. The last point of the project will be the preparation of a special report, which will include the topics discussed, but also present the perspective of the development of bilateral relations.
The Warsaw Institute Foundation acts as a think tank that strengthens Poland's position in the area of ​​"soft power" in the international arena and effectively disseminates the Polish point of view on a global and regional scale, as well as introduces topics related to geopolitics to Polish society.
The project consists of three main parts:
1. Information and education events
2. Expert articles
3. Special report
The project is open to the general public in order to build and increase civic awareness. All the results of this task will be available free of charge in the public domain and made available for further use for information and education purposes.
The task is financed by the Ministry of Foreign Affairs of Poland in the total amount of 60 700 PLN (total amount of the task 60 700 PLN).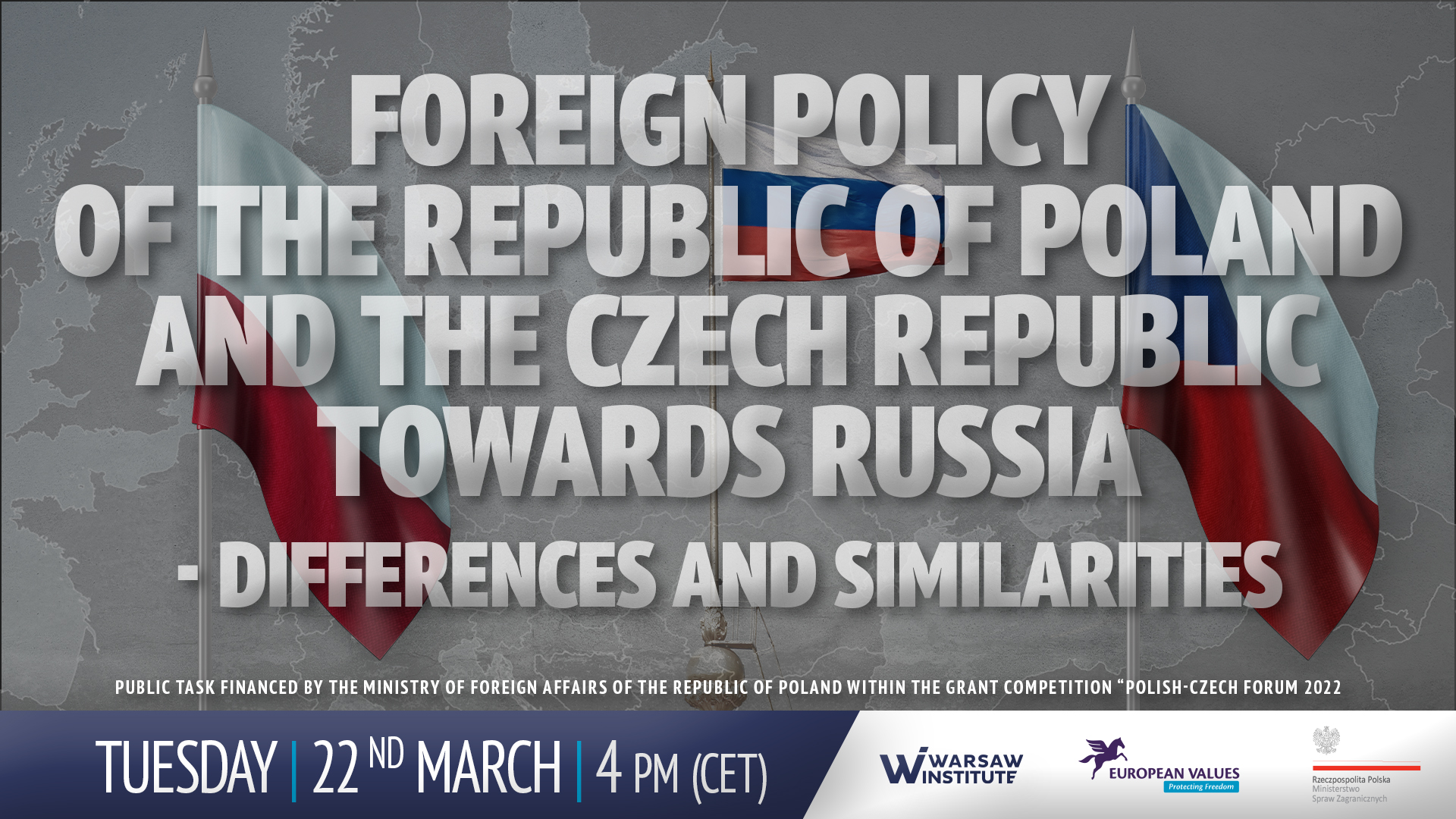 Before discussing the Polish and Czech foreign policy toward the Russian invasion of Ukraine, it is vital to stress the importance of bilateral ties between the governments in Warsaw and Prague. There are plenty of paradoxes in Polish-Czech relations––some polls find that both nations tend to like one another and are strategic economic partners. On the other hand, though, the authorities in Poland and the Czech Republic are unable to elevate their relations to the strategic level. No political circle in Poland and the Czech Republic is interested in forging long-lasting cooperation and strengthening relations, which was particularly noticeable in an unneeded dispute over the Turów open-pit coal mine.
The project is financed from the state budget as part of the grant by the Minister of Foreign Affairs of the Republic of Poland "Polish-Czech Forum 2022"