Date: 8 July 2022 Author: Jan Hernik
Polish-Czech cultural cooperation
The speakers who took part in this event were: Liliana Śmiech, the Vice President of Warsaw Institute; Sylvie Vujtkowa, theatre dramaturge and PR manager, producer and Jan Hernik, editor-in-chief at the Warsaw Institute. The main topic of the program was Polish – Czech cultural cooperation. Poland and Czechia are neighbors that share common values and Slavic roots. The main goal of the event was to show the similarities as well as differences in stereotypes of the Polish and Czechs. The speakers illustrated how this cooperation looks like and how would it be possibly shaped in the future.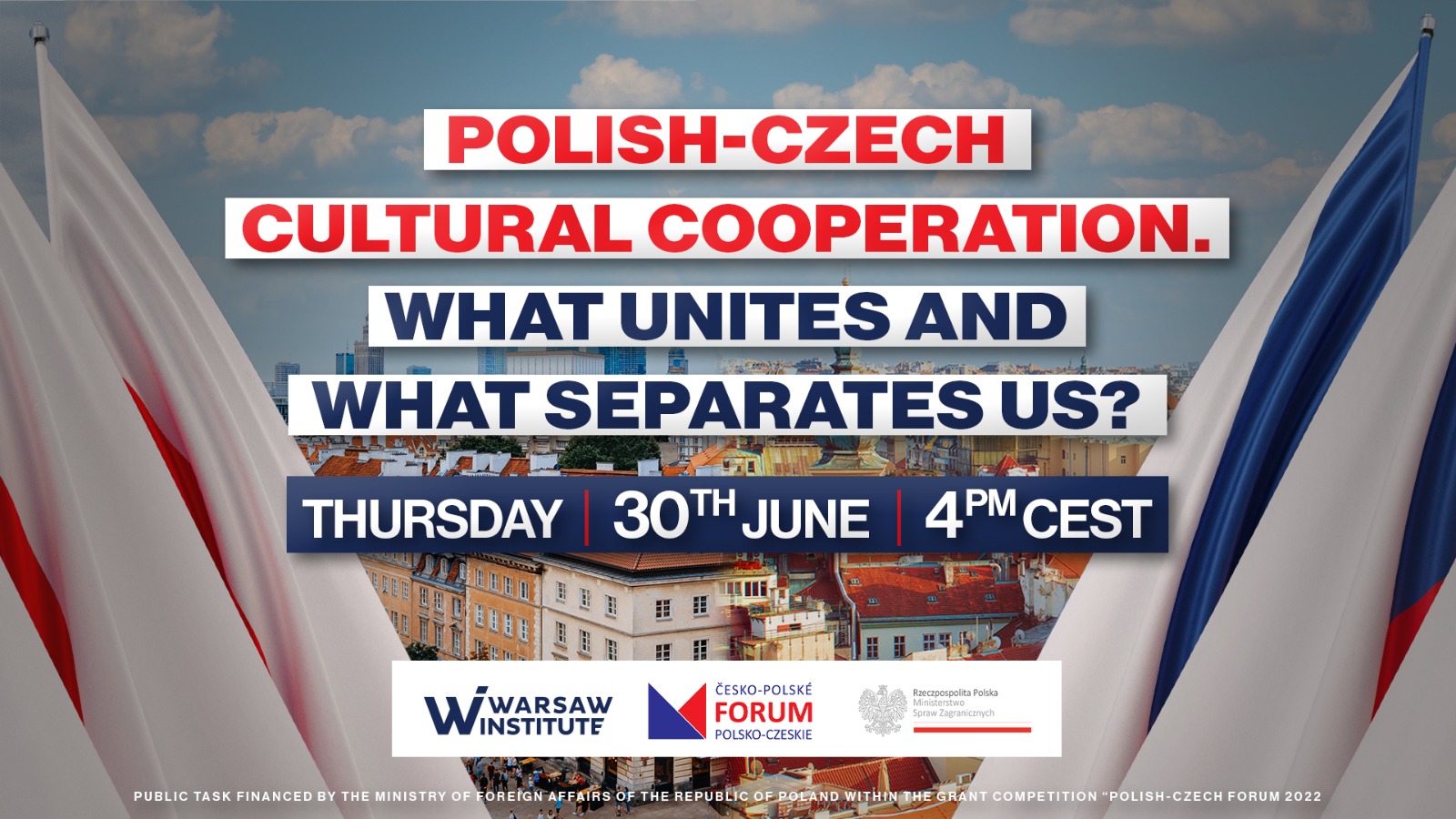 Sylvie Vujtkowa pointed out that there are similarities between Polish and Czech culture, and the people who live across the Polish-Czech border have many in common. In her view, there is sometimes a problem to differ a Pole or a Czech person. She mentioned that Poland is much bigger than the Czech Republic. Looking from a historical point of view, she stated that the Poles fight no matter what the price is, and the Czechs want to live peacefully. Based on the history, connected with Habsburg dynasty, Czechia lost its gentle in 17th century so the Czech literature and art, is strongly influenced by peasant culture. Modern Czech female writers talk in their books about the region of Polish-Czech border, and about the ethnic diversity. The books are translated to Polish, so the main idea is to increase the sense of community in Polish-Czech region. The reception of culture in the Czech Republic is poor, and Czechs can learn from Poland in this field.
Jan Hernik pointed out that the best Polish-Czech cooperation is student exchange, especially Erasmus program. Warsaw Institute has partnership cooperation with many international organizations. This is one of the ways by which relations between Poland and the Czech Republic could be tightened.
The differences on the political field between Poland and Czechia could have been problematic, but the Russian-Ukrainian conflict strengthened countries' cooperation in the field of common safety in the region. The Two biggest Polish and Czechia cities, Warsaw and Prague, have capabilities to be the bridge between Polish and Czech partnership in diplomacy and culture. The places can cooperate in the field of student exchange and international character of both places.
The joint conclusion of both experts is the vision of Polish-Czech cooperation and building political and cultural relations based on common values and heritage.
Support Us
If content prepared by Warsaw Institute team is useful for you, please support our actions. Donations from private persons are necessary for the continuation of our mission.
All texts published by the Warsaw Institute Foundation may be disseminated on the condition that their origin is credited. Images may not be used without permission.