Russia's German Advocate
Gerhard Schroeder will take another important post at the top of Russian energy sector. And this is not just a reward for Schroeder's unswerving loyalty to Vladimir Putin's regime. The nomination of former German chancellor, who is still quite influential on German left, to Rosneft's board has its important political context. Firstly, the nomination fits well with Moscow's policy towards the coming elections in Germany (September 2017). Secondly, this is a response to the new sanctions imposed by the US and the resulting fierce controversy between some EU countries, led by Germany and Austria, and the United States and their allies in Central Europe, first of all Poland.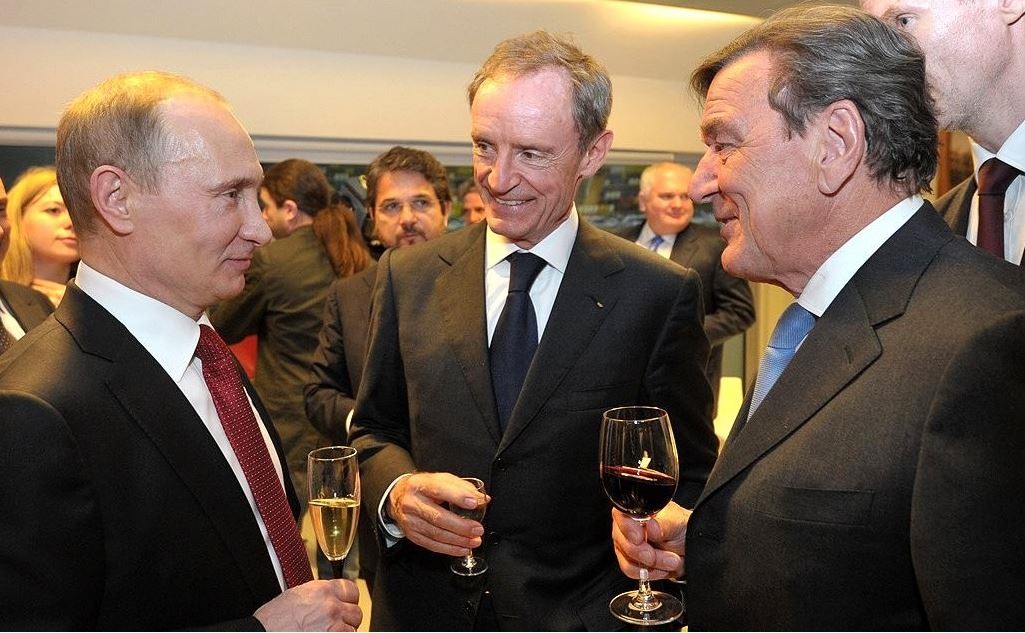 © kremlin.ru
Schroeder, next to Matthias Warnig, is the most loyal German supporter, or rather the executor, of Russian energy policy. As German chancellor, he facilitated the construction of an under-the-sea gas pipeline, running directly from Russia to Germany. Soon after he was voted out of office, he accepted managerial positions in entities constructing and managing the Nord Stream. Currently Schroeder is the chairman of shareholders' consortium of the Nord Stream company that is to build its second gas pipeline. By decision of Russian government (decree of Prime Minister Dmitri Medvedev), Gerhard Schroeder has been put up as a candidate for the post of independent director of the biggest Russian oil company Rosneft. He will sit on the board next to another German who is already in office – a former Stasi intelligence officer Matthias Warnig. Warnig has for many years been a key business collaborator of Vladimir Putin. The chief of Rosneft, a company which built its current strength based on the assets seized from Yukos, is Igor Sechin. Today Sechin may be considered as person number 2 in Russia, taking into account his influence in politics, business and security apparatus as well as his personal relationship with Putin. Rosneft is one of the companies on which the UE and the USA imposed sanctions back in 2014. It also has considerable gas businesses and investments in Germany (refineries on the Baltic Sea).
Releasing the information about Schroeder's candidacy to Rosneft's authorities should be considered in three aspects: business, political and international. Employing a politician who is still well known may be a signal that Rosneft and its highly ambitious chief are going to be active on the German market. Also it cannot be excluded that the company will take steps to activate its gas segment. The second important aspect are recent sanctions imposed by the US on Russia, and first of all those that may badly hit Russian export energy projects. Schroeder's nomination is, on one hand, to show western investors that Moscow, despite new circumstances, has not changed its plans regarding Nord Stream 2, and on the other hand, it is to fuel the dispute between Germany and the USA over the issue. The election campaign in Germany contributes to the escalation of this dispute (to Putin's delight). The SPD chancellor candidate, Martin Schultz, displays a decisively anti-US attitude, and says that his model is Schroeder who opposed Germany's joining the US intervention in Iraq 15 years ago. Social democrats are strongly pro-Russian and their chairman Sigmar Gabriel is a frequent visitor to Moscow. Recently Schroeder has become active in the party ranks. At the SPD conference last June delegates greeted him with enthusiastic applause. In his address, the former chancellor focused on attacking the USA, called for improvement of relations with Russia, and appealed to the Germans not to give in to the the US "ultimatum" to increase defense spending to 2% of GDP.
Public opinion polls, however, clearly suggest failure of SDP in confrontation with its current CDU coalitionist in the elections to be held on 24 September. Maybe it has been assumed that the only way to improve ratings would be even more radical anti-Americanism. Bringing Schroeder into play by Kremlin fosters such sentiments. This will have adverse effects for the transatlantic relations; in Germany it will result in a moderately pro-Russian government with the participation of CDU/CSU and a radically pro-Russian opposition, with central role played by SPD. Both the government and the opposition will strive to undermine the project of importing large quantities of US LNG to our part of Europe, to weaken the US allies while strengthening the Russian partners, first of all Gazprom. This may result in an even more anti-Polish course in Berlin after the elections.
All texts published by the Warsaw Institute Foundation may be disseminated on the condition that their origin is credited. Images may not be used without permission.