Russian Mercenaries in Syria
It has been known for a long time that Bashar al-Assad has huge problems in replenishing losses in his troops. The government forces are too lean to conduct large offensive operations in various Syrian regions and guard already captured terrain at the same time.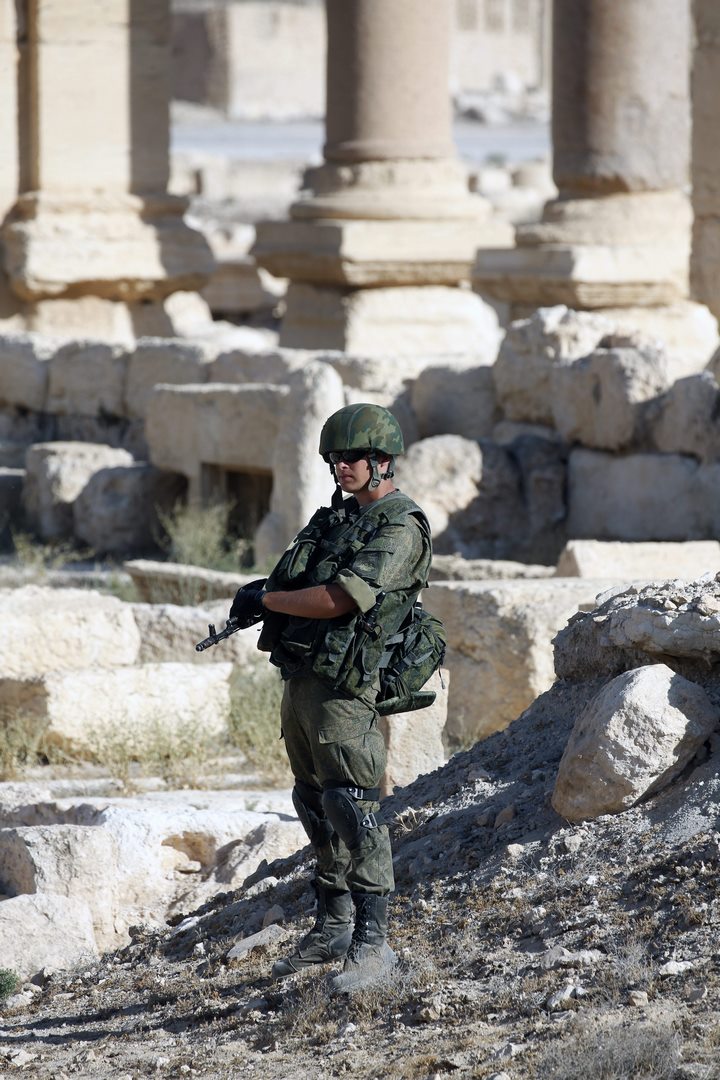 © SERGEI CHIRIKOV PAP_EPA
Were it not for the presence of thousands of Hezbollah fighters and other Shia militias, as well as hundreds of Russian and Iranian military personnel (not to mention military equipment and aerial support), Assad would have already lost this war, or at least control only a fraction of what he does now. At least 10,000 fighters and soldiers from Russia and the former Soviet Union are involved in the war in Syria. They are not only volunteers who joined the Islamic State and various rebel groups but also regular troops and units deployed to Syria by Ramzan Kadyrov.
Officially, Russia's war operation in Syria has ended but significant regular army forces remain in the country (with Tartus and Khmeimim as main bases). Above all, participation of mostly irregular Russian forces in the war is on the rise. More and more reports of mercenaries from Russia and other post-Soviet countries emerge. They are referred to as "USSR Spetsnaz", with most members coming from Central Asia and the Caucasus. They call themselves Turan, have their own uniforms, and are reported to be about one thousand men strong, according to the Russian Spring portal, launched following the annexation of Crimea. Unlike the Russian mercenaries who were previously fighting on the regime side in Syria, Turan operates within the structures of the government army and takes part in regular battles. Both Damascus and Moscow find their presence hard to deny. Their presence means that the Russian presence in Syria will continue for much longer than it appears, it will not end with withdrawal of all official units and advisers.
Turan is not the first unit of mercenaries from Russia to fight in Syria on Assad's side. First, there was the Slavic Corps organised in the autumn of 2013 by two managers from the international Moran Security Group which specialises in providing armed vessel protection against pirates. In October 2013, following the training in Latakia, two companies of over 250 mercenaries set out east. Their mission was to shield oil fields of strategic importance. However, on their way, they had to fight a hard battle with jihadists from the Islamic State and the Slavic Corps suffered heavy losses, which effectively ended the project. The following year, one of Moran Security Group and Slavic Corps veterans, former commander of a GRU Spetsnaz unit, lieutenant-colonel in the reserves, Dmitry Utkin aka Wagner, formed a company of mercenaries known today as Company Wagner. Its members took part in the annexation of Crimea and fought in the Donbass. Wagner's men were used to remove some warlords, including Alexey Mozgovoy and Pavel Dremov, who were inconvenient for the "official" authorities of the Luhansk People's Republic. Wagner's unit returned to Russia in the autumn of 2015 when Putin decided to embark on a military expedition to Syria. This is where most soldiers from the Russian Private Military Company Wagner ended up – perhaps even more than 2,000 men.
All texts (except images) published by the Warsaw Institute Foundation may be disseminated on condition that their origin is stated.