THE WARSAW INSTITUTE REVIEW
Date: 7 March 2017    Author: Tomasz Kijewski
Polish Eagles in Canada – an Energetic Alliance
Did you know that almost every passenger aircraft in the world is equipped with at least one part manufactured in Poland? Did you know that this 1000-year-old country on the Vistula River is a full member of NATO, the European Union and has been strengthening its economic position, even during the global financial crisis?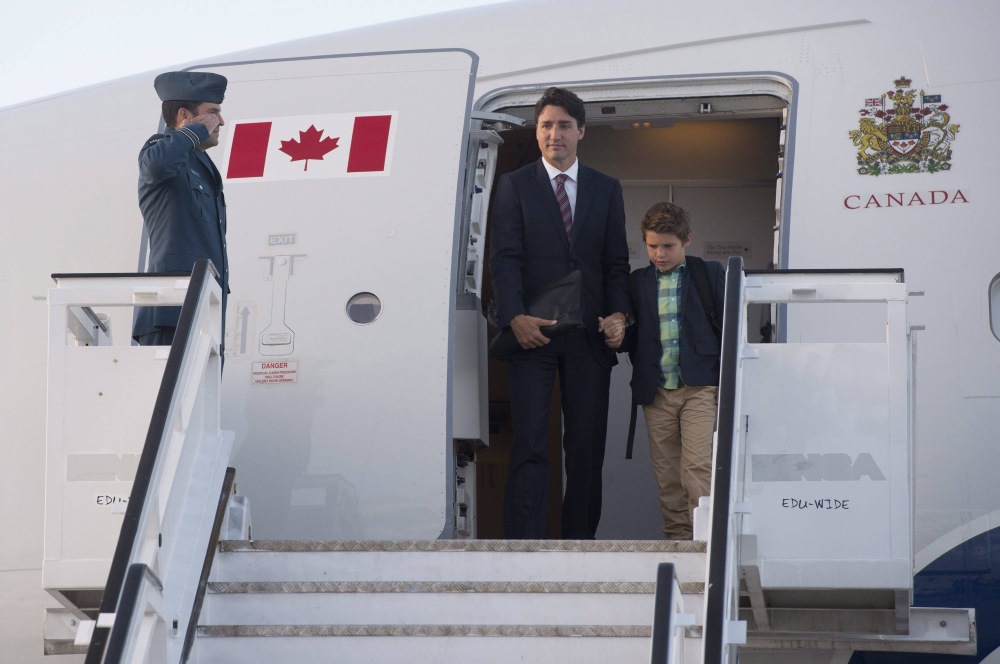 © Adrian Wyld/Abaca (PAP)
Poland is one of the most dynamic economies in Central and Eastern Europe with almost 4% annual GDP growth and is the top trade partner with Canada in the region. It supplies high-tech, innovative, and high quality products to Canada and other demanding markets – to Germany, Great Britain, France and the United States. The success of Poland in this regard is becoming acknowledged more and more, but a lot needs to be done in this respect. Meanwhile, it seems that it can be profitable to do business with Poland – especially in the context of the planned Comprehensive Economic and Trade Agreement (CETA) free trade agreement.
Polish investments contribute to regional development in Canada
Poland not only trades with, but invests in job creation in Canada. Just in the past five years, Polish companies (oil giant Orlen and the main producer of copper and silver KGHM, among others) have invested over $3.6 billion in Canada. Canadian companies operating in Poland include giants such as Pratt & Whitney Canada (United Technologies), Bombardier Transportation, and the construction potentate SNC-Lavalin. Other companies – often small and mid-sized founded by entrepreneurs with Polish roots (like the leader in the gas nitriding and gas nitrocarburizing solutions NITREX METAL) – join the majors. The planned implementation of the EU-Canada CETA may additionally boost bilateral investments and trade.
Why do business with Poland?
Canada and Poland are tied by NATO and Canada's economic involvement with the European Union which opens up many fresh economic opportunities (i.e. free trade agreement CETA). Companies from both countries are active supporters of international space exploration efforts (Canada is a partner country in the European Space Agency). Poland's Space Research Centre, for instance, participated in the construction of astrophysical instruments for the HERSCHEL mission – the largest infrared telescope ever launched with the support of NASA.
Poland is currently one of the most stable nations and fastest-growing economies in the European Union. It is a leading producer of silver in the world and a top-10 producer of copper globally. It also possesses a recently built, high-tech liquefied natural gas (LNG) terminal. Over 2000 Polish companies sell to Canada and not just traditional export products such as natural food, chocolate, cosmetics, alcohol, appliances, windows, doors and furniture, but also advanced components for leading global aircraft manufacturers, gas turbines, luxury boats, yachts and ferries propelled by low-carbon natural gas (LNG).
Digital-age champions
The success of Poland's IT and e-entertainment industry proves the innovative potential of the country. Comarch, a Polish global powerhouse specializing in ERP (enterprise resource planning) business management systems and information security, has supplied advanced IT services and software to Rogers, British Petroleum, Coca-Cola, Unilever and many other top-notch clients.
Meanwhile, CD Projekt RED, Poland's number one computer and console game producer (total worth exceeds one billion dollars), sold over 25 million copies worldwide of the role-playing series "The Witcher". The product, considered a resounding success both commercially and critically, was even presented to the U.S. President. Another Polish video game developer, Techland has invested in Canada and has a team of programmers near Vancouver. One of their products (Dying Light) debuted at number one in the U.S. software sales chart (outselling famous competitors such as Grand Theft Auto V and Call of Duty: Advanced Warfare).
Parts "Made in Poland" in almost every passenger aircraft in the world? Yes!
Cyclone Manufacturing is another good example demonstrating successful Polish-Canadian cooperation. Present on the Canadian market for over 50 years, Cyclone produces metal parts for aircraft manufacturing giants all over the world such as Lockheed Martin, Saab, Embraer, Bombardier, Airbus and Boeing. It is a private company employing close to 600 highly skilled and trained workers in five modern factories in Canada and Poland. In 2016, Cyclone opened its first factory in Poland. Thanks to the factory in Kraśnik, over the next four years the region will gain investments worth nearly 15 million CAD and at least 100 new jobs in the innovative aircraft sector.
Polish apples in Canada
Another interesting example of a Polish success story in North America was the opening of the Canadian market for Polish apples in 2014. A Russian embargo left Poland, the leading EU producer of apples, with the enormous challenge of finding new markets for exporting its apples. Among them was The Land of the Maple Leaf. In 2016, a single company, Ewa Bis exported 400 tons of apples to Canada – a 10-fold increase in comparison to 2015. Ewa-Bis Group was founded in 1987 in Warsaw and sells fresh and frozen vegetables and fruits to the EU, Africa and Asia (including organic products). The planned introduction of CETA, according to the founder and chairman Marek Marzec, will almost certainly increase its presence in Canada.
Gems of the Polish shipbuilding industry
One of Poland's calling cards in Canada is the shipyard Remontowa Shipbuilding (Remontowa Holding S.A.). The company is one of the largest producers of ships propelled by LNG in the world, and a pioneer in producing such ships in Europe. It specializes in the construction of multi-purpose ships designed to support the offshore industry. In 2014 the shipyard won the bid for the construction of three new ferries for British Columbia, and last year it got a contract for installing LNG propulsion systems worth nearly of 150 million CAD. Meanwhile, in 2016 the company delivered to Canada the "Avalon Sea" – a ship supporting ExxonMobil offshore drilling platforms "Hibernia" and "Hebron" in Newfoundland and Labrador.
How CETA can benefit Canadian and European companies
Removing 99% of the duties (taxes) will be the most visible effect of the CETA which is planned to be implemented this year (provisionally). CETA – the first EU trade agreement with a G7 country – will benefit Canadian and European companies, allow for the mutual recognition of some qualifications and create predictable conditions for both EU and Canadian investors. By boosting trade, CETA will create jobs and enhance economic growth.
An energetic partnership between allies – LNG?
Canada and the U.S. are the only members of the NATO Alliance possessing significant deposits of natural gas and crude oil (thanks to unconventional deposits). Canada's oil deposits are estimated to be over 170 billion barrels. Natural gas production amounts to 160 billion cubic meters annually. In the long term, this can be of strategic importance for the energy security of Europe and Poland.
Canada has the potential of becoming one of the main global suppliers of LNG. Several LNG export terminals projects are underway on Canada's eastern coast, including Goldboro LNG (the Pieridae Energy – a contract with the German E.ON), LNG Saguenay, Bear Head and Saint John/Canaport LNG. It is worth noting that nearly 11% of shares in Pieridae is owned by Polish oil giant Orlen Upstream Canada (as a result of the acquisition of the Canadian company Kicking Horse in 2015).
The import of LNG from the eastern coast of Canada may turn out to be beneficial for the strengthening of energy security, not only for Poland, but for Central and Eastern Europe. In the context of plans to form a North-South energy corridor in Europe, it is not hard to imagine that Poland would not only receive LNG for its own needs, but also distribute Canadian (or American) natural gas to some countries in the region, acting as an energy hub.
Taking into consideration that "Warsaw" is determined to improve its energy security, and "Ottawa" strives to diversify its export of hydrocarbons (which now end up almost entirely in the United States) there is a huge potential for mutually beneficial cooperation. Both countries have similar-sized populations (30+ m), as well as extremely strong, not to say sometimes "difficult" neighbors (economically and/or militarily). These similarities can draw the two countries closer together also in the field of energy.
Poland and Canada, leaders in responsible hydrocarbon extraction
The International Centre of Regulatory Excellence (ICORE) appears another excellent chance for cooperation between the two countries. The initiative, which is supported by the Prime Minister of Canada Justin Trudeau, has been initiated by the top oil and gas producing Canadian province – Alberta. The Centre focuses on regulatory cooperation in the responsible management of hydrocarbon resources. On February 2, 2017, the Mexican Secretary of Energy, Pedro Joaquín Coldwell, hosted the Minister of Natural Resources of Canada, Jim Carr and the Chairman of Alberta Energy Regulator, Jim Ellis. During the meeting, Mexico officially announced its decision to join ICORE.
Poland, being one of the world's pioneers of crude oil production (third place behind the United States and Russia in 1909), and a significant oil and gas player in Central and Eastern Europe, can contribute to the success of ICORE. Among other advantages of Poland include qualified specialists, an excellent educational and academic base in technical subjects and many thriving companies.
Atom from Canada, why not?
Another promising area of ​​energy cooperation between Poland and Canada may be the technology of building nuclear power plants and partnership in its worldwide distribution. CANDU (Canada Deuterium Uranium) is a recognized brand of nuclear technology worldwide and an important Canadian export product (including new projects in China and Argentina). The greater spread of CANDU technology across the world might be supported by the change in the energy policy of the current government of Canada. Ottawa wants to use its success in reducing greenhouse gas emissions (one of the benefits of generating electricity from nuclear sources) as an instrument of strengthening its position in the international arena.
If Poland chooses the Canadian solution, it would be the second country in Europe, after Romania that uses this technology. In the long term, the Polish-Canadian nuclear cooperation, providing its economic viability, could enable Poland to reap the benefits from the construction and maintenance of such plants in other countries.
Shale gas – a strategic unconventional resource
Finally, despite the slowdown in the development of shale and unconventional deposits in Poland and Europe, in the long term, the region can benefit from the Canadian experience in the use of modern techniques of hydraulic fracking, horizontal drilling and reducing the environmental impact in the exploration of unconventional deposits: shale, tight gas and coalbed methane (CBM). There is significant potential for collaboration especially with the Alberta Energy Regulator. It regulates over 174,000 operating wells and nearly half a million kilometers of pipelines (and 7 producing coal mines).
Furthermore, progress in mining technology, as has been the case many times in history, can reduce costs and improve conditions for the extraction of unconventional gas, and lead to the return of Canadian companies for exploration in Poland in the future, and perhaps in other countries of the region.
Towards a golden age of a Euro-Atlantic partnership
Let us not forget that the current Canadian "G7 class" economy has been built – among others – by generations of Polish immigrants. Today, trade and mutual investments are flourishing. The value of Polish-Canadian bilateral trade rose nearly 15% last year reaching a historic high: 2.5 billion CAD. The development of this economic cooperation between both countries would not be possible without the support of many of the 1 million or so Canadians of Polish origin.
However, the potential for Canadian-Polish trade and economic cooperation is much larger. The planned entry into force of the CETA agreement, an increased awareness of the importance of energy security in the Euro-Atlantic area and the unstable situation in Europe today (for instance, the smoldering conflict between Russia and Ukraine) all favour doing business together.
During the ceremony commemorating the 1050th anniversary of Polish statehood in Ottawa last year, Poland's President Andrzej Duda remarked that, "trade between Poland and Canada over the last decade increased 2.5-fold, bilateral investments are growing, but it can be even better!" It is to be hoped that the expectations mentioned above will materialize; however will both sides of the Atlantic be able to take this chance of a lifetime?
All texts published by the Warsaw Institute Foundation may be disseminated on the condition that their origin is credited. Images may not be used without permission.