Russia Monitor is a review of the most important events related to Russian internal and external security, as well as its foreign policies.
Putin Reveals Grandiose Plans for Russia's Navy
Russia will add new vessels and weapons to its navy this year, Russian President Vladimir Putin said as he attended a naval parade marking the country's Navy Day. Russia's navy is amongst those to have seen least upgrades, with other arms of the Russian armed forces having been a priority over the past few years. Whilst modernizing Russia's fleet, officials used to pay attention to its underwater vessels, but are now far more concerned on surface vessels, their firepower, and amphibious capability.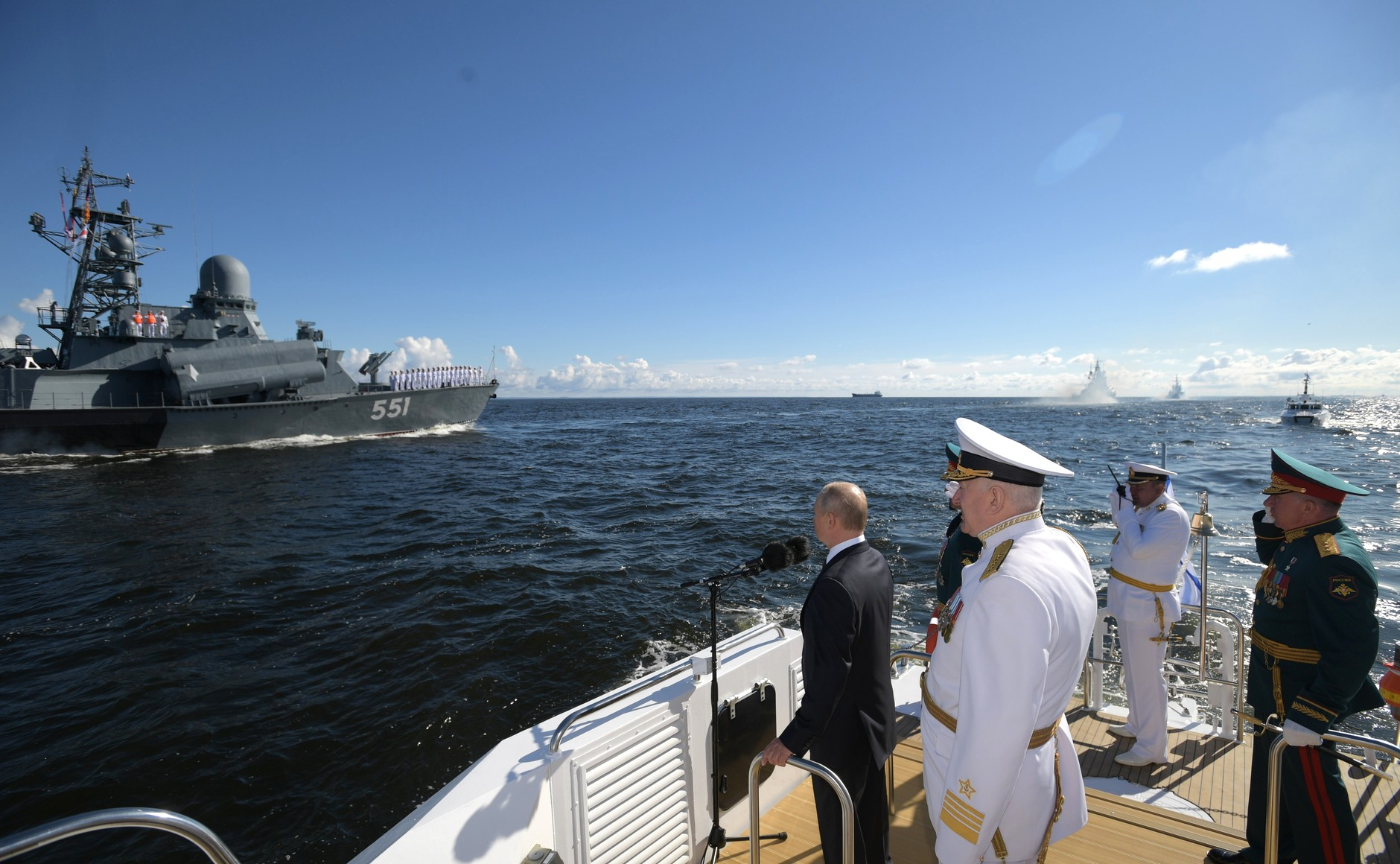 SOURCE: KREMLIN.RU
Speaking at the July 26 naval parade in St. Petersburg and the nearby town of Kronshtadt, Vladimir Putin said the navy would get 40 new vessels this year. He also spoke of a new generation of Russian "miracle" nuclear weapons, or the Tsirkon hypersonic cruise missile and the Poseidon underwater nuclear drone. Opening the parade, he said that six more vessels two nuclear underwater ships, two frigates, and a pair of landing crafts were laid down at Russia's shipyards in the past few days.
Whilst attending the traditional Navy Day parade, Putin said Russian vessels would be outfitted with modern hypersonic cruise missiles and underwater nuclear drones. So when will the Tsirkon and the Poseidon finally sow fear amongst Russian enemies? Putin did say that. It was only the defense ministry that said these were "in their final phase of testing." Interestingly, the Kerch shipyard started to develop new assault ships that are to replace France's Mistrals as Paris swiftly canceled the deal following Moscow's annexation of Crimea. Russia's new landing crafts will carry up to 20 large helicopters and some 900 marines.
Support Us
If content prepared by Warsaw Institute team is useful for you, please support our actions. Donations from private persons are necessary for the continuation of our mission.
Also, the St. Petersburg shipyard is now making two upgraded Project 22350 frigates to allow them to carry 24 instead of the 16 anti-ship missiles carried on the preceding frigates. Besides, a shipyard in Severodvinsk is developing a pair of fourth-generation Yasen-M attack submarines. Vladimir Putin asked both the country's military and its domestic defense industry that to make the share of cutting-edge vessels surpass 70 percent by 2027.
All texts published by the Warsaw Institute Foundation may be disseminated on the condition that their origin is credited. Images may not be used without permission.