Medvedev Pacified
A current PM would probably remain in function but his political influences would be much smaller. If earlier any political camp focused around Dmitry Medvedev existed, now it is a thing of the past. In last days, PM has got a clear signal that if he wanted to remain his position, he had to be absolutely loyal and obedient. This is signalled by decisions of superior courts on cases of people previously closely related to Medvedev: in politics (Alexey Ulyukayev) and in business (Ziyavudin Magomedov).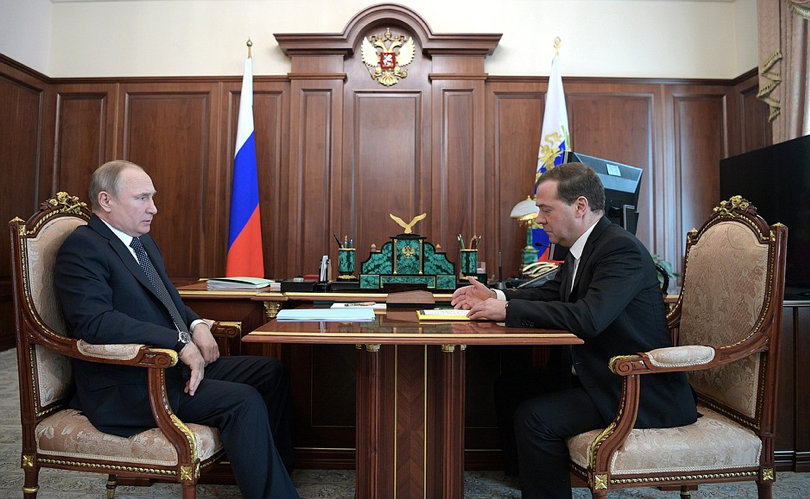 SOURCE: KREMLIN.RU
Both sessions took place before the same court – Moscow City Court. Firstly, on April 12, court maintained a sentence of 8 years in a high-security penal colony for a former Minister of Economy Alexey Ulyukayev for giving a bribe. On December 15, Ulyukayev was sentenced for taking 2 million dollars in cash from Igor Sechin. He was detained and dismissed in November 2016. He is the highest official since 1991, who was arrested and sentenced. What is interesting, Igor Sechin, chief of Rosneft, testified in the session. Despite being subpoenaed, Sechin had not appeared in court during the Ulyukayev's trial last year. This time, he was testifying behind closed doors for about 90 minutes. After his testimony, court gave the Ulyukayev's defence only two hours to react and prepare a stance on Sechin's testimony. As a result, the sentence of imprisonment was upheld, but court withdraw from the ban on serving public functions by Ulyukayev after the sentence.
Four days later, on April 16 the same court examined a complaint on provisional detention for a billionaire Ziyavudin Magomedov. Ziyavudin Magomedov, his brother Magomed and a chief of one of their co-partnerships, Artur Maxidov, were detained and arrested in the last days of March. They are suspected mainly of frauds of a total amount of 2.5 billion roubles. They do not plead guilty. Moscow City Court upheld the decision of the lower court from March 31 on provisional detention of the Summa Group owner. The businessman stays in prison until May 30. The defence requested a change of the deterrent on house arrest. According to advocates, investigators made an allegation under Article 210 of the Criminal Code (creating a criminal association) only to avoid procedures against Megomedov from criminal-procedural laws in the field of business activity.
Magomedov cannot count on his main political protector Dmitry Medvedev. Similarly, PM did not help his minister Ulyukayev. In both cases PM considered as liberal yields under the pressure of former KGB officers, connected with siloviki of Igor Sechin (Rosneft) and Nikolay Tokarev (Transneft). This is the price for keeping the office, but paid with abandonment of any independent ambitions. Both cases mentioned, but also Putin's recent policy in general confirm that this presidential tenure will be dominated by siloviki's camp, and influences of, so called, liberals are weakening. Even now one can admit that their main centre in not Medvedev's surrounding, but a group focused around Alexei Kudrin.
All texts published by the Warsaw Institute Foundation may be disseminated on the condition that their origin is credited. Images may not be used without permission.