Russia Monitor is a review of the most important events related to Russian internal and external security, as well as its foreign policies.
Lukashenko Visits Sochi but Pays No Spectacular Tribute to Russia
There was no shortage of opinions that on his first trip to Russia after the presidential vote, Alexander Lukashenko would need to pay a hefty bill for Moscow's lifeline after Belarus had plunged in a weeks-long crisis. This, however, did not happen. A raft of official conclusions is convenient for Lukashenko whilst not prompting more robust ties between the two countries. Yet the lion's share of the talks took place behind closed doors. Possibly this is when the two leaders accepted a roadmap on Russia-Belarus ties, along with new projects and decisions.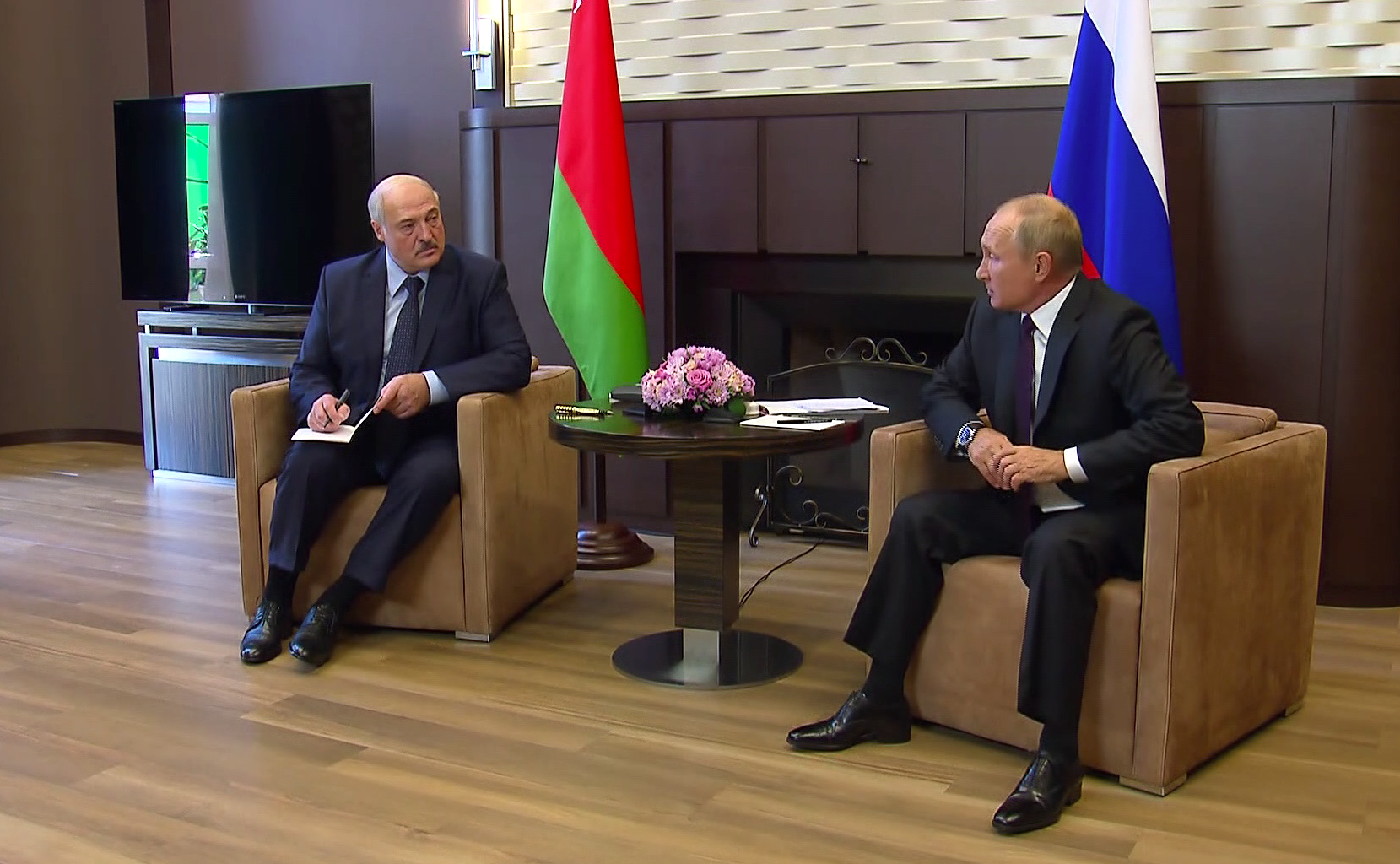 SOURCE: KREMLIN.RU
The meeting was Lukashenko's first foreign trip since the August 9 election. The four-hour-plus talks took place at Putin's residence in Sochi. In opening remarks before cameras, Vladimir Putin said Moscow would grant a loan worth $1.5 billion to Belarus. According to Kremlin spokesman, a portion of the new loan has been granted to reimburse Minsk's earlier accounts. As Russian Prime Minister Mikhail Mishustin visited Minsk in early September, some said Russian officials bestowed a $1 billion loan on Belarus. Putin emphasized that the Belarusians themselves must settle the situation without any foreign meddling. Also, Putin had backed Lukashenko's idea of constitutional reform in what might put an end to the ongoing crisis. The Russian leader confirmed his country's commitment as a Belarusian ally, vowing to tighten military cooperation. Putin vowed to sustain all allied deals it had with Belarus as part of their joint Union State and the Collective Security Treaty Organization, or CSTO.
Support Us
If content prepared by Warsaw Institute team is useful for you, please support our actions. Donations from private persons are necessary for the continuation of our mission.
Kremlin spokesman Dmitry Peskov said both leaders did not address Russian military bases in Belarus. Likewise, the pair made no agreements on joint Russian-Belarusian businesses in what might give Russian oligarchs easy access to Belarus's most valuable assets. Oil and gas co-operation was also discussed in the meeting between the two leaders. The latest events in Belarus, Lukashenko said, show that Minsk should cooperate closely with Moscow, notably if the economy is at issue. Also, he labeled Russia as Belarus's "elder brother." Contrary to one might think, Lukashenko will not give in his autonomy so easily. Both his words and acts in Sochi that some media saw as nearly humiliating might be part of Lukashenko's game whilst his top goal is to keep the grip on power thanks to Moscow's financial aid rather than any military-like assistance. Some Russian experts argue that the Kremlin's current policy somewhat resembles that in Ukraine back in late 2013 when Moscow threw support for the then Ukrainian leader Viktor Yanukovych. For years Belarus held its economy at some level without any major hiccups notably due to Russian subsidies (cheap hydrocarbons), preferential loans and trade deals, worth $1 billion a year. When Moscow dramatically curbed these, Belarus plunged into a deep crisis. Lukashenko refused to intensify ties in what could impair his power. In a way, both the social unrest and political crisis helped Lukashenko reclaim Russian subsidies. Surely, the Kremlin has no intention of providing a lifeline to Lukashenko and Belarus forever. With some past stories and viewpoints shared by the most prominent figures of the Belarusian opposition, Moscow has long been making efforts to find an alternative to Lukashenko, allowing the Kremlin to preserve its influence in the neighboring country and shift its model of dependence sometime soon. With the latter ambition, a Russian taxpayer would pay less whilst the whole thing would not wreck Russia's security and military interests in Belarus. Just to note here a statement from Kremlin spokesman Dmitry Peskov right after the meeting who said those who both agree and disagree with the results of the elections are all "citizens of brotherly Belarus" whom Moscow values all.
All texts published by the Warsaw Institute Foundation may be disseminated on the condition that their origin is credited. Images may not be used without permission.