China Monitor is our brand-new program that analyses China's economic and foreign policies. It also aims to predict the consequences of Beijing's policy for the global economy, the EU as well as Central and Eastern European countries such as Poland.
Date: 16 October 2020 Author: Łukasz Kobierski
Wang Yi's Trip to Cambodia
On October 11 and 12, Cambodia was visited by Wang Yi – the Minister of Foreign Affairs of the People's Republic of China (PRC). There he met with Cambodia's Prime Minister Hun Sen, Deputy Prime Minister Hor Namhong, and Ministry of Foreign Affairs Prak Sokhonn. The meeting was intended to strengthen diplomatic and economic relations. On the last day of the visit, a free trade agreement was signed.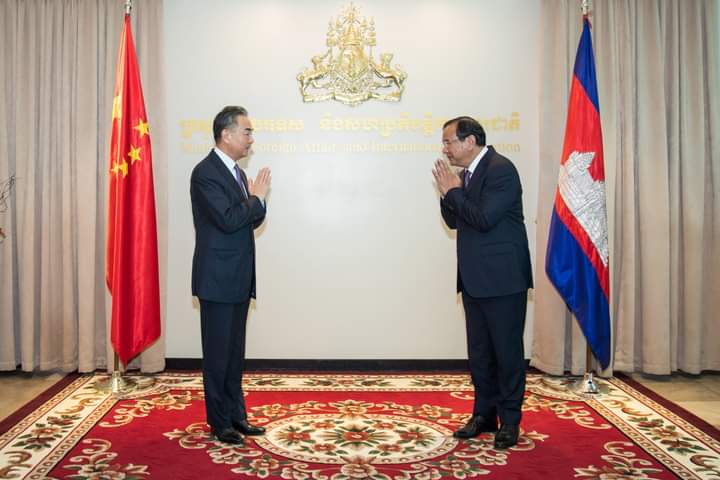 SOURCE: FMPRC.GOV.CN
During the meeting, Wang Yi said he chose Cambodia as the first stop of his South East Asia tour because of the "iron friendship" between the two countries. He confirmed effective cooperation in all domains. A consensus was reached at the fifth meeting of the China-Cambodia Intergovernmental Coordination Committee in June, and new projects are being implemented smoothly. Moreover, the Minister promised further cooperation in the fight against COVID-19, priority supply of vaccines against the virus, importing more Cambodian agricultural products and cooperation in areas such as artificial intelligence, 5G, big data and cloud technologies.
Deputy Prime Minister Hor Namhong expressed his gratitude to China for providing medical supplies and experts to help Cambodia in the fight against the pandemic as well as highly assessed Beijing's efforts in this matter. Furthermore, he appreciated the help of the PRC in developing infrastructure and importing agricultural products. He added that Cambodia and China can strengthen the basis of friendship by promoting institutional communication and strengthening ties between twin cities.
A free trade agreement (FTA) between the countries was signed on Monday. Wang Yi and the Cambodian Prime Minister Hun Sen, along with other members of the government, took part in the ceremony. The FTA is Cambodia's first such bilateral agreement and was finalized after only three rounds of talks, which began in January and ended in July this year. It has not yet been made public. A statement on the website of the Chinese Ministry of Commerce says that the agreement covers a wide range of cooperation in the areas of investment, trade, tourism, transport and agriculture as well as provides for tariff reductions. Cambodia's Minister of Commerce Pan Sorasak added that the agreement will probably enter into force early next year.
Support Us
If content prepared by Warsaw Institute team is useful for you, please support our actions. Donations from private persons are necessary for the continuation of our mission.
This could be an economic stimulus for Cambodia, which last year experienced a temporary suspension of some of its special trade preferences with the European Union, a key export market. The violation of human rights – banning the opposition and restricting civil liberties, was the reason behind such decision. Tariffs were imposed on some of the clothes and shoes that are crucial goods for Cambodian economy and workplaces.
Cambodia was Wang Yi's first stop in the region. Next, he will visit Malaysia, Laos, Thailand and Singapore. This shows the significance and excellent relations between the two countries. The total trade volume between Cambodia and China reached USD 8.5 billion in 2019 and there has been a steady growth in this field for several years. Cambodia is a key player for China in building its strength in this part of the world and influencing international regional organizations such as ASEAN (Association of Southeast Asian Nations). Good trade relations can show other countries that it is worth to cooperate with Beijing. Strengthening economic relations between Phnom Penh and Beijing may also intensify military cooperation in the long term. For some time now, there has been talk about making Cambodia's naval base available to China, which was denied by the authorities in Phnom Penh, although this matter still seems unclear.
All texts published by the Warsaw Institute Foundation may be disseminated on the condition that their origin is credited. Images may not be used without permission.