Russia's Wagner Group Helps Put Down Sudan's Anti-Government Protests
Both Russian Embassy in Khartoum and Sudan's Interior Ministry denied reports that Russian mercenaries are aiding in quashing anti-government protests. However, they admitted that "Russian advisors" help to train Sudanese special forces. The country has shaken by mass protests against President Omar al-Bashir, which caused the Kremlin's serious concern. It was only recently that Sudan became one of Russia's key allies in Africa, mainly due to access to gold deposits and the possibility of setting military facilities on the Red Sea coast.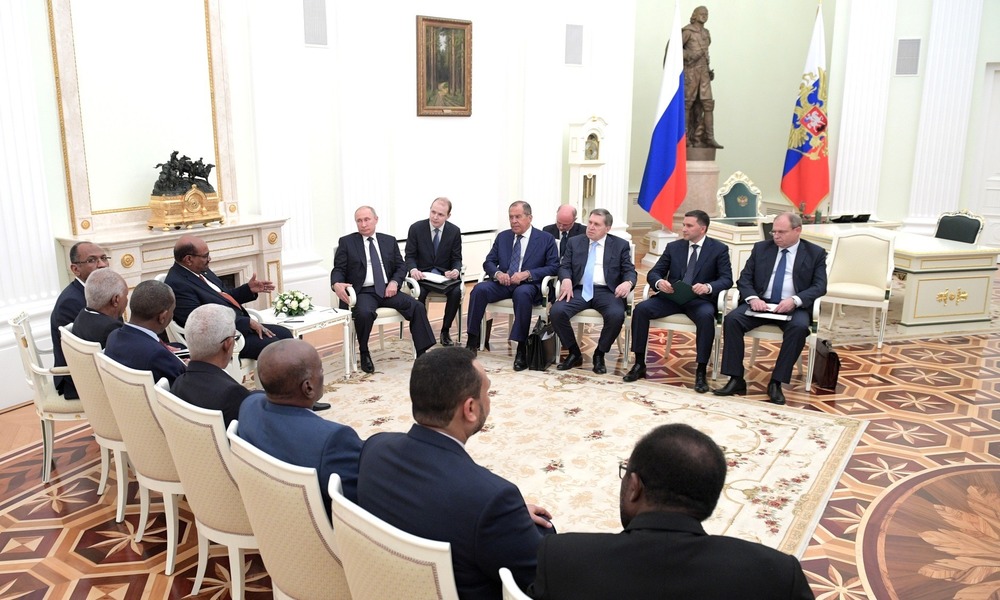 SOURCE: KREMLIN.RU
A wave of anti-austerity demonstrations was sparked by the country's poor economic situation that had been triggered by a government decision to triple bread and fuel prices. They were later followed by political slogans calling for al-Bashir, who has ruled the country for 30 years, to step down. Dozens of people were killed in clashes with police forces since mid-December. And yet the dictator declared that he has no intention to resign while his defeat would be considered by a considerable blow to Moscow's African policy. Russia has been intensifying its military cooperation with Sudan as evidenced by last year's decision to send advisers and mercenaries from Wagner Company. Moscow provides its aid to al-Bashir as it had obtained necessary concessions that allowed the Kremlin to exploit gold deposits. In addition, Russia was promised to build a military base on the Red Sea coast.
Western media quoted the Sudanese opposition party as saying that Russian mercenaries are operating in the country, offering their help to quash anti-government protests. Both Russian Embassy in Khartoum and Sudanese Interior Ministry denied such reports yet they confirmed that military personnel from Russia's Wagner military company are now working in the East African country. The country's government admitted that the Russians are now in charge of training local special forces, which seems to corroborate hitherto rumors on Moscow's aid in putting down violent protests. They were also seen operating in Darfur and on the border with the neighboring Central African Republic, where numerous gold mines are located. Interestingly, they are exploited by a company belonging to Yevgeny Prigozhin, a Russian oligarch with close ties to the Kremlin. Nonetheless, profits from gold mining are not the only reason for Russia's help for al-Bashir. According to Sudanese MPs, a draft military agreement signed between Sudan and Russia would pave the way for the latter to build a military base on the Red Sea coast. Al-Bashir also actively joined the Kremlin's Middle East policy. Back in December, he paid an unexpected visit to Syria where he met his Syrian counterpart, Bashar al-Assad.
Omar al-Bashir is already one of the region's longest serving leaders. He participated in the Yom Kippur War in 1973 against Israel, commanding the Sudanese infantry brigade at Sinai, while in 1989, he assumed power after the military coup. After two years, he introduced Sharia-based criminal law in the country, which provoked a rebellion in the south of Sudan, a region inhabited mainly by the Christian population. Al-Bashir is to be blamed for the bloody civil war that resulted in the declaration of independence of South Sudan as well as armed conflicts in South Kordofan and Darfur where some 300,000 people were killed while over 2 million were forced to leave the country. In 2009, Omar al-Bashir became the first incumbent president indicted for war crimes and crimes against humanity in Darfur by the International Criminal Court.
All texts published by the Warsaw Institute Foundation may be disseminated on the condition that their origin is credited. Images may not be used without permission.