Russia's Rosneft Exits Venezuela, Sechin Reaps Double Benefit
Russian oil giant Rosneft sold its assets in Venezuela to the Russian government. The company would be receiving a settlement payment worth a 9.6 percent share of Rosneft's equity capital, or some $4 billion. This means a gift for Rosneft's shareholders in what may be a maneuver to dodge any U.S. sanctions –– all from the Russian taxpayer's pocket. Furthermore, the company's asset valuation is far higher than anyone could expect.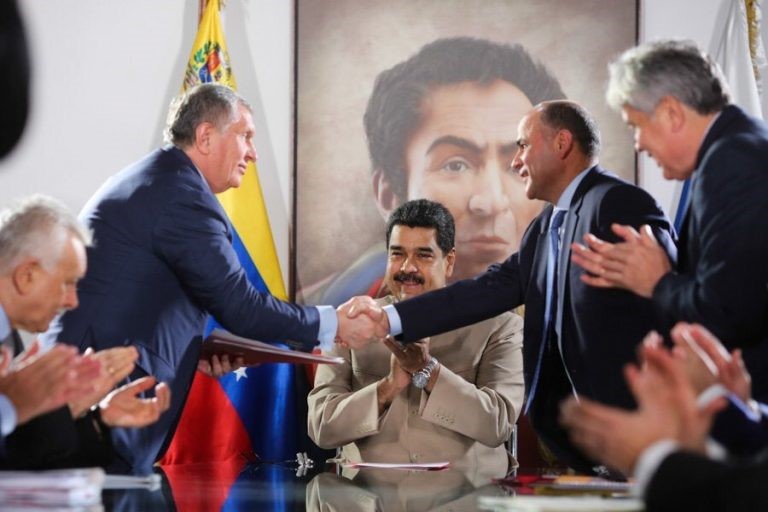 SOURCE: MPPRE.GOV.VE
Russia, via the state company Rosneftegaz, which took over Venezuelan oil assets, owns somewhat over 50 percent of Kremlin-controlled Rosneft's capital. International shareholders include BP, which has 19.8 percent, and Qatar via QH Oil Investments LLC, which owns another 18.9 percent. As part of the deal, the state's share in Rosneft dropped to 40.4 percent, yet Rosneftegaz remains the group's principal shareholder. What may be unusual is the mere fact that Venezuela's assets were somewhat overvalued, as they stand for 10 percent of the whole group's value. A Rosneft's subsidiary is slated to receive a 9.6 percent share. The Kremlin was fearful of U.S. sanctions against Rosneft amidst its operations with Venezuela. Earlier, restrictions had struck a blow to two of its subsidiaries as they traded Venezuelan oil. So how could Russia benefit from the Venezuelan transaction? So now Rosneftegaz may be hit with U.S. sanctions, but Rosneft is out of the reach of Washington's restrictions. This is because Rosneftegaz has less than 50 percent of its shares. Meanwhile, in line with the U.S. sanction laws, limits can be imposed against any entity that has at least 50 percent of shares. Rosneft, through its selling of Venezuela-based assets, can expect the lifting of sanctions on its subsidiaries.
Support Us
If content prepared by Warsaw Institute team is useful for you, please support our actions. Donations from private persons are necessary for the continuation of our mission.
Rosneft is one of the biggest investors in the Venezuelan energy industry. The company's investments throughout the country were worth some $9 billion as of 2019, according to Reuters calculations. Venezuelan state-owned oil company PDVSA has its outstanding debt to the company of $800 million. Rosneft said the Venezuelan assets marketed include those in the joint ventures of Petromonagas, Petroperija, Boqueron, Petromiranda, and Petrovictoria, as well as in oilfield services companies, commercial and trading operations. Russia's ambassador to Venezuela, Sergei Melik-Bagdasarov, said that the deal would allow the two countries to continue working together.
All texts published by the Warsaw Institute Foundation may be disseminated on the condition that their origin is credited. Images may not be used without permission.