Russia's German Connection: Schroeder Re-elected Rosneft's Board Chairman
The Board of Directors of Rosneft re-elected former German Chancellor Gerhard Schroeder as its chairman. An ex-SPD chairman, he remains somewhat a guide for Germany's left-wing parties and a servile client of the Kremlin in many areas beyond energy.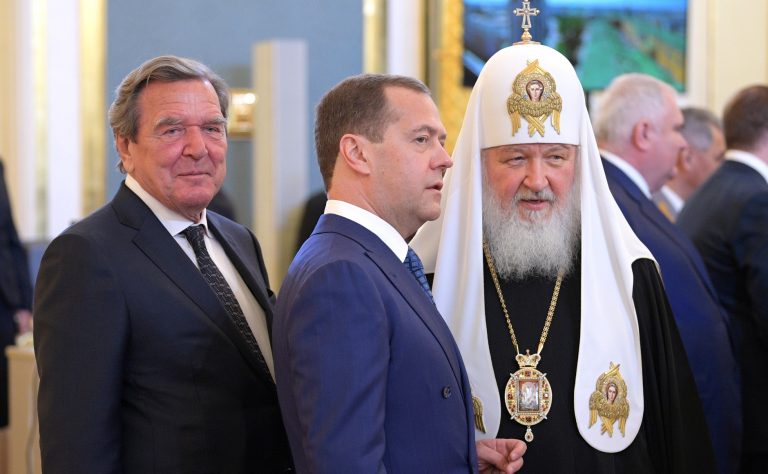 SOURCE: KREMLIN.RU
In early June, the meeting of the Board of Directors of Rosneft took place, with a new board of directors being selected. It consists of 11 members. On June 5, the Board of Directors of Rosneft re-elected former German Chancellor Gerhard Schroeder as its chairman. There were no major reshuffles, though. Matthias Warnig saved his job as the head of the Nord Stream 2 AG, a company building the Russia-to-Germany Nord Stream 2 gas pipeline. There, Schroeder began a new career as a businessman in Russia at the head of Nord Stream AG's board of directors. Likewise, both German officials worked for Nord Stream AG that built the very first offshore energy link stretching from Russia to Germany. An ex-Stasi officer codenamed "Arthur", Matthias Warnig has held close ties to Vladimir Putin since the early 1990s. Also, in line with a decision of the general meeting of shareholders, Schroeder will receive $600,000 in salary for 2019 while Warnig will be paid another $580,000. Intriguingly, other directors, including Russia's Energy Minister Alexander Novak, First Deputy Prime Minister Andrey Belousov, and CEO of Rosneft Igor Sechin, did not take such salaries. Shortly before, Sechin had been nominated as the chief executive officer of giant oil producer Rosneft.
Support Us
If content prepared by Warsaw Institute team is useful for you, please support our actions. Donations from private persons are necessary for the continuation of our mission.
Schroeder, 76, is popularly known for his pro-Russian comments. Meanwhile, he still serves as a mentor for Germany's left-wing parties. For example, in early May, he urged countries to remove sanctions on Russia yet stressed that no Russian leader would hand annexed Crimea back to Ukraine. For years he has lambasted Ukraine's top politicians, too. "The payment for fidelity to the Kremlin was not long in coming – Schroeder receives another dividend!," according to Ukraine's Foreign Minister Vasyl Bodnar. As he further wrote on his Twitter account: "the fifth column in the EU continues to push through Russian interests and undermine European solidarity." A friend of the Russian president, former SPD Chancellor Schroeder (1998–2005) has been working for the Russian energy industry since he retired from politics. Since 2017 Schroeder has also served as an independent director of the board of Russia's biggest oil producer Rosneft. He is an enthusiast of tight Russian-German ties going far beyond these two's joint energy projects
All texts published by the Warsaw Institute Foundation may be disseminated on the condition that their origin is credited. Images may not be used without permission.