Russian Economy Comes Badly Because Of Pandemic
Russia imposed a "non-working" period across the country at the end of April in a move that lowered the country's industrial output and – along with an energy crisis and a shaky Russian economy – thus heaping pressure on the country's financial strength. Official economic data from April paints a somewhat dreary picture of Russia's economic reality.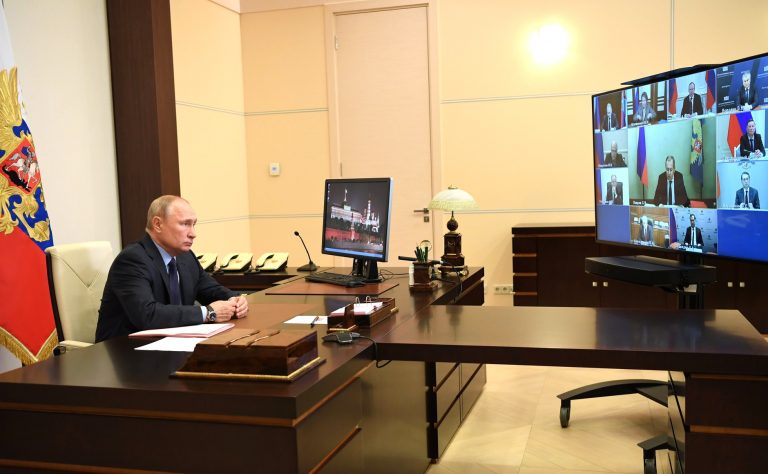 SOURCE: KREMLIN.RU
Russia's gross domestic product (GDP) fell by 12 percent year-on-year in April, when the countrywide non-working period to contain the spread was in place, thus from March 30. Russia's economic growth slowed to 1.6 percent year-on-year in the first quarter of 2020, according to the country's federal statistics agency Rosstat. The Economic Development Ministry had previously estimated GDP growth in the first quarter at 1.8 percent. Russia's economy is forecast to shrink by 9.5 percent in the second quarter of 2020, it added. The Central Bank last month predicted that the Russian economy would decrease by up to 8 percent, with between 4 and 6 percent per year. In its ratings, Fitch expects a 5 percent economic contraction this year. Meanwhile, the country's biggest state-run firms are among the rare companies that receive economic state aid. Unsurprisingly, Alexei Kudrin, Russia's chief auditor and a former finance minister, said roughly 13 percent of small and medium enterprises will step out of the crisis. Russia's official level of unemployment has risen by 30 percent since the start of the coronavirus pandemic, the country's government officials said. Also, much has been made of Russia's huge reserves of some $165 billion in the National Welfare Fund (NWF) throughout April, thus worth exactly 11.3 percent of the country's gross domestic product. While oil prices dive below $42 per barrel, the National Welfare Fund covers a shortfall – thus basically throughout most of the year. Meanwhile, the budget gets much less than it expected, with the energy sector being to blame. In April, energy companies paid a total of 434.56 billion roubles in hydrocarbons extraction taxes, marking a 23 percent decrease from March figures, a 29 percent drop from January-February numbers, and a 40 percent slump year-on-year. Those dynamics arise from the crisis on the oil market and nosediving oil prices (to $20 per barrel) as well as a slump on the European gas market, with prices even cheaper than in Russia.
Support Us
If content prepared by Warsaw Institute team is useful for you, please support our actions. Donations from private persons are necessary for the continuation of our mission.
All texts published by the Warsaw Institute Foundation may be disseminated on the condition that their origin is credited. Images may not be used without permission.