Date: 27 October 2023 Author: Maciej Tyburski
Russian Disinformation War Against Poland After the Invasion of Ukraine
Following the invasion of Ukraine on 24 February 2022, the hybrid war waged by the Kremlin has gained in strength due to the solidarity opposition of both Central and Eastern European countries and the European Union. Poland, as a geographically close member of the North Atlantic Alliance and a strong ally of the Ukrainian side, has become the target of increased Russian disinformation attacks.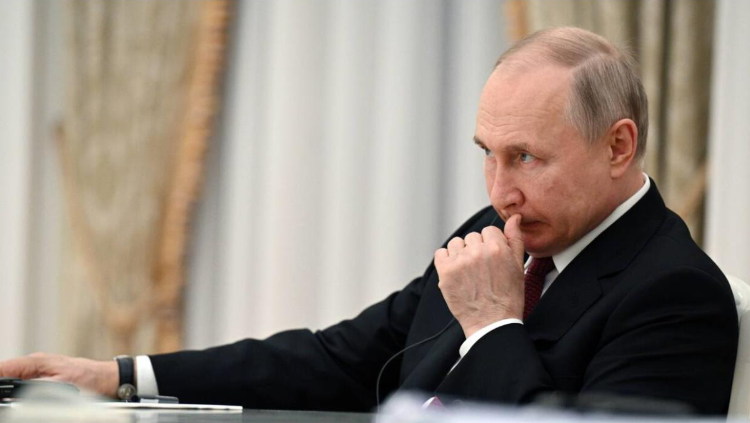 SOURCE: ALEXEY FILIPOV/SPUTNIK/KREMLIN POOL PAP/EPA
Moscow conducts propaganda and disinformation attacks based primarily on fear, uncertainty and playing on emotions. Five main thematic areas are most frequently and widely used: the risk of war on Polish territory, the migration and social crisis caused by Ukrainian refugees, the discrediting of Ukraine on the international arena, the energy and economic crisis and historical politics.

In the past, Russian disinformation has targeted strategic infrastructure investments such as Rail Baltica, among others. Much of the English-language disinformation aimed at EU citizens was, until a certain point, relayed by Sputnik and Russia Today. After these media were blocked, Russia focused on the activities of internet troll factories, especially towards Poland. The task of such entities is primarily to sow panic, disinformation, fear and to inflame debate based on emotions, worldviews and internal social conflicts, mainly on social networks and forums. Typically, groups or parties with a radical profile are the target of such activities. Russian disinformation is characterised above all by continuity of impact and precise targeting of individuals and groups.

In Russian media messages, Poland is very often treated as a direct representative of the West, the European Union and even NATO, which is an attempt to interfere with the international order and status quo. It is noteworthy that Russia very often portrays itself as a victim of European collusion and tries to build up anti-EU rhetoric to weaken the EU. At the same time, in the pro-Kremlin media, the civilisational decline of the West is pointed out, so that it is the Russian tradition that is the salvation for a declining Europe, holding a special place in the new geopolitical order. It should be remembered that Poland, as a frontline NATO country, is threatened by Russian aggression from the Suwałki Isthmus. In addition, the potential enlargement of the North Atlantic Alliance to include Sweden, meaning an even greater strengthening of the states west of Russia, is not in Moscow's favour. Hence, a campaign is being organised in the pro-Russian media to indicate that such an accession is aimed at launching an invasion of the Russian Federation. A potential war is also said to arise from the fact that Poland's rulers are allegedly threatening Russia in order to cover up internal conflicts, and that Poland, as a country lying on the Russia-EU line, is supposed to be deliberately obstructing Moscow's cooperation with the community.

Due to Poland's very strong support for Ukraine, both military and non-military, Russia has started to direct more and more disinformation activities towards Warsaw. One of these is the constant threat of armed conflict and the building of a narrative that Poland's participation in the war is inevitable. In order to arouse anxiety among Poles, Russia very often points to Poland's weakness by downgrading its military potential. In addition, pro-Russian messages indicate that military movements are being organised on Polish territory aimed at a potential attack on Russia.

The mass migration of Ukrainian citizens after the outbreak of the war, as well as the regular movement of people many years earlier, became a tool of disinformation in the hands of the Kremlin. In the messages presented by pro-Russian entities, the emphasis on creating a negative image of Ukrainian migrants in the eyes of Poles is clearly visible. The main propaganda theses in this matter include: Ukrainians receiving higher benefits in Poland than Poles, taking jobs away from Poles, crimes committed by Ukrainians, building closed communities, claiming migrants, contempt for Poles.

In the Russian message, it is the Kremlin that is portrayed as the defender of its own territories and of the Russian-speaking minority that is the target of Ukrainian repression. According to the ongoing narrative, the Russian Federation is entitled to the territory of Ukraine, which is argued by presenting many concepts that do not recognise Ukraine as a state. Furthermore, Ukraine is portrayed as an undemocratic, illegitimate country where terror reigns and any form of opposition is persecuted. Poland, presented as a Trojan horse of the US, and Western states are identified as bad advisers, seeking to take control of Ukraine in order to treat it as its own colony and slave, fighting Russia to the last living Ukrainian.

Due to the energy contracts that Poland has been tied to Russia in the past, the Kremlin is using this sector as a tool of fear against Polish citizens. Namely, disinformation directed towards Poles concerns the lack of fuel at petrol stations, record high energy prices and even the possibility of insufficient energy on the market due to the cessation of energy imports from Russia. This is linked to information regarding an imminent energy crisis and a record cold winter.

In the context of historical politics, the Russian message emphasises Poland's territorial claims against Ukraine. Similarly, a great deal of information relates to the Volhynia issue, which is expected to lead to an increase in anti-Ukrainian behaviour. Poland is very often accused of destroying Soviet monuments, even though, in the Russian message, it was the Russian Federation that liberated Poland during the Second World War (which Russia also accuses Poland of having participated in). Hence, Poles and Polish rulers are often described as ungrateful and Poland as one of the most Russophobic, xenophobic and hostile countries.

Undoubtedly, the current disinformation pro-Russian message is mostly visible in the Internet space, which amounts to using the snowball effect in publishing various types of fake news. It is worth noting that Poland remains relatively immune to the aforementioned attacks and seeks to expand its capabilities to counter such efforts, an example of which was the recent signing of a declaration on combating disinformation in order to limit and expose Kremlin propaganda. This took place during the ,,Anti-Disinformation Warsaw Summit" on 4-5 October 2023. The declaration was also signed by representatives of Ukraine, Estonia, Romania, Hungary, Latvia and Lithuania.

Sources:
1) A. Legucka, J. Szczudlik, "Dezinformacja i propaganda Rosji oraz Chin w kontekście wojny na Ukrainie", The Polish Institute of International Affairs (PISM), 17.01.2023, https://www.pism.pl/publikacje/dezinformacja-i-propaganda-rosji-oraz-chin-w-kontekscie-wojny-na-ukrainie.
2) "KRRiT gospodarzem międzynarodowej konferencji Anti-Disinformation Warsaw Summit", 4.10.2023, https://www.gov.pl/web/krrit/krrit-gospodarzem-miedzynarodowej-konferencji-anti-disinformation-warsaw-summit.
3) A. Lelonek, K. Wóycicki, M. Kowalska, "Rosyjska wojna dezinformacyjna przeciwko Polsce", Warsaw 2017, https://pulaski.pl/wp-content/uploads/2015/02/RAPORT-Rosyjska-wojna-dezinformacyjna-przeciwko-Polsce.pdf.
4) K. Basaj, "Propaganda i dezinformacja rosyjskich i prorosyjskich ośrodków medialnych w polskiej przestrzeni informacyjnej", 22.01.2018, https://www.cybsecurity.org/pl/propaganda-i-dezinformacja-rosyjskich-i-prorosyjskich-osrodkow-medialnych-w-polskiej-przestrzeni-informacyjnej/.
5) A. K. Piekarska, "Raport: Dezinformacja w Europie-Środkowo-Wschodniej", The Warsaw Institute Review, Warszawa 2017, https://warsawinstitute.org/pl/the-warsaw-institute-pl/wydania/wydanie-specjalne-dezinformacja/.
6) Y. Chekhovska, "Propaganda diary: a review of Russian disinformation in European media in August 2023", 13.09.2023, https://voxukraine.org/en/propaganda-diary-a-review-of-russian-disinformation-in-european-media-in-august-2023.

The project is co-financed by the Governments of Czechia, Hungary, Poland and Slovakia through Visegrad Grants from International Visegrad Fund. The mission of the fund is to advance ideas for sustainable regional cooperation in Central Europe.
Support Us
If content prepared by Warsaw Institute team is useful for you, please support our actions. Donations from private persons are necessary for the continuation of our mission.
All texts published by the Warsaw Institute Foundation may be disseminated on the condition that their origin is credited. Images may not be used without permission.