Russia Monitor is a review of the most important events related to Russian internal and external security, as well as its foreign policies.
Date: 26 November 2022 Author: Grzegorz Kuczyński
Russian Army Incurs Heavy Losses in Ukraine
It is now known why back in September Putin announced a partial mobilization throughout Russia. He planned to add new soldiers just to stabilize the front somehow. The Russian military turned those forcefully deployed into "cannon fodder" to either hinder Ukrainian assaults or cripple their defensive positions.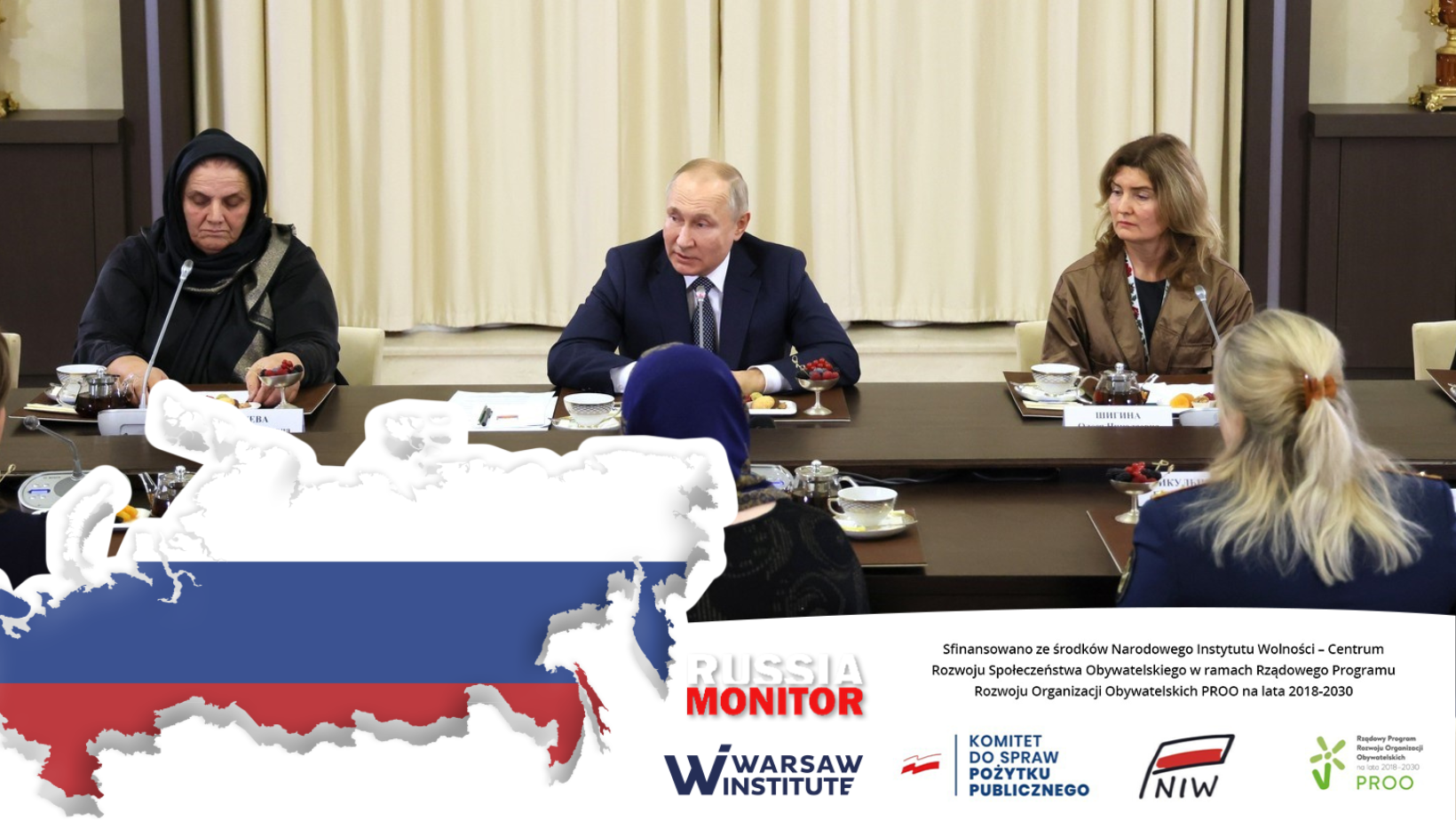 SOURCE: Встреча с матерями военнослужащих – участников СВО • Президент России (kremlin.ru)
Putin seems to be approaching the Ukraine war with a mindset like Soviet dictator Joseph Stalin, accepting mass casualties to win the war. What adds up is propaganda and cynicism––just like during the last world war. An independent Russian outlet published an estimate of Russian losses next year. By the summer of next year, the number of killed in Russia's invasion of Ukraine could be around 100,000, according to iStories. According to the sources close to the FSB and the Russian army's General Staff, Russia's political and military leaders are under no illusions about the fact that their plan will entail heavy losses. By the spring of the next year, the number of soldiers killed and wounded could be around 120,000. Russian prisoners of war do not know any rules of the war. The Ukrainian army's General Staff released footage explaining to Russian soldiers how to surrender. The number of killed Russian soldiers is not surprising given who these mobilized troops were over the last two months. Some of them never served in the military, while others deemed unfit for duty. Many of the mobilized soldiers died in fighting near Svatove in the Luhansk region and Bakhmut in the Donetsk region. Desperate families of conscripts complain about the poor conditions facing their loved ones. As anger over the drawn-out invasion simmers in Russia, President Vladimir Putin met with a handpicked cadre of mothers of soldiers fighting in Ukraine for a carefully staged meeting. To what extent might the two following issues damage the whole propaganda message? First, it is about Putin's behavior. At the meeting quite unexpectedly, Putin told the women that everyone would die eventually. Approximately 30,000 people die in traffic accidents, and roughly the same from alcohol every year, he told mourning mothers. But these were not mourning mothers but Russian officials and clerks, carefully chosen for the meeting.
Support Us
If content prepared by Warsaw Institute team is useful for you, please support our actions. Donations from private persons are necessary for the continuation of our mission.
All texts published by the Warsaw Institute Foundation may be disseminated on the condition that their origin is credited. Images may not be used without permission.