Roscosmos "Spy Ring": Russia's FSB Detains Researchers on Treason Charges
Russian security forces have arrested Ivan Safronov, a former journalist who works as an aide to the head of Russia's space agency, in a move that marks yet another case of detention on treason charges. But other academics, including the one sent to a penal colony, are much older than Safronov. Researchers and scientists have recently become a top target for FSB officers.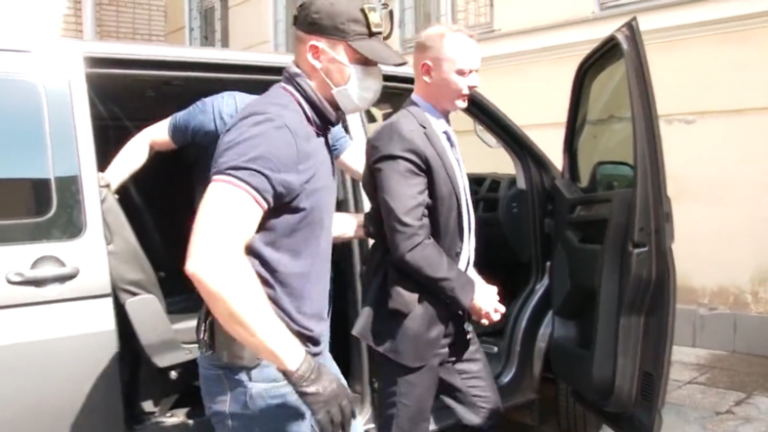 SOURCE: FSB FOOTAGE
Ivan Safronov, an adviser to Roscosmos head Dmitry Rogozin, was detained on July 7 in Moscow by agents of the Federal Security Service (FSB). The former journalist is accused of leaking state secrets. Roscosmos, Russia's space agency, said the case against Safronov was not linked to his work as a media adviser to the agency's director-general. He did not have access to secret information, either. As an aide to Dmitry Rogozin, Safronov was in charge of the agency's information policy. The sole explanation could be that his detention was linked to his previous job. Yet Kremlin spokesman Dmitry Peskov said that was not related to his earlier activities as a journalist. Russia's FSB security service said he was suspected of spying for an unnamed NATO country. The former journalist faces up to 20 years in jail if convicted, with the investigation being conducted under Article 275 of Russia's criminal code. From 2010 to 2019, Safronov, 30, was a correspondent for Kommersant, a Russian daily, where he authored reports on Russia's space industry, military-technical cooperation, and the country's defense ministry. Once fired from Kommersant, Safronov briefly worked at Vedomosti, another Russian newspaper, which he quit after a new acting editor-in-chief was appointed, and the daily started losing its autonomous character.
The question is whether the whole fuss could be used as a weapon against the head of Russia's state space agency. Rogozin has been under fire for the agency's poor performance. Also, the case of Safronov is yet another one in Roscosmos in which Russian scholars have been accused of treason. A Moscow court on June 22 sentenced Roman Kovalyov, a former senior official at the Central Research Institute of Machine Building, to 7 years in prison. The research institute held links to Russia's state space agency. Kovalyov was arrested in June 2019 and pleaded guilty. He was said to have accepted a deal with Russian investigators. Perhaps he agreed to tattle on Viktor Kudryavtsev, a Roscosmos scientist and fellow scholar who had been arrested back in July 2018. Kudryavtsev was arrested on suspicion of passing classified data on hypersonic technology, or two missiles called Kinzhal and Avangard, to a NATO-linked research group in Belgium.
Support Us
If content prepared by Warsaw Institute team is useful for you, please support our actions. Donations from private persons are necessary for the continuation of our mission.
Treason charges against researchers and scientists, including those working for Roscosmos, have lately become a frequent occurrence in Russia. In mid-June, the Russian authorities charged Petersburg-based Arctic researcher Valery Mitko, 78, with high treason in an ongoing spate of similar investigations targeting Russian academics. Mitko was accused of transferring classified materials to China while traveling there. On July 2, a St. Petersburg court sentenced military analyst Vladimir Neyelov to seven years in a penal colony after convicting him of spying. According to investigators, he offered a German consulting firm some details about the process of training and preparing operative agents of the FSB. Yet Neyelov argued that the information he provided was not classified. A PhD candidate at the St. Petersburg State University was detained in the autumn of 2018. Neyelov specialized in Russia's private security firms; he wrote about contemporary armed conflicts and military doctrines, with some of his papers referring to the infamous Wagner Group.
All texts published by the Warsaw Institute Foundation may be disseminated on the condition that their origin is credited. Images may not be used without permission.