Conference: "NATO Eastern Flank Security. Baltic States and Poland."
An international conference "NATO Eastern Flank Security; Baltic States and Poland" will take place in Warsaw on November 28, 2019. The objective of this event is a debate with the representatives of the expert community about the strategic relations between Estonia, Latvia, Lithuania and Poland in defence and energy aspects.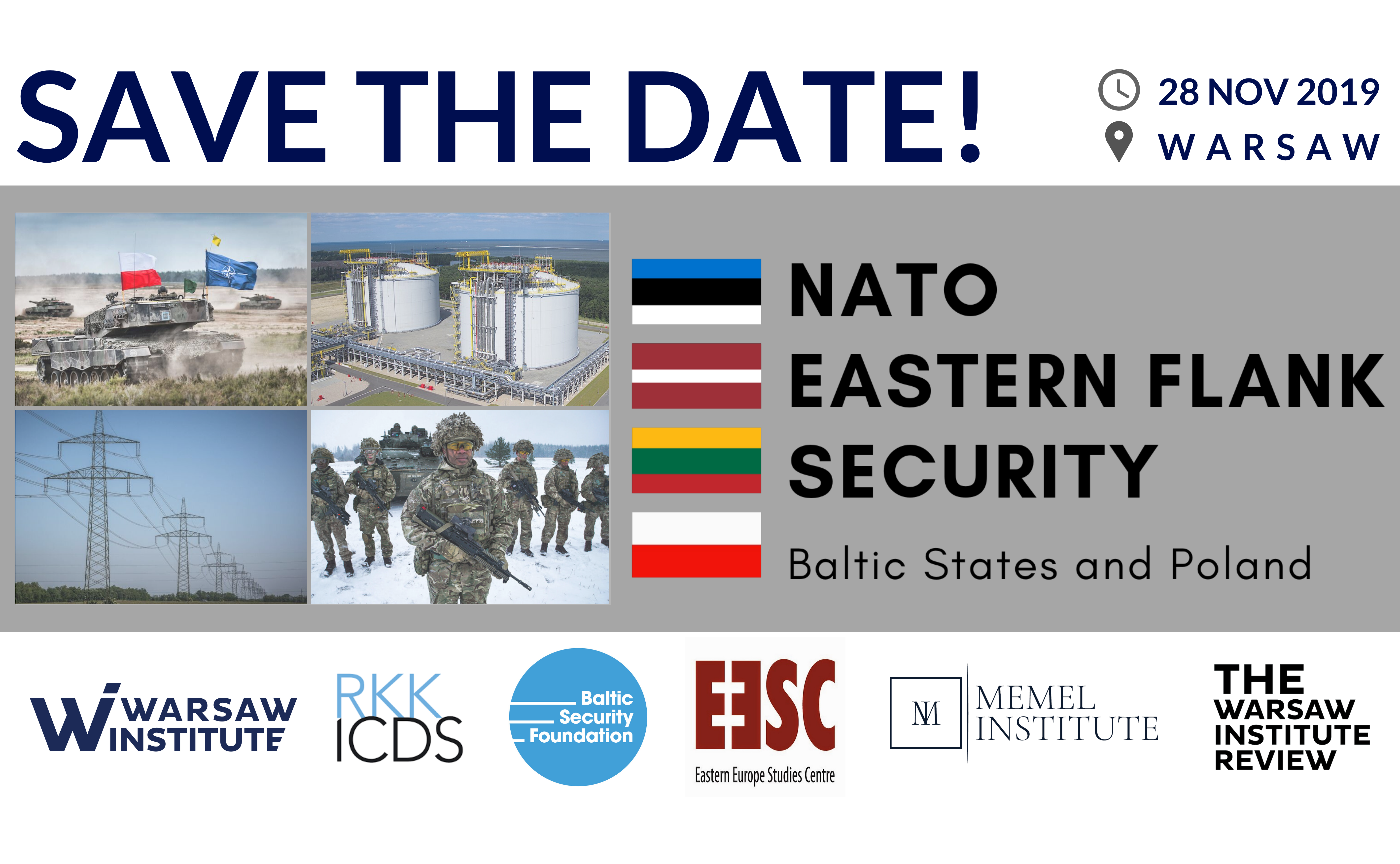 The conference will be attended by renowned speakers from Estonia, Latvia, Lithuania, Poland and the United States. The event is dedicated for diplomatic corps, scholars, and experts, representatives of public administration, NGOs and media.
The working language of the conference is English.
Participation only by invitation or acceptance of prior registration.
During the Conference it is planned to sign the declaration of think tanks on the Baltic Fund initiative.
Keynote speech:
Piotr Naimski, Secretary of State in the Chancellery of the Prime Minister of Poland, Government Plenipotentiary for Strategic Energy Infrastructure, Poland [CON]
Special guest speech:                             
Mateusz Wodejko, Vice-Chairman of the Management Board of PERN S.A., Poland [CON]
Thematic scope of the Conference:
Session 1: Defence
1. Baltic Air Policing – 15 years of safe air space.
2. The end of the INF Treaty – U.S.-Russian outdated pact.
3. NATO Battalion Groups On The Eastern Flank – a new defence paradigm?
4. Suwalki region – gap or corridor?
5. NATO B9 format – the first line of the Alliance.
6. Regional cooperation in the defense industry – a response to common threats?
Linas Kojala, Director, Eastern Europe Studies Centre, Lithuania [CON]
Sven Sakkov, International Centre for Defence and Security, Estonia [CON]
Otto Tabuns, Director, Baltic Security Foundation, Latvia [CON]
Ray Wojcik, Director, CEPA Warsaw Office, USA [CON]
Moderated by Paweł Pawłowski, Expert,Warsaw Institute, Poland [CON]
Session 2: Energy
1. Synchronization of electric power grids – shift from East to West.
2. Gas interconnectors and American LNG – a chance for energy independence?
3. Nuclear power plant in Belarus – should we be afraid?
4. Nord Stream 2 – the gas pipeline that divided Europe.
5. Refinery in Mazeikiu – strengthening the energy security of the region.
6. New energy infrastructure – a guarantee of security of raw materials supply.
Krystian Kowalewski, Director, World Energy Council Warsaw Office, Poland [CON]
Mantas Macikas, President, Memel Institute, Lithuania [CON]
Olevs Nikers, President, Baltic Security Foundation, Latvia [CON]
Sandis Šrāders, Faculty Member, Baltic Defence College, Latvia [CON]
Moderated by Wojciech Jakóbik Editor-in-chief, BiznesAlert.pl, Poland [CON]
Registration closed.
If you want to participate, please contact us at [email protected]
Strategic Sponsor:

The national and regional leader in crude oil logistics. Managing company of a network of crude oil and petroleum products pipelines and terminals.
Sponsor:
Polskie Sieci Elektroenergetyczne S.A.
Polish state transmission system operator for electricity
which accounts for the power system balancing.
Preparation of the conference (concept, implementation, realization) was possible thanks to co-financing from the Civil Society Organisations Development Programme 2019.