Moscow To Prepare Serbian Intrigue
Russia's only ally in the Western Balkans is Serbia, and – more specifically – the Serbs. It was only a few years ago that a list of Moscow's friends contained even Montenegro and Macedonia; nonetheless, due to aggressive Russian policy, including the attempted putsch in Montenegro and a special operation in Macedonia, these countries had no longer intention to maintain their cooperation with Russia, which ultimately pushed them towards NATO and the European Union. Thus, the Serbs remain conflicted with almost all their neighbours. The Belgrade-Moscow alliance is getting stronger while the Russians have recently been trying to divide the federal state of Bosnia and Herzegovina.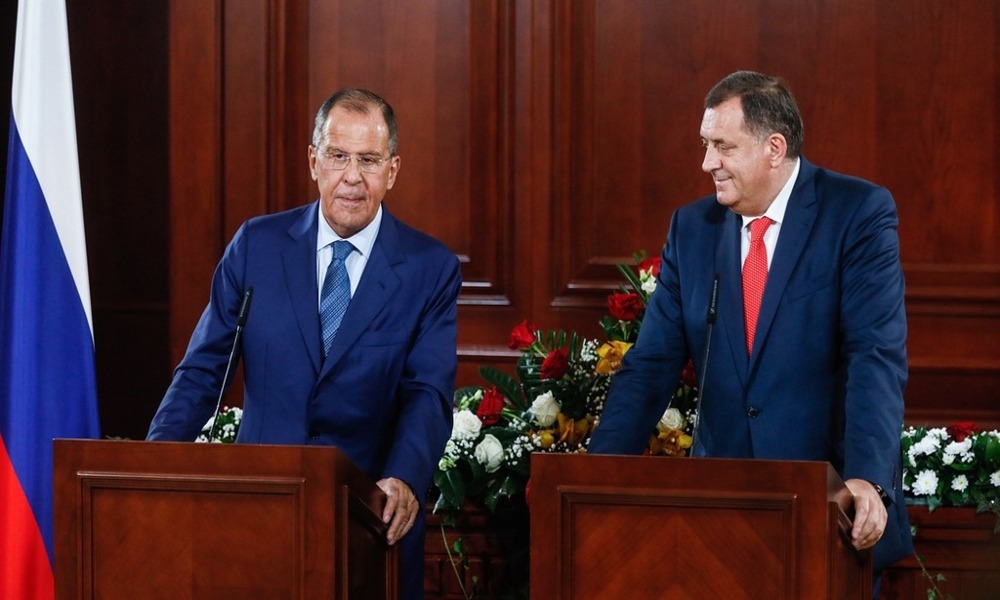 SOURCE: MID.RU
Since the Dayton Peace Agreement in 2015, Bosnia and Herzegovina, also referred to as BiH, consists of two autonomous state units: the Muslim-Croat Federation and Serb-run Republika Srpska. Both of these entities have their own presidents, governments, and parliaments. They are connected one with another by relatively weak central institutions, including the three-member Presidency of Bosnia and Herzegovina, supposed to represent three nationalities: Muslim Bosnians, Catholic Croats and Orthodox Serbs. The upcoming elections are scheduled for October 7. Bosnia and Herzegovina was visited by Russia's Foreign Minister Sergey Lavrov only several days ago. In addition, Lavrov paid a visit to Sarajevo where he assured that Russia would try its utmost to respect the elections result and would not stand up for any political party. Nonetheless, he also went to Banja Luka, the capital of the Republika Srpska entity; such trip seemed to deny all that Lavrov had previously said in Sarajevo. Both in fact, the visit to BiH constituted an expression of Russia's strong support to the nationalist Republika Srpska and Moscow's ally President Milorad Dodik, who runs for a set in the three-member Presidency.
For a long time, Dodik has been one of Moscow's most faithful allies in the former Yugoslavia. He is in favor of the wider autonomy of Republika Srpska as well as he seeks to detach the entity from Bosnia and Herzegovina in a longer perspective, hoping that Moscow will support his separatist plans. This is to be fostered by the discussion on the territory exchange between Serbia and Kosovo – meaning a precedent that would ultimately make it possible to change borders. Officially, Lavrov does not support Dodik's separatism; however, Russia's Foreign Minister attacked some Western countries and he rejected all accusations that Russia could try to influence results of a Macedonian name-change referendum scheduled for September 30. And the very fact that, on September 21, the head of Russian diplomacy met in Banja Luka not only the president on the Serbian entity but he also held a meeting with Serbia's Prime Minister Ivica Dačić was significant and must be straightforwardly interpreted as Moscow's support for future detachment of the Serbian part of BiH with the aim of joining Serbia. Such Russian policy also serves to strengthen ties with Belgrade, where many still dream about the Great Serbia – an ethnic Serbian state made up of present Serbia, but also Serbs inhabiting some parts of Croatia, Bosnia and Herzegovina, Montenegro, Macedonia, and Kosovo.
All texts published by the Warsaw Institute Foundation may be disseminated on the condition that their origin is credited. Images may not be used without permission.