Moscow Should Feel Disturbed by Bolton's Mission in the East
A several-day trip paid by U.S. National Security Advisor John Bolton shows Washington's increased interest in the countries of our part of Europe. Top three topics on the agenda of Trump's influential aide were Russia, China, and the energy industry. While on tour in Europe, Bolton visited Kiev, Chisinau, Minsk, and Warsaw. Most considerable political significance was given to his meeting with Belarusian President Alexander Lukashenko while culminating Bolton's tour in Warsaw corroborates Poland's crucial role in U.S. roadmap for countries between Russia and NATO. And this is all the more that the necessity of having friendly ties with Warsaw was brought upon in talks that the U.S. representatives held both with Lukashenko and Ukraine's Zelensky.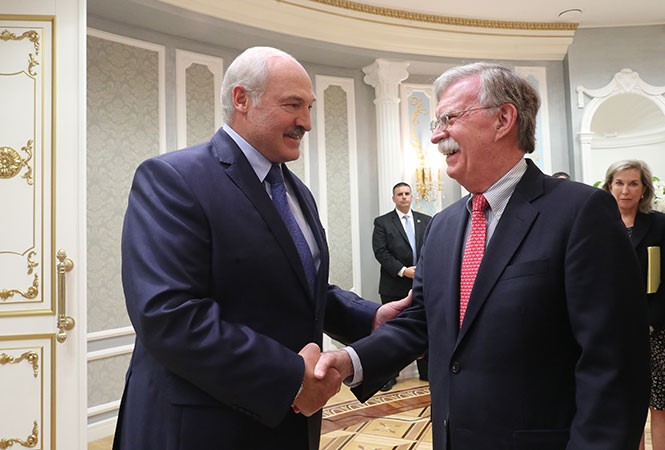 SOURCE: PRESIDENT.GOV.BY
While Bolton's trips to Kiev and Chisinau were not a big surprise, especially given Washington's cordial relations with Ukraine and Moldova, and how important they are for the Trump administration, his arrival in Minsk was of immense political significance. Minsk has not seen such a senior state official as a national security advisor since former U.S. president Bill Clinton paid a visit to Belarus in 1994, well before Lukashenko came to power. What is more, in 2008 both the United States and Belarus recalled their ambassadors from Minsk and Washington while the United States introduced sanctions against Belarus. Recent times have yet seen a thaw in U.S.-Belarusian relations. Russia's aggression against Ukraine seems to have become a turning point in their bilateral ties, with Belarus active engagement in peace talks and Moscow's mounting pressure on Minsk to deepen further integration. In late 2018 Assistant Secretary of State Wess Mitchell called the sovereignty and territorial integrity of Belarus, Ukraine, and Moldova "a bastion protecting from Russian neo-imperialism." His statement was followed by a series of intensified meetings between lower-level officials. As early as in January 2019 Belarusian Foreign Ministry lifted a limit on the number of U.S. diplomats allowed in Minsk while talks are underway to restore full-fledged diplomatic ties. All this found its culmination on August 30 during Bolton's trip to Minsk.
Support Us
If content prepared by Warsaw Institute team is useful for you, please support our actions. Donations from private persons are necessary for the continuation of our mission.
And even though it failed to bring any considerable benefits, serving rather kind of a probe test, attention is drawn to cordial ambiance around the visit itself. Lukashenko personally arrived in the airport to greet Bolton, a step that was followed by the president's declaration of Minsk's readiness to "renew bilateral relations." No further details have been provided on what Bolton talked about with Lukashenko, but the U.S. presidential aide might have put forward conditions for enhancing U.S.-Belarusian ties, with Lukashenko's offer possibly coming as a reply. It can be assumed that high on the agenda was a long list of topics that went far beyond bilateral ties. There may have popped out an idea of establishing energy cooperation: earlier Minsk had expressed interest, albeit unofficially, to purchase U.S.-sourced crude while an increase in LNG export volumes to neighboring Poland opens new perspectives. Among the topics discussed must have been the conflict in Ukraine's east (Lukashenko was nothing against including Washington into the Normandy format) and the question of Ukrainian-Belarusian ties as Bolton could have checked how far these two countries had gone when discussing integration issues. Bolton, as for him, said that "regional issues, those related to countries that are geographically remote, but also affect the situation here." While saying so, he might have meant Belarus's relations with China and Iran. Washington has been lobbying across the region against developing economic cooperation with China, also in the sphere of a 5G network. Perhaps Bolton sought to find out more on Lukashenko's stance on medium-range missile proliferation after the actual demise of the INF treaty – whether Minsk will give the nod for fielding Russian missiles on its soil and how it reacts to the U.S. growing military presence in neighboring Poland. Unofficial reports in Russian media outlets say that Bolton stated that the United States will return to its full-fledged relations with Belarus only if Minsk makes an effort to enhance its ties with Poland.
While commenting on Bolton's visit to Minsk, Russian pro-government media outlets depicted it as a potential threat for Russian interests. The Kremlin refrained itself from providing a broader comment, saying that the meeting was nothing more than Belarus's matter. The following day, Lukashenko held a phone call with Vladimir Putin. What may be worrying from Moscow's point of view, though, is that Bolton flew from Minsk to Warsaw, where he still talked with Belarus's Secretary of the Security Council and Deputy Minister of Foreign Affairs. Also, Poland and Ukraine have been both already involved in these diplomatic exchanges. Not surprisingly, the Russian press has even warned over the U.S. attempts to build somewhat a "sanitary cordon" close to Russia's western border, with Poland playing a leading role in the undertaking.
All texts published by the Warsaw Institute Foundation may be disseminated on the condition that their origin is credited. Images may not be used without permission.