Kosovo. Security, foreign policy and the future of the teenage state | Live Stream
The Warsaw Institute Review and Warsaw Institute are proud to announce the upcoming expert event "Kosovo. Security, foreign policy and the future of the teenage state."The debate will be held on Wednesday, October 28th at 8 PM (CET)!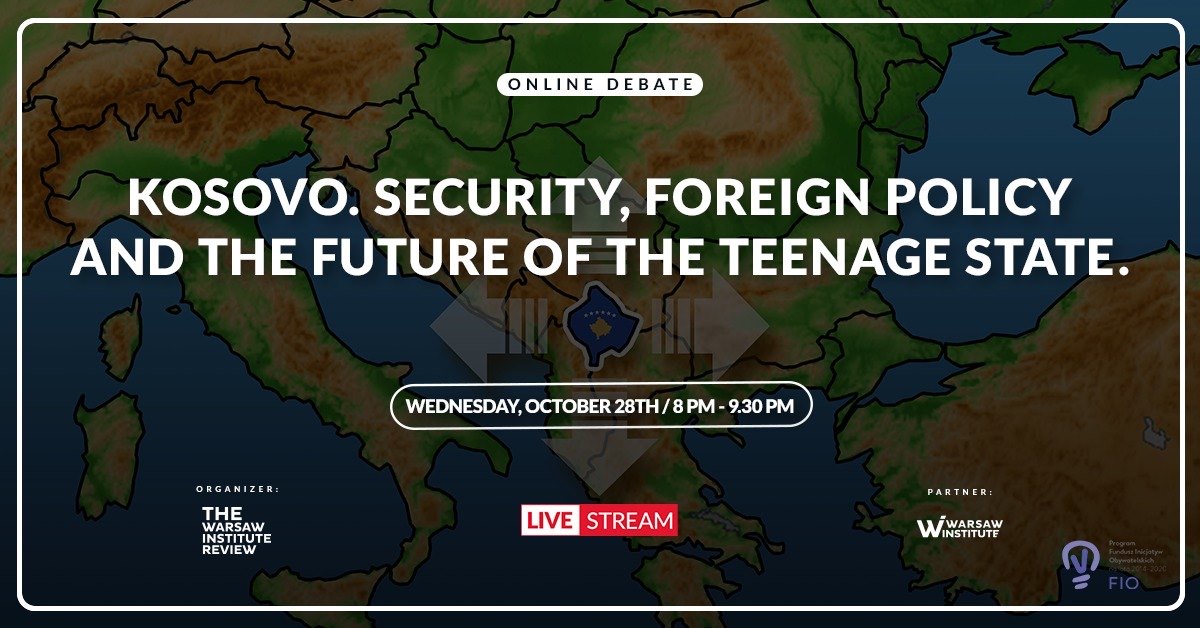 Register to receive a reminder with a link directly to the live stream 30 minutes before the beginning:
Kosovo declared its independence from Serbia on February 17, 2008. Twelve years later, although more than 100 countries recognized Kosovo as an independent state, the political situation of the country remains very complex. However, since its declaration of independence, Kosovo has managed to become a member of other international institutions, such as the International Monetary Fund and the World Bank. Moreover, certain consensus between governments of Serbia and Kosovo took place in 2013 as both parties reached the Brussels Agreement. In September 2020, under an agreement arranged by the United States, Serbia and Kosovo agreed to normalise economic relations. So there is a lot going on around Kosovo, and it seems we have more to come.
Therefore, these and many other issues will be discussed by a panel of exceptional guests:
– His Excellency Arbër Vllahiu – Ambassador of the Republic of Kosovo in Prague with responsibilities with the Republic of Poland.
– Ivan Gusic – postdoctoral researcher at the Department of Global Political Studies at Malmö University. Expert in peace-building, peace and conflict studies, nationalism and nation-state, ethnic conflicts, and the Western Balkans.
The event will be hosted by Jakub Lachert – Warsaw Institute expert specializing in the Eastern Partnership and Western Balkans in the process of integration with the EU.
Link to the live stream from the debate will be available on Wednesday, October 28th at 8:00 PM CET. We cordially invite you to participate in the event!
All texts published by the Warsaw Institute Foundation may be disseminated on the condition that their origin is credited. Images may not be used without permission.