Russia Monitor is a review of the most important events related to Russian internal and external security, as well as its foreign policies.
Kavkaz-2020: Russia's Biggest Military Exercise This Year
The active stage of the Russian command-and-staff military drills Kavkaz-2020 wrapped up on September 26 after Russia had hosted what it called its biggest drills this year, with 80,000 servicemen taking part, notably from the Southern Military District. Interestingly, the list of participating post-Soviet and Asian countries as either participants or observers looked impressive.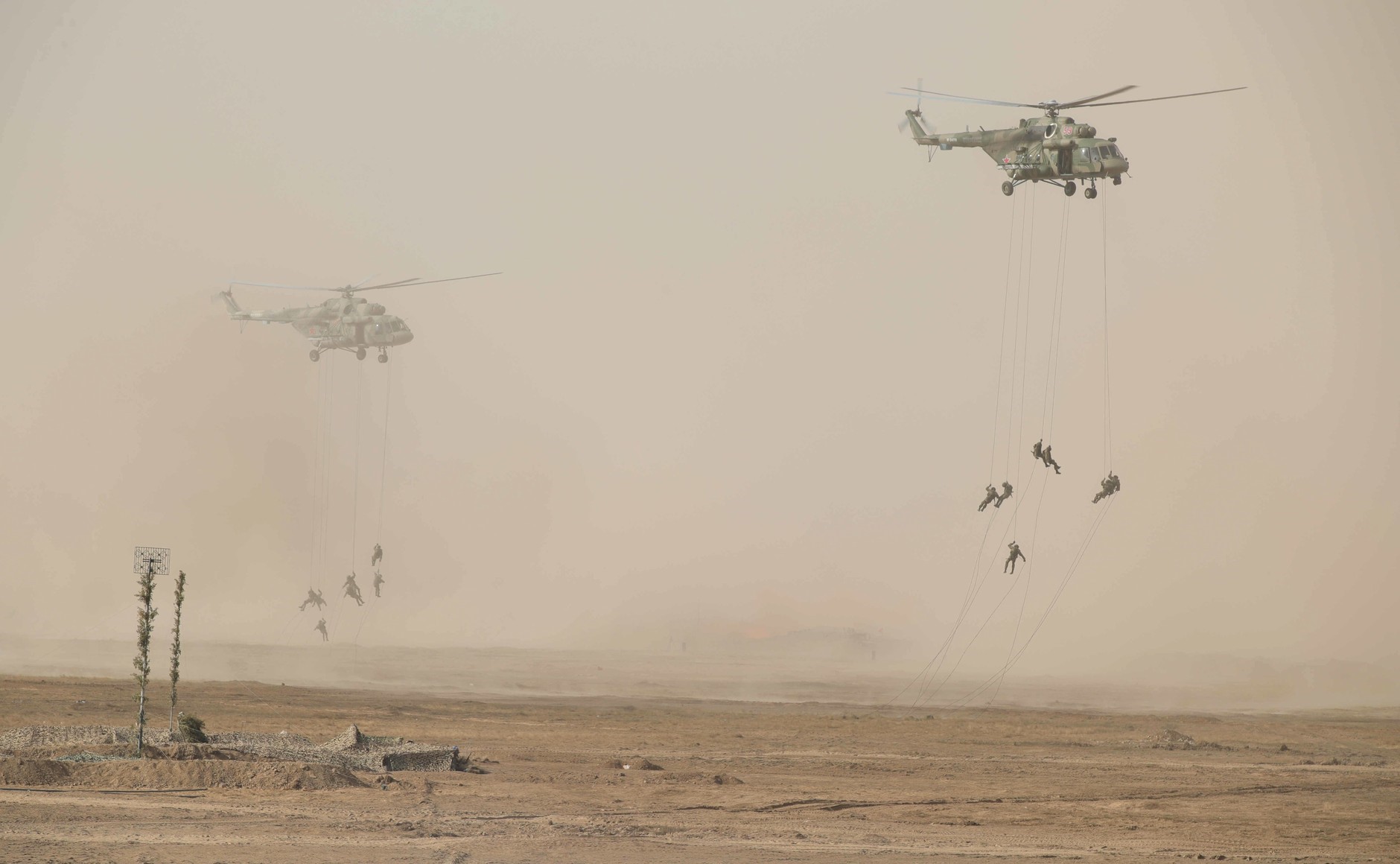 SOURCE: KREMLIN.RU
On September 25, Vladimir Putin monitors the main phase of the war games at the Kapustin Yar training ground in the Astrakhan region. The military facility served as the main theater of the combat readiness check. At Kapustin Year forces performed a field test of the TOS-2 thermobaric weapon system, and carried out the first-ever test of an air assault brigade on the BMD-4M amphibious infantry fighting vehicle. The Kavkaz-2020 combat readiness check took place in Russia's Southern Military District. The drills had two parts, the first of them being focused on formulating and pushing through the planning phase whilst the second being orbital around firing drills to test the command and control, or C2, readiness of joint forces. The Kavkaz-2020 strategic command-and-staff exercises involved ground, air, and naval units in the Caspian and Black Seas. Russian forces were exercising in training grounds across the Southern Military District (Prudboy, Ashuluk, Kapustin Yar, Arzgir, and Kopanskaya), Russian military facilities in Armenia, Abkhazia, and South Ossetia, the last two seized from Georgia and annexed by Russia. According to official data, roughly 80,000 people, including 1,000 foreign troops, 250 tanks, up to 450 mechanized infantry fighting vehicles, as well as up to 200 artillery systems and multiple-launch rocket systems (MLRS) were deployed to firing grounds. The drills included officers from the Russian Emergencies Ministry and the Russian National Guard, too. Also, Armenian, Belarusian, Chinese, Pakistani, and Myanmarese forces participated in the exercises while representatives from Azerbaijan, Indonesia, Iran, Kazakhstan, Tajikistan, and Sri Lanka took part as observers. Russia's combat readiness check is not directed against other countries, the country's Deputy Defense Minister Alexander Fomin told foreign defense attachés on the eve of the drills, insisting on their "purely defensive" nature. This might have popped up amidst weeks-long concerns that Moscow could use Kavkaz-2020 to veil its plans to mobilize troops invading Ukraine. Yet the facts contradict what Russian officials declared. Russian forces were in fact exercising a staged armed conflict with another state. Suffice it to say that during the drill, the army trained the skills of repelling terrorists and terrorist groups attacks, protection from the unmanned aerial vehicles and cruise missiles of a mock enemy, and repelling air raids. Besides, troops conducted defense against electronic warfare systems.
Support Us
If content prepared by Warsaw Institute team is useful for you, please support our actions. Donations from private persons are necessary for the continuation of our mission.
All texts published by the Warsaw Institute Foundation may be disseminated on the condition that their origin is credited. Images may not be used without permission.