THE WARSAW INSTITUTE REVIEW
The Importance of Future British-Polish Relations
Global Britain is a new era for British-Polish relations, and an opportunity for Warsaw to capitalize on a strategic – and sovereign – relationship.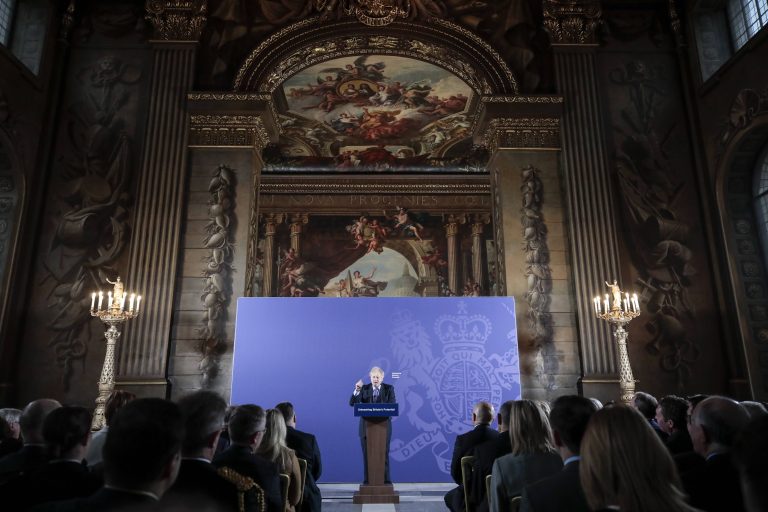 BRITISH PRIME MINISTER BORIS JOHNSON GESTURES AS HE DELIVERS A SPEECH ON 'UNLEASHING BRITAIN'S POTENTIAL' AT THE OLD ROYAL NAVAL COLLEGE IN LONDON, BRITAIN, 03 FEBRUARY 2020. THE UNITED KINGDOM OFFICIALLY LEFT THE EU ON 31 JANUARY 2020, BEGINNING AN ELEVEN MONTH TRANSITION PERIOD WITH NEGOTIATIONS OVER A FUTURE TRADE DEAL. EPA/JASON ALDEN / POOL
Author: Daniel Kawczyński
Last year Poles and Brits celebrated the 250th anniversary of the first Polish diplomatic presence in the United Kingdom. Since 1769, our two nations have had multitude of challenges and opportunities. Looking merely at the last century – we had to collectively face and defeat the German Nazi aggression, and 50 years later we conquered communism which presented the prospectus of uniting under the then European Economic Community. In the 21st century, Poland and the UK are facing new pathways and roadblocks. London is on a course of departing from a flawed European project dominated by a Franco-German alliance, whilst Warsaw looks to regain its historical leadership in Central and Eastern Europe. These opportunities and challenges can be mapped out by examining contemporary British-Polish relations through the political, defense, and economic lenses.
Political
Britain is leaving the European Union, not Europe. Global Britain is here to seek influence globally, including in the Central and Eastern Europe region within and outside the EU. Poland has successfully showcased its ability to be a leader and seek influence in this area. The Visegrad Group's influence in EU policymaking or the Three Seas Initiative's ability to make Atlanticism attractive again throughout the region, are emblematic of this. Closer British-Polish ties in this region are thus crucial. British presence in CEE and its projects such as the Three Seas Initiative can strengthen the prospects of a "Transatlantic Triangle" cooperation format emerging between Warsaw-London-Washington, in which mutual benefits can be easily identified. Firstly, closer cooperation with Washington on specific foreign policy areas (in this case approach to CEE) could contribute to a future favorable US-UK trade deal. Secondly, Poland could use the V4 (which declared its willingness to take leadership in the currently lifeless EU-US trade negotiations) as a tool to shape a favorable common EU approach to both the US and the UK. Finally, the Transatlantic Triangle could collectively curb the domination of the Franco-German machine in Europe. Consequently, it could challenge projects, which threaten the national security of its members.
Additionally, there are a number of projects aiming to strengthen the North-South infrastructure and the trade link between the Baltic, Adriatic and Black Seas, which were previously neglected, but now, thanks to projects such as the Three Seas Fund, may become an attractive opportunity for British investors. Establishing a new cooperation format through closer Polish-British ties may also curtail perilous Chinese trade power, especially in CEE. The success of the Three Seas, with joint British-American support, could be a key factor to convincing CEE countries to be wary of Chinese-led projects like the 17+1 Cooperation and Chinese Belt and Road Initiative, and primarily focus on enhancing transatlantic ties.
Defense
Britain is well-versed in its understanding of the Russian threat at NATO's Eastern flank. In intra-EU diplomacy, London lobbied together with Warsaw to ensure continued EU sanctions against Russia. Now, as a sovereign diplomatic player, Britain remains persistent in pursuing a balanced policy towards Russia. This was demonstrated recently by the Prime Minister's call for a transparent investigation into the poisoning of Alexei Navalny. Global Britain's hard line on Russian interference could be supported by an increased British presence at the Eastern flank. There are over 150 British soldiers stationed on Polish soil and a discussion to strenuously lobby for more British troops could therefore be considered in the Polish defense discourse.
Equally, hybrid warfare is another area in which Poland and Britain find common interest. The hacking and foreign interference in elections as well as misinformation and fake news have become some of the main tools of modern warfare and must be treated with upmostimportance. The collective response to hybrid threats is widely dispersed across different international and regional organizations such as the EU, NATO, and the UN, providing groundwork to facilitate closer bilateral cooperation between the Poles and the Brits. In a coordinated approach, Poland could continue to raise awareness of cyberattacks on EU platforms i.e. PESCO. Warsaw has shown the ability to effectively lobby for PESCO not to duplicate NATO's competencies, thus it successfully uses its membership in the EU to align the bloc with broader transatlantic security interests. Whereas, the UK could lobby for the common cause in the UN Security Council, which Poland recently departed after its two-year elected tenure. Lastly, during NATO summits, both Warsaw and London could speak in a united and coordinated voice on this topic.
Trade
Last but certainly not least – trade. Poland has been named the most business-friendly country in the Central European region, and Britain has successfully recognized that. According to a 2019 report from Deloitte, three out of four companies owned or co-owned by British investors planned to increase their investment outlays in Poland. Moreover, UK investors perceive Poland positively due to the "size of its economy and its growing integration with the global economy." UK companies invested PLN 48 billion in Poland between 1995 and 2017, growing Poland's GDP by 15 billion in 2017. BP, AVIVA, Imperial Brands , Rolls-Royce, Prudential and Primark are just few among the many British companies that have seized on the opportunities that lie in Polish-British trade relations.
From a superficial perspective, Brexit in its early stages may be perceived by some as a challenge to future trade relations, as businesses may have to slightly recalibrate their activities. However, every new change brings room for new opportunities – Global Britain will be able to trade with the whole world and not suffer from Brussels' interventions whilst Poland could tap into the Commonwealth's network to boost its global trade, while inviting British companies to continue to invest their capital over the Vistula river. Shaping post-Brexit trade relations should also be facilitated by regional agencies and trade bodies that highlight investment opportunities not only in Warsaw, Kraków or Łódź, but also in cities like Piotrków Trybunalski where FDI could drastically improve the lives of hard-working Poles. Global Britain has the chance to create thousands of jobs and boost infrastructure without having to pay billions to a regional organization dominated by foreign interests, hindering the true potential of Polish-British relations.
Conclusion
As outlined, there is tremendous space for closer cooperation in the political, defense and trade realms. The latter in particular is a policy sphere in which this potential is most evident and provides a model for strengthening British-Polish relations. It is imperative that Polish policymakers examine the opportunities afforded by Brexit, which have been wrongfully labelled as setbacks to London's ties with Warsaw.
All texts published by the Warsaw Institute Foundation may be disseminated on the condition that their origin is credited. Images may not be used without permission.