Challenges For Energy Security. Transatlantic Approach | Online interview
Warsaw Institute and The Warsaw Institute Review are delighted to invite you to our event: "Challenges For Energy Security. Transatlantic Approach"!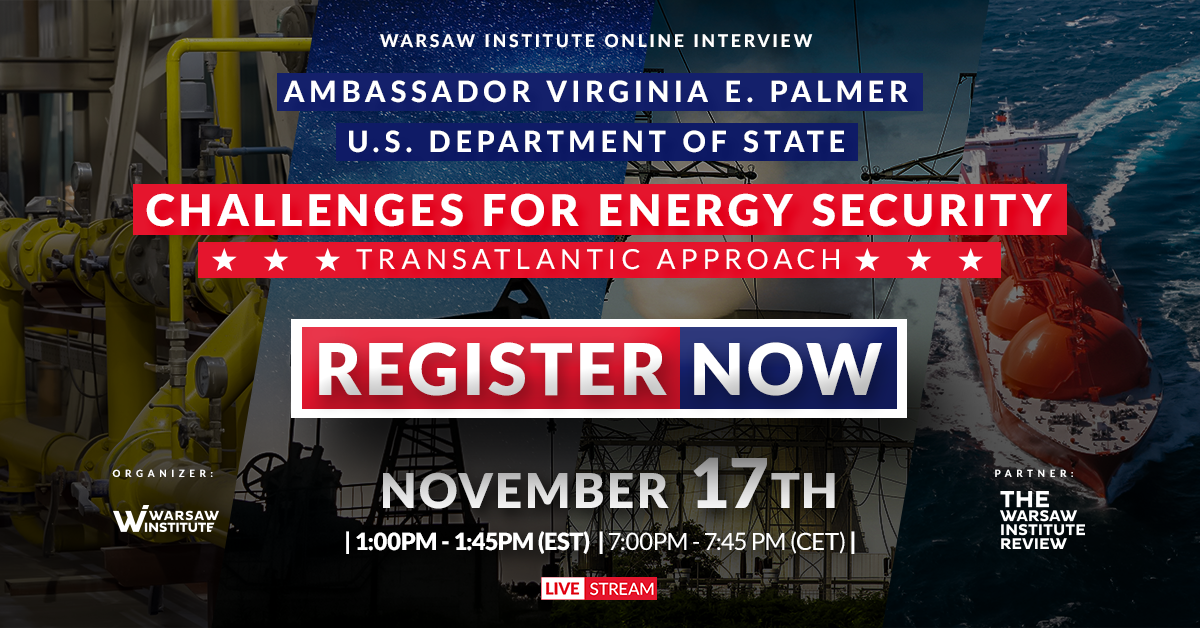 Date: November 17th, 1:00pm – 1:45pm EST | 7:00pm – 7:45pm CET.
Format: online interview
Special guest: H.E. Ambassador Virginia Palmer, Principal Deputy Assistant Secretary, Bureau of Energy Resources , U.S. Department of State
Host: Tomasz Kijewski, Executive Director, Warsaw Institute
The discussion will focus, among others, on:
• Energy security in Central and Eastern Europe in the context of natural gas supplies
• Geopolitics of the pipelines in Central and Eastern Europe (current network and future projects: Nord Stream 2 and Baltic Pipe)
• LNG from the U.S. – a real game changer on the natural gas market in the region
• The Three Seas Initiative as an effective tool for implementation of the energy projects
• Threats and challenges to critical energy infrastructure (focus on Poland)
• U.S. nuclear energy in Central and Eastern Europe – prospects for cooperation
• Energy transformations across different sectors. U.S. perspective on European Green Deal
As always, there will be time for questions from the audience. Don't miss it and register today ✔️ to get an email notification with a link to the stream.
Ambassador Virginia E. Palmer became Principal Deputy Assistant Secretary for the Bureau of Energy Resources on November 4, 2019. She is a career member of the Senior Foreign Service, rank of Minister Counselor. She was most recently the Deputy Commandant and International Affairs Advisor at the Dwight D. Eisenhower School for National Security and Resource Strategy. She served as U.S. Ambassador to the Republic of Malawi from January 2015 until June 2019. There, she oversaw an annual bilateral assistance budget of more than $500 million and the work of eleven U.S. government agencies. As Deputy Chief of Mission and Chargé d'Affaires at the U.S. Embassy in South Africa from 2011 to 2014, she was responsible for the strategic direction and operational effectiveness of 1,100 staff from 28 U.S. government agencies and oversaw a $480 million/annum PEPFAR (HIV/AIDS) program budget. She negotiated agreement with the South African government for their takeover of HIV/AIDS care and treatment programs, the first such transition in the world. As Deputy Chief of Mission and Chargé d'Affaires at the U.S. Embassy in Vietnam from 2008-2011, she promoted major trade initiatives and helped shape new U.S. dioxin (Agent Orange) remediation efforts.
From 2005-2008, Ambassador Palmer was the State Department's Deputy Coordinator for Counterterrorism, responsible for terrorist finance issues and establishing regional initiatives to strengthen partner nations' capacity to degrade terrorist capability. From 2004-2005, she was Director of the East Asia Bureau's Office of Economic Policy and the alternate U.S. Senior Official for the Asia Pacific Economic Cooperation forum (APEC). From 2001-2004, she was Economic Counselor at the U.S. Embassy in Nairobi, Kenya.
Other postings during her 33-year career include assignments in Canada, Zimbabwe, China, and Hong Kong working on political-military affairs, corruption, trade and agriculture, labor and human rights issues, health and development. In the State Department, she served in the Office of Maghreb Affairs and the Secretary's Operations Center. She is the recipient of numerous Superior Honor, Meritorious Honor and Senior Performance awards.
Ambassador Palmer obtained her Masters and did doctoral studies at the University of Virginia. She received a B.S.F.S. from Georgetown University and also attended Washington University in St. Louis. She speaks Chinese and French.
Tomasz Kijewski graduated from international relations at the University of Lodz (scholarship at the Center for Transatlantic Studies in Maastricht, the Netherlands) and post-graduate studies at the National Defense University in Warsaw. Graduate of the national security study program (PASS) at the George C. Marshall European Center for Security Studies (Garmisch-Partenkirchen / Washington DC). He served as a diplomat at the Polish Embassy in Canada. Areas of interest: hybrid warfare and asymmetric conflicts, counter-terrorism, energy security. He is currently preparing his doctoral dissertation (PhD).
All texts published by the Warsaw Institute Foundation may be disseminated on the condition that their origin is credited. Images may not be used without permission.