Russia Monitor is a review of the most important events related to Russian internal and external security, as well as its foreign policies.
Bulgaria Buys More LNG, Gazprom Will Lose Sales Market
In line with earlier declarations, Bulgaria bought stakes in a liquefied natural gas (LNG) terminal project in Alexandroupolis, Greece. Prime Minister Boyko Borisov's government is following the diversification policy for the country's gas supplies, aspiring to make Bulgaria a regionwide gas hub for commodities flowing from Russia and Azerbaijan, as well as U.S. and Qatari liquefied natural gas supplies. This is somewhat uneasy for Gazprom –– the Russian energy major –– that is facing fierce competition in southeastern Europe.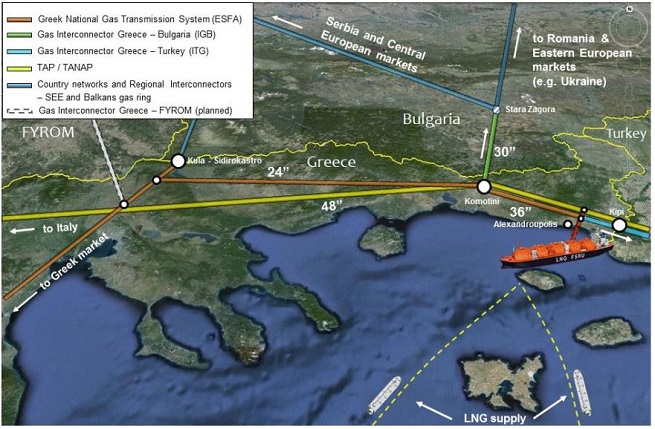 SOURCE: GASTRADE.GR
Bulgaria and Greece signed on August 24 a deal on the acquisition of 20 percent interest in a floating liquefied natural gas (LNG) terminal off Greece's northern coastal city of Alexandroupolis by the Aegean Sea. According to unofficial reports, Sofia is ready to invest some €30 million in the project. The Bulgarian government decided to purchase a package of stakes two years ago but it is only now that it closed the deal. A signing ceremony was attended by Bulgarian Prime Minister Book Borisov and his Greek counterpart Kyriakos Mitsotakis. The LNG terminal project is currently under development by Greek utility Gastrade. Borisov stressed that the new investment was vital for his country's energy diversification efforts. The Alexandroupolis project will be the second LNG terminal in the region. Greece's only current LNG terminal – to which Bulgaria already has access to – is at Revithoussa, west of the Greek capital of Athens. The LNG terminal, which will have an estimated annual capacity of about 6.1 billion cubic meters (bcm), will be built 18 kilometers southwest of the port of Alexandroupolis. The station will have an LNG storage capacity of 170,000 cubic meters. A floating terminal will be linked to the Greek gas transmission system via a 28-kilometer pipeline. The terminal is set to become operational in late 2022 or early 2023, allowing Bulgaria to gradually give up purchasing Russian-sourced gas. Sofia started buying less gas from Russia after it had kicked off LNG imports from the first terminal in Greece (0.5 bcm in 2019). The construction of the Komotini-Stara Zagora gas interconnector is moving fast. It will receive gas supplies flowing from the Alexandroupolis terminal, with a projected capacity of 3 bcm per year, up to 5.5 bcm ultimately. Once the gas connector and terminal in Alexandroupolis are completed, Bulgaria will be able to receive liquified natural gas from Qatar, Israel, and the United States via this route. Earlier Russia had reprimanded Sofia over its alleged delaying the building of the Balkan Stream, or a TurkStream natural gas pipeline on its territory. The Bulgarian section of the Balkan Stream was initially poised to be ready in early 2020 yet Bulgaria had a delay and now says this would be finished by the end of this year. Bulgarian Prime Minister Boyko Borisov on July 29 informed about the progress in the construction of the pipeline that would be completed as expected. The 470-kilometer Balkan Stream is poised to be an extension of the two strings of the TurkStream pipeline, each capable of delivering 15.75 bcm of gas from Russia to the European part of Turkey –– alongside the 900-kilometer Russia-to-Turkey Blue Stream energy line beneath the Black Sea.
Support Us
If content prepared by Warsaw Institute team is useful for you, please support our actions. Donations from private persons are necessary for the continuation of our mission.
All texts published by the Warsaw Institute Foundation may be disseminated on the condition that their origin is credited. Images may not be used without permission.