China Monitor is our brand-new program that analyses China's economic and foreign policies. It also aims to predict the consequences of Beijing's policy for the global economy, the EU as well as Central and Eastern European countries such as Poland.
Date: 15 October 2021 Author: Łukasz Kobierski
Yang-Sullivan Meeting
Yang Jiechi, a Member of the Politburo of the Chinese Communist Party (CCP) and the Director of the Central Foreign Affairs Commission Office, met with Jake Sullivan, the US National Security Advisor, in Zurich, Switzerland on October 6. The summit was widely regarded as successful. Chinese experts note that bilateral relations are improving, but are also aware of the long-standing rivalry between the two countries.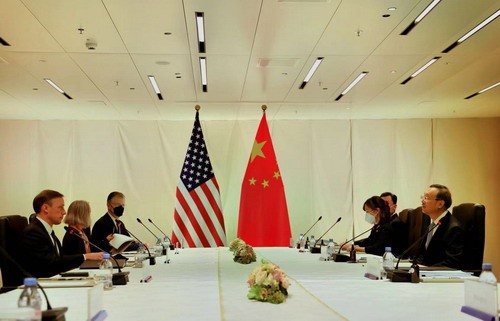 SOURCE: FMPRC.GOV.CN
Chinese Foreign Ministry spokesperson Zhao Lijian said that the meeting "was constructive and conducive to enhancing mutual understanding." He also noted Joe Biden's positive remarks about China during his recent telephone conversation with Xi Jinping. Moreover, he appreciated that the US does not intend to halt China's growth and does not seek a "new Cold War." Zhao Lijian added that Director Yang Jiechi had outlined China's position on Taiwan, Hong Kong, Xinjiang, human rights, and maritime issues. Both sides accepted that strategic communication should be strengthened and bilateral relations should put back on "the right track of sound and steady development."[i]
The White House issued only a brief press release regarding the talks. According to it, Jake Sullivan raised contentious matters of particular concern to the US, such as human rights, Xinjiang, Hong Kong, Tibet, the South China Sea, and Taiwan. Additionally, multiple domains in which US-China cooperation might occur were discussed. However, they were not listed in Washington's communique.[ii] The Chinese press release also included information about the US representative's statement on the "One China" policy as well as the views on climate change and regional issues.[iii]
According to media reports, the atmosphere of the October 6 meeting had improved significantly in comparison to previous talks in Alaska, which lasted for six hours. The US had proposed a one-on-one conversation between the two leaders, but it was only agreed that it will be held online at a later date this year.[iv] In addition, the venue of the meeting was praised by the Chinese experts. According to them, choosing Switzerland over Anchorage, AK is a sign of a departure from speaking from a "position of strength."[v] Su Xiaohui, Deputy Director of the Department of American Studies at the Chinese Institute of International Studies, believes that the US has finally come to the conclusion that pressuring Beijing does not provide any tangible benefits and it did not help the US to achieve its strategic aims.[vi]
Chinese analysts point out that the American offensive against China has shown signs of fatigue and Washington needs to settle some conflicts with Beijing.[vii] Li Haidong, a Professor at the Institute of International Relations of the China Foreign Affairs University, argues that relations between Washington and Beijing will be transformed from a "confrontational competition" to a "conversational competition" and "fighting while talking."[viii]
Hu Xijin, Editor-in-Chief of the Global Times, says the meeting was fruitful, but it is still clear that the United States considers China a rival. He quotes Yang who refrained from using the word "competition" to describe US-China relations. On the other hand, the White House press release included the word "competition" twice.[ix] However, Chinese analysts say it is unrealistic for US-China relations to change since in the United States there is a bipartisan consensus on this matter.[x]
October 6 meeting was the first face-to-face one between Yang and Sullivan since the Alaska summit in March 2021. The conference in Zurich ended on a more optimistic note than the one in Anchorage. Moreover, the talks took place six months after the telephone call between Chinese President Xi Jinping and US President Joe Biden. It is also apparent that the CCP appreciated the recent release of Meng Wanzhou, the daughter of Huawei's founder. Additionally, US Trade Representative Katherine Tai is expected to enter into dialogue with China in the near future regarding the potential suspension of some sanctions. These small conciliatory steps lead to improved communication between the two superpowers. However, the rivalry between them will continue since it is not expected that any party would give up the struggle for world leadership.
[i] https://www.fmprc.gov.cn/mfa_eng/xwfw_665399/s2510_665401/2511_665403/t1913254.shtml
[ii] https://www.whitehouse.gov/briefing-room/statements-releases/2021/10/06/readout-of-national-security-advisor-jake-sullivans-meeting-with-politburo-member-yang-jiechi/
[iii] https://www.fmprc.gov.cn/mfa_eng/zxxx_662805/t1912910.shtml
[iv] https://www.scmp.com/news/china/diplomacy/article/3151468/china-welcomes-positive-statements-us-talks-hint-change-mood?module=lead_hero_story&pgtype=homepage
[v] https://www.chinadaily.com.cn/a/202110/08/WS615ff877a310cdd39bc6d9d2.html
[vi] https://global.chinadaily.com.cn/a/202110/08/WS615f7d76a310cdd39bc6d5f0_2.html
[vii] https://www.globaltimes.cn/page/202110/1235692.shtml
[viii] https://www.globaltimes.cn/page/202110/1235667.shtml
[ix] https://www.globaltimes.cn/page/202110/1235774.shtml
[x] https://www.globaltimes.cn/page/202110/1235726.shtml
Support Us
If content prepared by Warsaw Institute team is useful for you, please support our actions. Donations from private persons are necessary for the continuation of our mission.
All texts published by the Warsaw Institute Foundation may be disseminated on the condition that their origin is credited. Images may not be used without permission.