Date: 28 May 2019 Author: Paweł Pawłowski
Warmer Relations Between Poland and Lithuania
Polish-Lithuanian bilateral ties have evolved many times over the centuries, ranging from friendly and close relations at the times of the Polish to Lithuanian Commonwealth to far more distant over the past century. Now Poland and Lithuania have an excellent chance to enhance their economic, cultural and political emotions, grasping an opportunity of two-sided engagement and their presence in the European Union and NATO.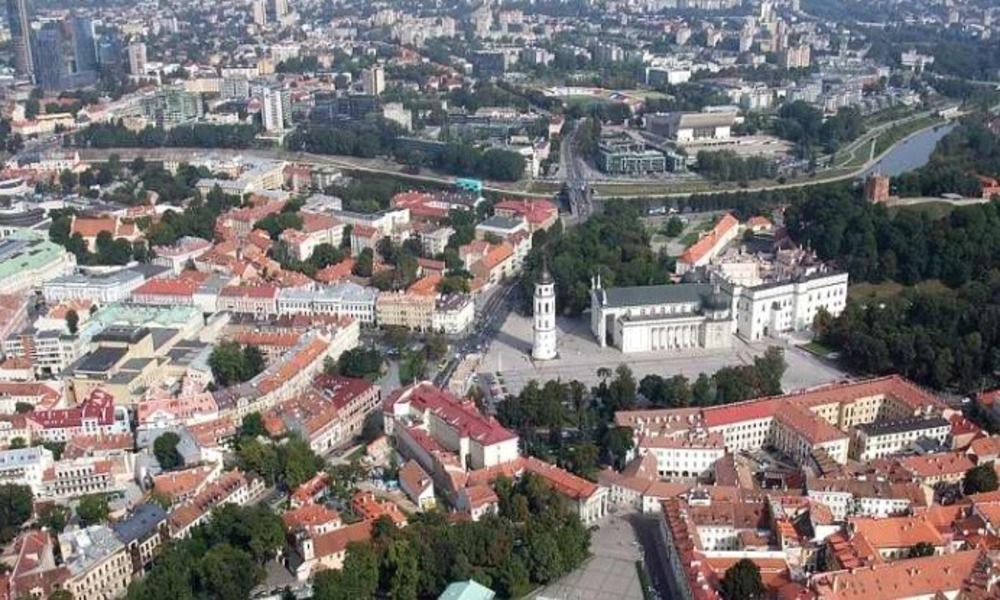 SOURCE: WIKIPEDIA.ORG
Located on the left bank of the Bug River, in the close vicinity of the current Polish-Ukrainian border, the peaceful village of Horodło seems a place like many others if it were not for the 11-meter memorial mound with a cross sitting on its top. And yet, in 1413, this settlement witnessed the Union of Horodło, a pact signed between Poland and Lithuania that strongly linked the two countries and, above all, the two nations, as stated in the text of the Union Act: "we hereby choose our Lithuanian nobility, as said below, to the coats of arms and jewels of the Polish noblemen whose representatives incorporated their Lithuanian brothers to common brotherhood and affinity, altogether with all who come from their family." The fact that Poland and Lithuania merged voluntarily and fraternally was of vital importance, as evidenced by the Manifestation of the Unity of the Polish-Lithuanian Commonwealth in Horodło. Although held in 1861, as Poland was under partitions at that time, the gathering was attended by 10,000 participants from all over the country. Before the manifestation, an appeal to the public was issued by Apollo Korzeniowski whose son, known worldwide as Joseph Conrad, later became part of the history of literature.
Being aware of large-scale changes that have occurred both in Poland and among its citizens since the country joined the European Union fifteen years ago made it possible for the Poles to gain humility towards the Polish-Lithuanian union that had lasted for over 400 years and contributed to establishing the Polish-Lithuanian Commonwealth, referred to as one of the most interesting European countries. Despite their shared heritage and particular ties that ought to bind Poles and Lithuanians, their bilateral relations remained overshadowed by events of the past century that none of us should ever forget, such as a massacre at Ponar near Vilnius. Also, Poland has to take care of its citizens living in Lithuania. Furthermore, the Lithuanian administration has undertaken a set of actions that prevented Poles from using the original wording and spelling of their names or that hampered the activity of Polish schools, which indeed has not fostered Polish-Lithuanian mutual cooperation. While keeping in mind both positive and negative experiences, efforts should be made to establish a healthy and reliable relationship between the two countries, though not at any price.
Support Us
If content prepared by Warsaw Institute team is useful for you, please support our actions. Donations from private persons are necessary for the continuation of our mission.
Even independently of Poland's and Lithuania's joint participation in the EU and NATO, Poland will both, directly and indirectly, serve as a natural bridge linking Lithuania with the rest of Europe. We often tend to forget that Lithuanians highly value our experiences and solutions we elaborated as part of the process of rebuilding the state after it had been destroyed by two totalitarian regimes. Let us remember that the ex-Soviet republics are currently facing far more problematic matters than those of the former satellite states of the Soviet Union, with Russia's direct influence perceived as a separate issue. Though challenging to realize, Russian-language media enjoy high popularity in present-day Lithuania, which is not necessarily the case of regions inhabited to a large extent by the Russian minority. And Lithuanian authorities are becoming more and more aware of all threats posed by Russia. This emerged as one of the reasons why Vilnius is sending more and more friendly signals to Poland. Lithuanian Prime Minister Saulius Skvernelis greatly encouraged Polish companies to invest in Lithuania.
Poland has clearly marked its business presence on Lithuanian soil. In 2006, PKN Orlen, a major Polish petrol retailer, purchased an oil refinery in the Lithuanian town of Mazeikiai. Since then, the firm has spent nearly $4 billion on the acquisition of and further investments in the Mazeikiai refinery. In consequence, Orlen Lietuva has grown as one of the pillars of the Poland-based oil company, accounting for one-third of Orlen's total fuel processing and becoming Lithuania's largest taxpayer. Also, the Mazeikiai refinery serves as a vital element of the energy security infrastructure in this part of Europe. Moreover, the Polish state insurance giant PZU holds 30-percent shares in the Lithuanian market where it has for years been the undisputed leader.
Lithuania is a potential area for the expansion of Polish-owned banks. In a recent interview for the Polish business newspaper Puls Biznesu, the president of Poland's largest bank, PKO Bank Polski (PKO), Zbigniew Jagiełło said the bank is ready for international expansion, with the Baltic states as a potential place for its investments. And yet, as informed over the recent months, Sweden's lender Swedbank, which is one of Lithuania's major banks, was involved in a Russian money laundering scandal in its Baltic branches. Naturally, Polish-Lithuanian economic relations cannot be narrowed down to efforts made by local giants as Polish products can be found on shelves of Lithuanian stores. Besides, due to a significant price gap, Lithuanian citizens prefer to shop in Poland, generating a large share of turnover. Prices in Polish currency are thus more affordable for many citizens that go shopping in Lithuania, especially after the country joined the eurozone.
In addition to the economic presence, it is also crucial to focus on the broadly understood culture as a domain that is also likely to undergo positive changes. Starting from May 2019, Polish national broadcaster TVP is intending to launch a new channel TVP Vilnius dedicated primarily to the Polish diaspora living in Lithuania. It is the country's largest national minority that counts over 160,000 members. Polish television should, however, be also directed to the Lithuanian audience, offering as a tremendous opportunity to enhance their perception of the Poles while challenging negative stereotypes as well as to transmit onto salient cultural values of particular importance for the two nations. This, however, requires a well thought out approach and achieving a proper balance between the presented content. Since our past experiences seem interesting for Lithuanians, we should strive for reducing the distance in this respect. This serves as a wide field of activity both for the government and Poland's large state-run companies in Lithuania. Awarding outstanding Lithuanian students scholarships for studies in Poland or providing expert or financial support for Lithuania-based think-tanks and NGOs may sustain a better understanding between our nations. Such initiatives have long been widely spread in Western European countries, as evidenced by Spain's Santander Universidades or grants and subsidies offered by Germany's Konrad Adenauer Foundation. Poland and Lithuania should make joint efforts to work towards comparable solutions, modeled on the initiatives as mentioned earlier.
The Polish-Lithuanian partnership should, however, put in spotlight interests of Poles living in Lithuania. Also, it is not advisable to succumb to the charm of friendly gestures, but rather to focus on real activities and interests. Lithuania is our NATO ally and a crucial partner in the European Union. We both share common interests and are aware of the Russian threat. Both countries should also bear in mind their "common brotherhood and affinity" that stem for the legacy of the Polish-Lithuanian Commonwealth, of which we should all feel proud. Poland and Lithuania have a chance to refer to their historical ties and jointly contribute to their mutual development. As history showed, such cooperation may bear beautiful fruits.
This article was originally published at "Dziennik Związkowy"