Russia Monitor is a review of the most important events related to Russian internal and external security, as well as its foreign policies.
Date: 28 September 2023 Author: Grzegorz Kuczyński
Wagner Fighters Return to Ukraine, Perhaps As Part of Russia's National Guard
Thousands of former Wagner Group fighters are a valuable asset that the Kremlin, involved in a bloody war in Ukraine, will never give up. The process of recruiting former members of the Wagner Group for MoD-affiliated private military companies (PMCs) or the regular army seems to make little progress. Hence, the Kremlin has decided to stage discussions regarding the potential inclusion of Wagner units within the Russian National Guard (Rosgvardia).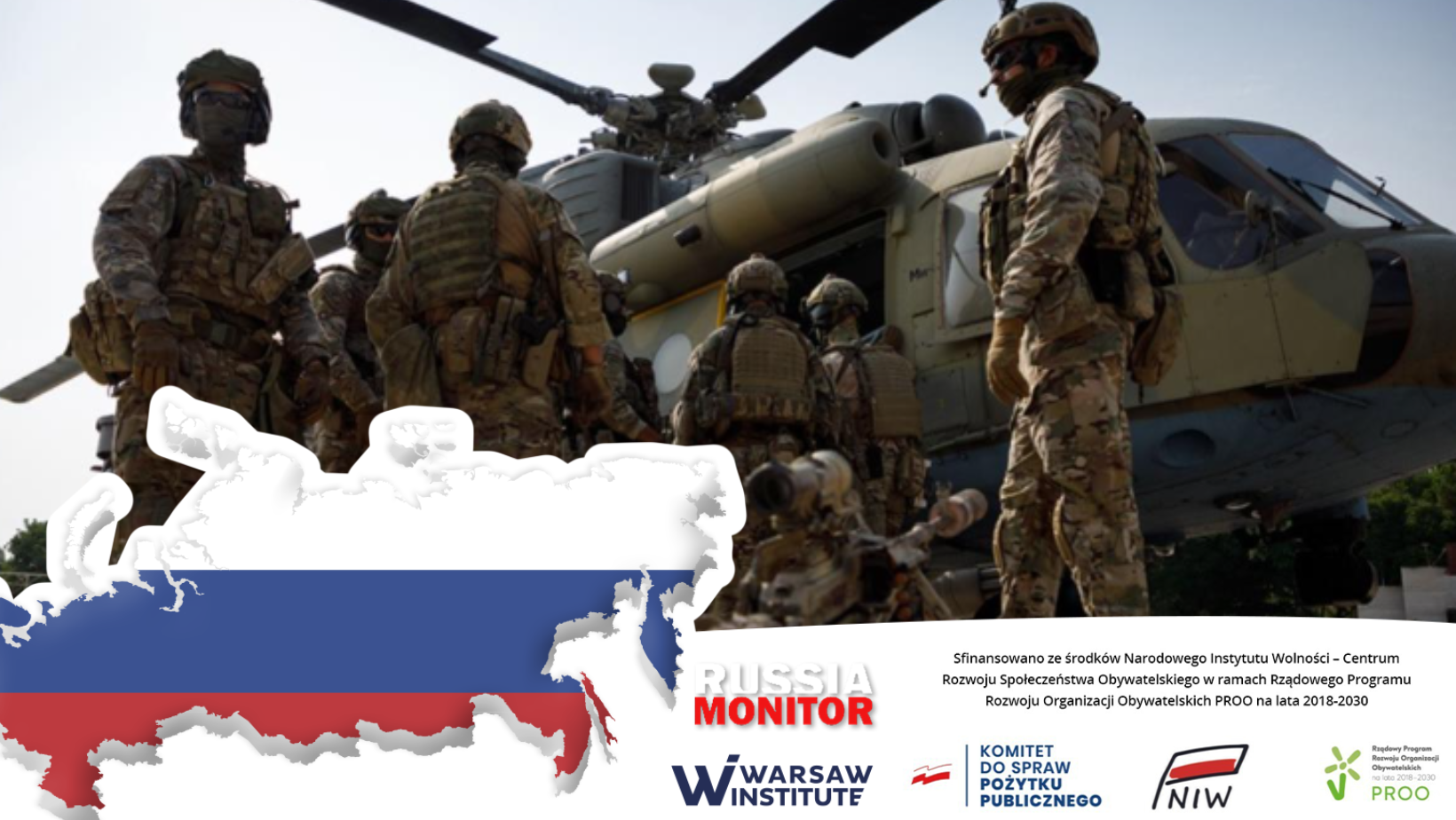 SOURCE: eng.mil.ru
Former mercenaries of the Wagner Group who were in Belarus signed a contract with the Russian Ministry of Defense and moved to eastern Ukraine, Illia Yevlash, spokesperson for the Eastern Grouping of Forces, told journalists on September 27. Some former Wagner fighters agree to sign contracts with the Russian Ministry of Defense and serve as instructors in Moscow's war with Ukraine. Others join regular combat units. Andriy Demchenko, a spokesman for the Ukrainian border agency, said the number of Wagner Group mercenaries had decreased from over 6,000 to just 500 people in late September. Some individuals who previously disassociated themselves from the Wagner Group following the failed rebellion led by founder Andrey Troshev are now joining MoD-affiliated PMCs named "Redut" and "Volunteer Corps". These former Wagner troops have begun deploying to the Bakhmut region of Ukraine. Troshev is actively seeking to recruit Wagner personnel currently deployed in Belarus, Africa, and the Middle East for positions within MoD-affiliated PMCs. Russian commander Anton Yelizarov, dubbed "Lotus," has been chosen to take over control of the Wagner Group. The new leader of the Wagner Group is reportedly engaged in discussions with the Russian military about integrating Wagner units into the National Guard. Yelizarov insists that the Wagner Group be a separate formation within the National Guard (Rosgvardia). Russian Chairperson of the State Duma Committee on Information Policy Alexander Khinshtein announced that members of the State Duma and Federation Council plan to introduce a bill on September 21 that would allow for the inclusion of volunteer formations within Rosgvardia. In a nutshell, Moscow seeks to make Rosgvardia recruit mercenaries. According to the Russian official, the bill has nothing to do with the reports that Wagner units will be incorporated into the National Guard. While there has been no official deal between the Wagner Group and Rosgvardia, talks are still underway. Rosgvardia chief Viktor Zolotov met with the son of deceased Wagner Group financier Yevgeny Prigozhin, Pavel, and Wagner commander Anton Yelizarov to discuss the "preservation" of Wagner. A potential heir to Prigozhin's empire, including the Wagner Group, is his son, Pavel. In some cases, Russia's National Guard, recruits pardoned convicts who are veterans of the Wagner mercenary group. These include former prisoners who were convicted of crimes of "minor and moderate severity." Some of them are offered by Rosgvardia's staff department to protect strategic facilities in Russian-occupied areas of Ukraine. Not all Russian hardliners advocate the idea of incorporating Wagner units into Rosgvardia. Russia's FSB security services launched a criminal probe into calls to stage "armed mutiny". Some Rosgvardia officers are believed to have helped hide Wagner fighters and military equipment shortly after the rebellion failed.
Support Us
If content prepared by Warsaw Institute team is useful for you, please support our actions. Donations from private persons are necessary for the continuation of our mission.
All texts published by the Warsaw Institute Foundation may be disseminated on the condition that their origin is credited. Images may not be used without permission.