THE WARSAW INSTITUTE REVIEW
Date: 4 January 2019    Author: Jan Wójcik
US and EU Immigration Policies
It is harder to think of anything more contradictory than the public images of President Donald Trump and Chancellor Angela Merkel on the issue of immigration.
On one side, we have a strongman threatening the use of weapons against the wave of illegal migrants. Conversely, on the other side we see a sentimental leader naively destroying Europe, by accepting anyone willing to settle in Germany. In this case, anyone with a different opinion is called a bigoted and callous xenophobe who opposes an open-minded, tolerant and globally responsible leader. The question is if these images are real or are the differences between policies of United States and European Union not so substantial since all states need to apply similar policies? The other question is if Germany and France can shape EU's migration policy alone, or if there is no common position on migration in the EU?
Greece, October 11, 2015, a crowded fishing boat carrying refugees and immigrants after crossing the Aegean Sea from Turkey to Greece. © Yannis Kolesidis (PAP/EPA)
Although the US is traditionally considered to be a country built by immigrants, Donald Trump won the presidential nomination due to his tough anti-immigration rhetoric. He promised to build a wall on the US-Mexico border, tighten migration and asylum policies, and pursue mass deportation of illegal migrants. There is no precedent in modern US history when an administration has focused so strongly on immigration policy. No president before was so committed to restricting both legal and unauthorized migration. In the meantime, Germany or France began to realize that although being historically homogenous countries they are slowly becoming countries where a huge proportion of residents are immigrants[1]. That leads to the conclusion that any historical arguments about being migrant or non-migrant country are pointless. Therefore, the migration debate should be focused on economic, security, and social issues.
Both the US and EU are trying to achieve basically the same goals in their migration policy. This includes limiting irregular and illegal migration, increasing return and deportation effectiveness, attracting qualified regular migration that stimulates the economy, and providing humanitarian support to asylum seekers without derailing internal security.
Migration situation of the US and EU
Although the goals are similar, conditions of their migration policies are different. The EU has recently experienced the highest numbers of illegal border crossings in its history. Conversely, the number of annual apprehensions at the US borders is almost four times lower than it was between 2004–2006 or during the 1990s. Still, the US borders are crossed by more than 300.000 irregular migrants each fiscal year (October to September)[2]. In the EU, after overcoming the recent migrant crisis, the 204.000 illegal border crossing detections (2017) are considered to be a success. Factoring in population, (325 million and 497 million, respectively) it is apparent that the EU has less than half per capita illegal border crossings compared to that of the US.
There is also a huge gap, both in absolute and in relative numbers, concerning unauthorized migrants residing in those countries. It is estimated that the US has between 11–12 million illegal immigrants. This number is relatively smaller, 1.9–3.8 million in the EU[3]. Although the EU data is from 2008 and should be increased to account for the recent increased flow of uncontrolled migration, it still does not approach the figures seen in the US.
However, when it comes to future migration potential, the situation in the EU looks worse. Presumably, Europe is going to be exposed to huge migration flows in the coming decades. The source of future migrant flows will come from drastic demographic changes in Africa that will be greater than those in South and Latin America. While Africa's population will almost double by 2050, growing by 1.2 billion people, the population of South and Latin American will rise by "only" 110 million people from 640 million. This growth is one tenth the growth rate of Africa.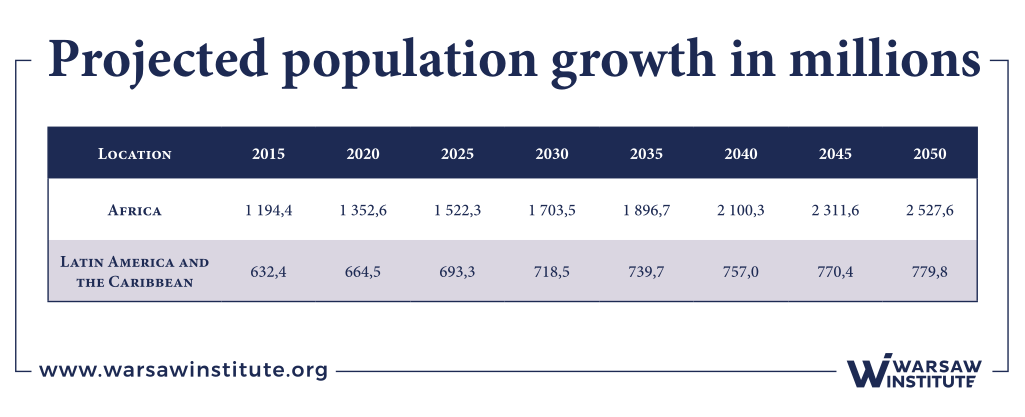 Trump's policy is more concerned with current migration problems and their current effects whereas EU experiences relatively smaller migration pressures with greater risks expected in the future. The crisis between 2015–2016 in the EU could be considered an early warning.
Presumably mass migration, being a future perspective and not an immediate problem for the EU could explain the difference in communication between European and American leaders. However, when it comes to differences in real polices, both the US and EU strive to increase border protection, reduce pull factors at home and try to reduce push factors in countries of origin.
Are migration policies so different?
The EU has the Mediterranean Sea as a natural barrier protecting borders from overpopulated and underdeveloped areas. At the same time, the US needs to erect a barrier if it wants to physically increase protection of its border. Although Trump is widely criticized for promulgating the southwest border wall, EU countries have already built or financed similar protection measures. The EU already has a barrier between Greece and Turkey, between Hungary and Serbia and Croatia, between Africa and the Spanish enclaves. The EU has also co-financed the wall between Turkey and Syria[4]. The Mediterranean Sea barrier is enhanced by cooperation with naval guards of transit countries like Turkey, Egypt, Libya, Morocco, Italy or Spain on the other side. There are also other programs sponsored by the EU and its members to stop migration routes in Africa. It is worth mentioning the EU's cooperation with Sahel's G5 (Burkina Faso, Chad, Mali, Mauritania, Niger). There is also controversial financing of the Sudanese Rapid Support Forces connected to Janjaweed militias, a program officially denied by EU officials[5]. Additionally, after the 2015 migration crisis, the EU introduced protection measures on internal borders to limit secondary movements within the EU. Finally, at the end of 2018, the EU decided to increase the number of guards working for Frontex (European Border and Coast Guard Agency) by 10.000, which is almost the same number Donald Trump is willing to increase his border staff.
President Trump also tries to reduce pull factors which include birthright citizenship and the DACA program (which allows people who entered the US illegally as children to be able to obtain a work permit for two years). Other initiatives include the prioritization of the employment of nationals and those with a work permit or improving the ineffective return system. However, American Action Forum – a Republican think tank, warned against Trump's migration policy. The think tank estimated that it would cause up to a 2% fall in GDP, with private sector output slump estimated between $381 billion and $623 billion if the US was to deport every illegal[6]. This and similar calls from other institutes restrained Trump's policy. Despite this, Trump still reiterates that everyone who entered illegally can be subject to deportation, and those who committed crimes should be deported, while those reentering the country illegally should be penalized. He is also insisting that anyone who is willing to rectify their immigration status on US soil should go back to their home country and start on a legal immigration path.
At the same time, the EU was increasingly more concerned with its return policy as the probability of staying on EU territory was as high as 75% during this time. The overall theme in Germany this year changed from Willkomenkultur to what could be called Gute fahrt! with billboards advertising policies that offer financing to those willing to return to their countries of origin. There are also similar actions in other countries i.e. Spain has reached a deal with Mali in 2018 that would return 55.000 Malians voluntarily[7].
EU countries are focused on voluntary return more than the US because one of the greatest problems is identification, which is required to establish country of origin. Additionally, there are also stricter measures proposed by the EU Commission: removing failed asylum claimants more quickly at the border, tighten appeals procedures and detaining designated returnees on national security or public order grounds. Still there are ongoing discussions on detention centers for migrants outside EU territory where they can wait for either the recognition of their asylum application or wait for deportation after entry is denied.
Both sides of Atlantic Ocean struggle with the effectiveness of return. The rate of effective return compared to return orders decreased from 45.8% to 36.6%[8] in 2017. Overall, between 200.000 to 250.000 non-EU citizens are deported from EU annually[9]. In the US, return figures are at a similar level but effective return rate goes down as local jurisdictions reject ICE request for detainers more often than during Obama's presidency[10]. This leads to increased focus on detention of migrants to prevent them from absconding, both in the EU and the US[11]. Israel has shown that introducing detention centers is also a way to reduce migration pull factors.
If we compare another aspect of the tightening of US migration policy – birthright citizenship – then it's clear that automatic citizenship resulting from unrestricted ius soli is not in the place in any EU country.
One of the most criticized policy was Trump's so-called "Muslim Ban," that, in its first version, aimed to prohibit the entry of persons from predominantly Muslim countries that pose terrorism risks to the US. In the following years, the project evolved to prohibit foreign nationals from countries associated with terrorism. Finally, when Executive Order 13780 was accepted by the US Supreme Court, it banned migration from Yemen, Iran, Libya, Syria, Somalia, North Korea, and Venezuela.
That kind of ban can be expected to be perceived as too "discriminatory" by EU standards. However, a majority of citizens in 10 EU nations polled by Chatham House in 2017 were in favor of reducing migration from Muslim countries[12].
Despite illegal immigration to the EU being relatively lower than illegal immigration in the US, the number of asylum seekers is much higher in the EU. In 2017, EU countries made one million first instance decisions on petitions for asylum, of which 46% were granted. This figure is the result of a backlog from the crisis years. The number of applications in the same year dropped to 650.000 applicants[13]. In the US, there was only 40.000 asylum petitions during the same period, 65% of which were denied[14].
Both the EU and US are struggling with misuse of the asylum system by irregular migrants. The Department of Justice data through the first nine months of fiscal year 2018 shows that the majority of asylum-seekers who pass their credible fear test (85%) don't end up filing a formal asylum application[15]. Other data shows this number is around 40%[16].
In order to limit illegal border crossing attempts and the petitioning for asylum after being caught, Trump's administration unveiled new rules on asylum seekers who break border laws, in President Donald Trump's latest hardline move on immigration policy. Those who want to seek international protection must go through established border ports[17]. That is very similar to EU's disembarking platforms that are designed to cope with illegal migration and at the same time protect people from drowning.
Warsaw, Poland, November 21, 2017. The main office of the European Border and Coast Guard Agency (Frontex) in Warsaw. The Agency has its headquarters in Warsaw. © Jakub Kamiński (PAP)
Although both areas use similar migration policies, with reduced migration flow, reduced number of asylum seekers, general benefits for the economy and much lower prospects for the future migration pressure, Donald Trump's focus on migration and stronger words seem to be disproportional. But President Trump justifies his stance by his willingness to regulate migration through legal paths. Considering the increasing total number of migrants and asylum seekers arriving in Europe, and the huge migration potential, Angela Merkel or Emanuel Macron seem to be too mild. In reality, behind the liberal and open attitudes of EU leaders, there are strong actions to contain migration flows. The only incident, without clear reasoning, occurred in September 2015, when Merkel decided to open Germany's borders. However, the EU-Turkey agreement to stop migration followed shortly afterwards.
Is there a common EU migration policy?
Other factors influencing the tightening of EU migration policy should not be ignored as opposition continues to grow in EU member states. The V4 countries (Poland, Czech Republic, Hungary and Slovakia) were strong opponents of the relocation quota scheme that was introduced by the EU Commission and was designed as a constant future mechanism. The general public in each V4 country questions why they should willingly accept the same social and security problems that Western Europe is now facing. There was no explanation as to why V4 countries, none of which were beneficiaries of colonialism, should be burdened by post-colonial liabilities. The solidarity argument was also unpopular when, at the same time, the EU response to the Russian invasion of Ukraine was mild and Germany continued to support construction of the Nord Stream 2 pipeline.
The V4 countries were soon joined in opposition by Austria and Italy, where more and more migrant skeptical societies elected parties promising to stop migration. And in fact, Italy's government implemented harsh but necessary steps to reduce pull factors on the center Mediterranean route. The ability to reach Italian ports was reduced, not only by closing them but also by cooperating with Libyan costal guards. It should be mentioned here that Italy, exposed most greatly to the risk of uncontrolled migration, would like to enforce the "shared migration responsibility plan," which is opposed most strongly by the V4 countries.
In addition, Macron's comments regarding countries that object the EU quota scheme look more like an attempt to push EU federalization forward than a candid concern for migrants and asylum seekers. While France was bashing Poland, Italy, or Austria for its migration views, media reports showed French border guards and policemen violating migrant human rights or smuggling them back to Italy. Macron himself was engaged in creating partnerships with African countries to limit migration.
The diversity in European migration policy was apparent when it was time to sign The Global Compact for Safe, Orderly and Regular Migration. The US withdrawal from the pact was followed by Austria, the V4 countries, Italy, Bulgaria and Latvia. Other EU member states signed the document, but it's worth mentioning that this didn't happen without heated, inner debates within those countries. As was the case of rejection of the relocation scheme by V4, it should be questioned if the rejection was due to the general attitude towards migration or because of a distrust of multilateral, international bodies, especially after the attempt to force the refugee relocation scheme. The grave consequences of distrust grown from pushing countries to adopt certain migration policies are still visible i.e. the inability to create common and decisive European Border Guards.
Rhetoric matters
Finally, there is a question regarding rhetoric itself. Perhaps anti-immigration rhetoric should be considered a migration policy tool? Perhaps Trump's tweets caused declines in asylum applications in US? This is supported by the fact that the steepest declines occurred within the Muslim asylum seeker groups. In fiscal year 2016, 38.900 Muslim refugees came to the United States, according to the State Department. In 2017, that number fell to 22.861. Only 2.107 entered in the first six months of 2018[18].
The narrative also changed in Europe. In 2014, BAMF (German Office for Asylum and Migration) released an instructional advertisement highlighting the asylum process. This film was translated into Arabic, Turkish, Farsi, Pashto and other languages and attracted many people to pursue asylum petitions. Now, the BAMF webpage discourages migrants from settling in Germany. There were also strong anti-migrant comments from the liberal Swedish government. In 2018, Magdalena Andersson, the finance minister, said that "Sweden does not need foreign cleaners"[19]. Similar narratives, that moving to Europe is not the solution, are being promulgated by EU in countries of origin. GCM was also criticized for this reason. Its pro-migration attitude could create another pull factor, an illusion that any risk in attempting to enter Europe or other rich countries is a risk worth taking.
The public's perception of EU and US leaders on migration issues is completely divergent, although their policies, being consequences of migration challenges are not that much different. It seems that the EU recently discovered that direct communication with migrants also matters and as a result, it might implement it as a migration policy tool. This is especially important as the EU is facing much bigger future migration challenges compared to the US.
---
[1] The Changing Face of the Country, "Der Spiegel", April 19, 2018, http://www.spiegel.de/international/germany/germany-and-immigration-the-changing-face-of-the-country-a-1203143.html, (accessed: January 4, 2019).
[2] United States Border Patrol, Total Illegal Alien Apprehensions By Fiscal Year, https://www.cbp.gov/sites/default/files/assets/documents/2017-Dec/BP%20Southwest%20Border%20Sector%20Apps%20FY1960%20-%20FY2017.pdf, (accessed: January 4, 2019).
[3] P. Martin, Irregular migrant workers in the EU and the US, Migration Data Portal, November 17, 2017, https://migrationdataportal.org/blog/irregular-migrant-workers-eu-and-us, (accessed: January 4, 2019).
[4] M. Popp, EU Money Helped Fortify Turkey's Border, "Der Spiegel", March 29, 2018 http://www.spiegel.de/international/world/firing-at-refugees-eu-money-helped-fortify-turkey-s-border-a-1199667.html, (accessed: January 4, 2019).
[5] N. Malik, Bashir Comes in From the Cold, "Foreign Policy", July 31, 2016, https://foreignpolicy.com/2016/07/31/europes-new-best-friend-in-africa-is-an-indicted-genocidal-war-criminal/, (accessed: January 4, 2019).
[6] L. Lopez, Trump's deportation plan could slice 2 percent off U.S. GDP: study, "Reuters", May 5, 2016, https:// https://www.reuters.com/article/us-usa-election-trump-deportations-idUSKCN0XW0TP, (accessed: January 4, 2019).
[7] Spain, Mali to implement plan to enable voluntary return of migrants, "Agencia EPE", December 27 2018, https://www.efe.com/efe/english/world/spain-mali-to-implement-plan-enable-voluntary-return-of-migrants/50000262-3853048, (accessed: January 4, 2019).
[8] European Commission, State of the Union 2018: Stronger EU rules on return – Questions and Answers, September 12, 2018, http://europa.eu/rapid/press-release_MEMO-18-5713_en.htm, (accessed: January 4, 2019).
[9] The Effectiveness of Return in EU Member States 2017, European Migration Network, February 15, 2018, p.13 https://ec.europa.eu/home-affairs/sites/homeaffairs/files/00_eu_return_study_synthesis_report_final_en.pdf, (accessed: January 4, 2019).
[10] F. Wilkinson, Trump Is Deporting Fewer Immigrants Than Obama Did, "Bloomberg", May 15, 2018, https://www.bloomberg.com/opinion/articles/2018-05-15/trump-is-deporting-fewer-immigrants-than-obama-did, May 15, 2018, (accessed: January 4, 2019).
[11] L. Barigazzi, Lock up migrants to stop them absconding, says Commission, "Politico", March 3, 2017, https://www.politico.eu/article/lock-up-migrants-to-stop-them-absconding-says-commission/, (accessed: January 4, 2019).
[12] M. Godwin, What Do Europeans Think About Muslim Immigration?, Chatham House, February 7, 2017, https://www.chathamhouse.org/expert/comment/what-do-europeans-think-about-muslim-immigration, (accessed: January 4, 2019).
[13] Asylum Statistics, Eurostat, https://ec.europa.eu/eurostat/statistics-explained/index.php/Asylum_statistics#First_instance_decisions_on_asylum_applications, (accessed: January 4, 2019).
[14] Asylum Decisions and Denials Jump in 2018, TRAC Syracuse University, November 29, 2018, http://trac.syr.edu/immigration/reports/539/, (accessed: January 4, 2019).
[15] A. Gomez, A previous migrant caravan faced the same federal scrutiny…, "US Today", October 23, 2018, https://eu.usatoday.com/story/news/world/2018/10/23/migrant-caravan-how-many-sought-asylum/1741030002/, (accessed: January 4, 2019).
[16] FY 2016 Statistics Yearbook 2016, U.S. Department of Justice, March 2017, p. 49, https://www.justice.gov/eoir/page/file/fysb16/, (accessed: January 4, 2019).
[17] K. Breuninger, Trump unveils hard-line immigration policy that limits asylum, "CNBC", November 8, 2018, https://www.cnbc.com/2018/11/08/trump-unveils-hard-line-immigration-policy-that-limits-asylum.html, (accessed: January 4, 2019).
[18] K. Amadeo, Donald Trump on Immigration, Pros and Cons of His Policies, "The Balance", December 31, 2018, https://www.thebalance.com/donald-trump-immigration-impact-on-economy-4151107, (accessed: January 4, 2019).
[19] C. Edwards, 'Sweden doesn't need foreign cleaners': Finance Minister, "The Local", April 16, 2018, https://www.thelocal.se/20180416/sweden-doesnt-need-foreign-cleaners-finance-minister, (accessed: January 4, 2019).
All texts published by the Warsaw Institute Foundation may be disseminated on the condition that their origin is credited. Images may not be used without permission.