Russia Monitor is a review of the most important events related to Russian internal and external security, as well as its foreign policies.
Date: 21 August 2023 Author: Grzegorz Kuczyński
Ukrainian Drones Strike At Russian Strategic Bombers
An assault was launched in an airfield in Novgorod Oblast, damaging a Tu-22M3 aircraft. Two days later, Russian bombers were damaged in Russia's Kaluga Oblast at the Shaykovka airfield as a result of a drone attack. Russian officials said there was no damage after an attempted drone attack in the district where Shaykovka is located. Earlier, another aircraft was burned despite initial reports of damage.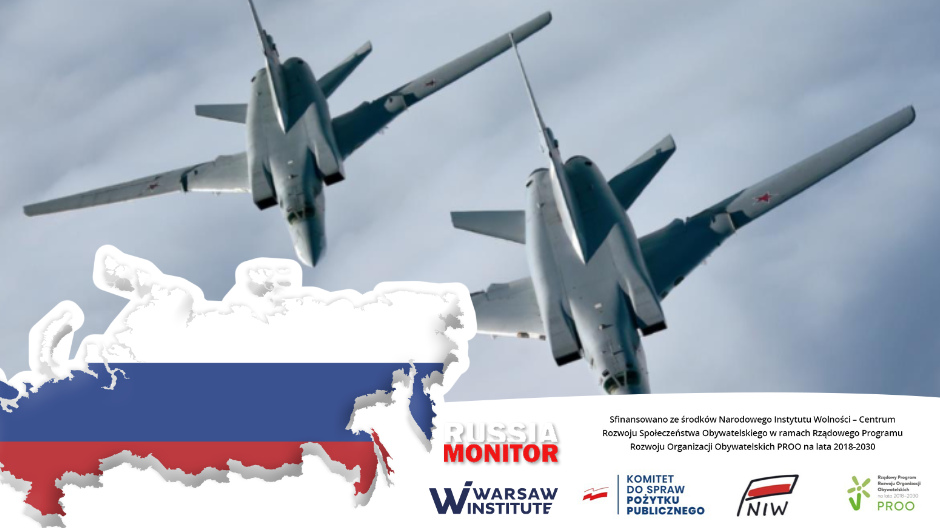 SOURCE: ENG.MIL.RU
The incident occurred on the morning of August 21. A Russian Telegram channel reported that a Ukrainian drone crashed into the airfield's territory, damaging an "unused airplane." There were no injuries or damage to infrastructure. A crater formed at the site of the drone crash and a fire broke out, according to another Telegram channel. A civilian-turned-military drone was used to target the airfield and another air base where Tu-33M3s were stationed in the Novgorod region. Shaykovka is located southwest of Kaluga, some 200 km from the Ukrainian border. The local air base is home to Russian Tu-22M3 long-range aircraft that Moscow uses to bomb Ukraine with cruise missiles. Such aircraft were kept in Soltsy-2 air base in Novgorod Oblast, some 600 km from Ukraine. A civilian-turned-military drone hit a Tu-22M3 on the morning of August 19. The aircraft was engulfed in flames. A drone that targeted the Russian aircraft in Shaykovka could have taken off from Ukraine, the one that struck at a bomber at Soltsy-2 must have been carried out from Russian territory. The Tu-22M is a supersonic bomber, codenamed "Backfire", which has been used extensively in attacks on Ukraine. Importantly, such planes are no longer produced in the aggressor country. The Russian air forces will feel bigger pressure to build up air defense solutions in western Russia. The Olenya air base south of Murmansk is again seen as a safe location for bombers from airports hit by Ukrainian drones. Last fall, Russia relocated some Tu-160 and Tu-95 strategic bombers to Olenya for the very same reason after Ukrainian drones had hit the Engels air base in the Saratov region. Six Tu-22M3s have been relocated there from the Soltsy-2 air base. The Olenya air base is located only some 150 km from Russia's new border with NATO. The Tu-22M3s launched Kh-22 cruise missiles to hit targets in Ukraine. All aircraft––the Tu-22M3s, the Tu-95s, and the Tu-160s––are nuclear-capable. Such warheads are being stocked in a facility near the Olenya base.
Support Us
If content prepared by Warsaw Institute team is useful for you, please support our actions. Donations from private persons are necessary for the continuation of our mission.
All texts published by the Warsaw Institute Foundation may be disseminated on the condition that their origin is credited. Images may not be used without permission.