U.S. Energy Secretary Rick Perry Visits Poland: Bad News for Russia's Gazprom
The latest visit of the U.S. Secretary of Energy Rick Perry to Poland – along with all his declarations and newly signed deals – shows that Poland is expected to be an important partner of the United States in terms of energy cooperation. So far, the ever-increasing alliance concerns primarily gas issues, as exemplified by LNG contracts and the two countries' joint standpoint on the Nord Stream 2 gas pipeline, while Perry's trip to Poland opens the way for further cooperation in other energy areas, also including nuclear power. It could transform exclusively commercial relations into a strategic partnership in terms of energy security. Nonetheless, the U.S.-Polish partnership does not seem favorable for Russia's state-owned gas giant Gazprom, as the company is getting ready for bilateral talks with Poland regarding the extension of the current gas supply deal set to expire in 2022.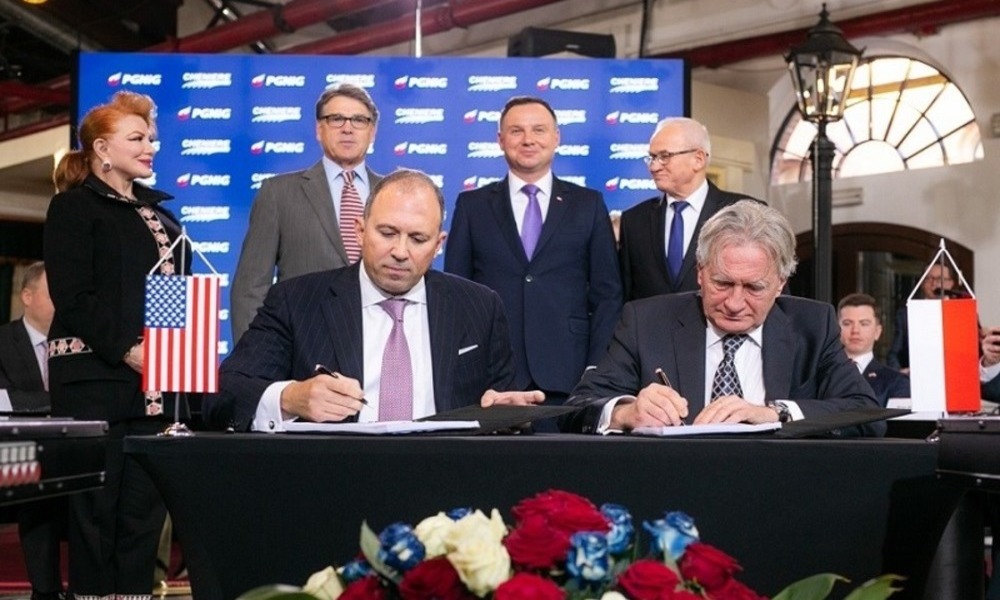 SOURCE: PGNIG.PL
During his visit to Warsaw, Rick Perry held a series of meetings with Polish top-level officials, including President Andrzej Duda, Prime Minister Mateusz Morawiecki, Energy Minister Krzysztof Tchórzewski, and Government Plenipotentiary for Strategic Energy Infrastructure Piotr Naimski. On November 8, U.S. Secretary of Energy and his Polish counterpart signed a declaration calling for enhanced cooperation on energy security. The document will concern such issues as security of gas supplies and nuclear power. On November 9, Perry and Naimski inked a Polish-U.S. agreement on strategic dialogue in the field of energy. During the signing ceremony, the two officials could implement the previous statements by U.S. and Polish leaders, as agreed upon on the occasion of their last summit. Under the deal, both parties remain committed to establishing a regular dialogue with the Polish and American administrations and experts.
"Nord Stream 2 is not a commercial project as its proponents proclaim, but rather a political gambit", U.S. Secretary of Energy said. He also added that "driving a single-source gas artery deep into Europe will give the Russian Federation further leverage over Europe." He also stated that the United States would encourage Europeans to reject the project. Most importantly, Perry stressed out that the presidential administration might still impose further sanction over the Nord Stream 2 gas project, as such option is currently being envisaged by President Donald Trump. Poland may wean itself off Russian gas only by diversifying gas supplies, thus bolstering the state's energy security. Perry depicted American LNG supplies as an additional option that would make it easier to achieve "EU's goals to diversify supplies" while the example of Poland may be followed by the other Member States. In the presence of the U.S. Secretary of Energy, Poland's state-run gas firm PGNiG and American Cheniere Marketing International company sealed a long-term (2019-2042) gas deal for delivery of U.S. liquefied natural gas to Poland. During the first four years, the latter is expected to deliver a total of 0.7 billion cubic meters of natural gas after regasification while in 2023-2042 the total import volume will reach as much as 39 billion cubic meters (after regasification). Back in October, PGNiG entered into an agreement with Venture Global LNG; previously, the Polish firm had concluded binding contracts for supplies of liquefied gas with Qatar-based Qatargas and U.S. Centrica. Interestingly, even Russian gas experts seem to admit that the amount of gas contracted so far (it is noteworthy that Polish authorities intend to seal yet another deal with Sempra Energy), the state's own extraction and gas deliveries through the Baltic Pipe may altogether allow Poland to quit Russian gas. The current deal with Gazprom is bound to expire in 2022 while such Poland's recent activities in this respect seem particularly worrying for the Russians.
All texts published by the Warsaw Institute Foundation may be disseminated on the condition that their origin is credited. Images may not be used without permission.