Russia Monitor is a review of the most important events related to Russian internal and external security, as well as its foreign policies.
Date: 14 December 2022 Author: Grzegorz Kuczyński
Turkey's Erdogan Puts Pressure on Putin in Syria
Turkey has taken advantage of Russia's uneasy situation amid its invasion of Ukraine, seeking to force Moscow into a pile of political and economic concessions. One example of that is Turkish efforts to block Russian oil tankers. The government in Ankara seems to prioritize its gains in Syria, notably in its clash with Syrian Kurds.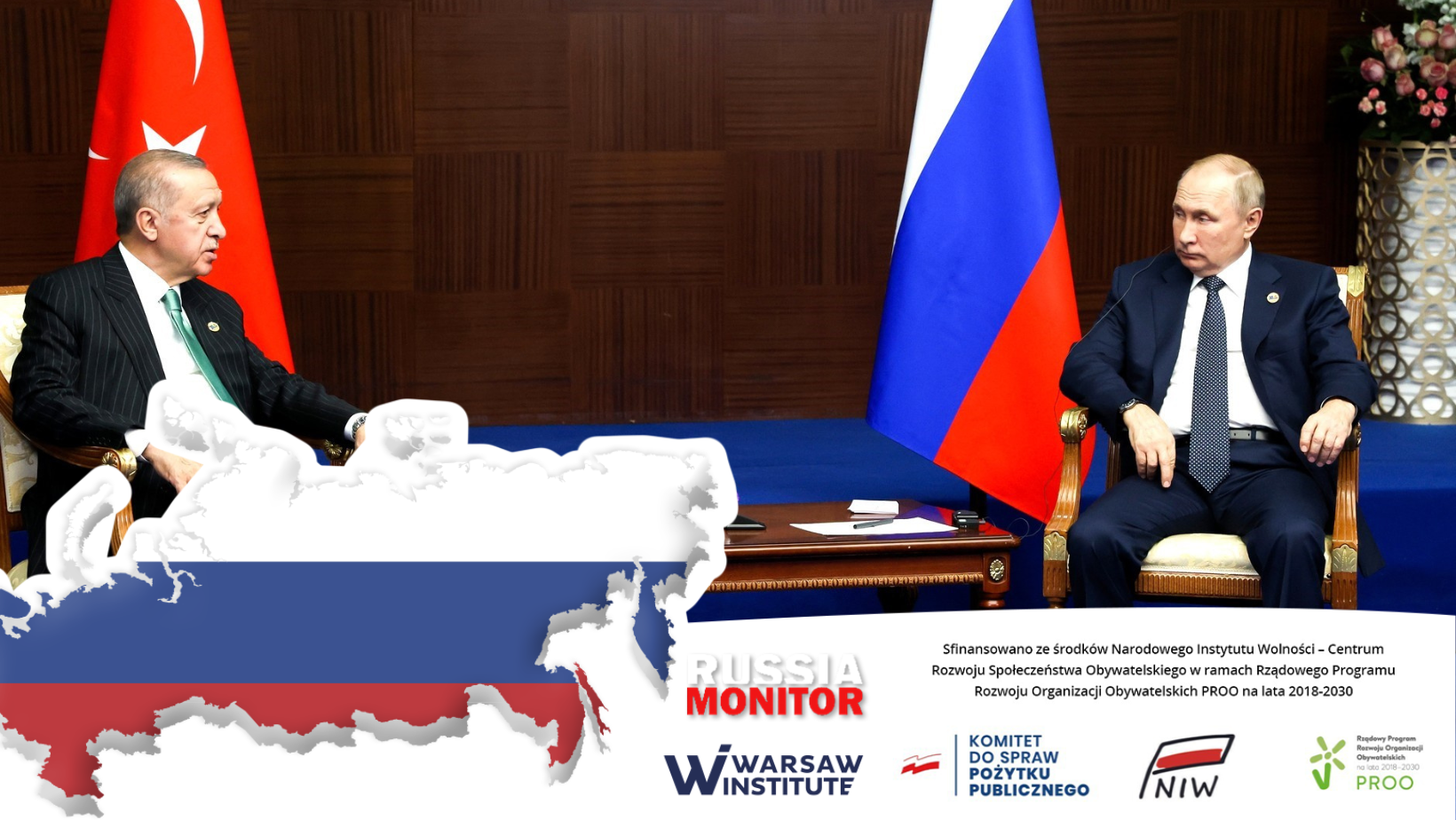 SOURCE: Meeting with President of Turkiye Recep Tayyip Erdogan • President of Russia (kremlin.ru)
Turkish President Recep Tayyip Erdogan held a phone conversation with his Russian counterpart, President Vladimir Putin, on Sunday, December 11. The two leaders discussed the war in Ukraine. Turkey, meanwhile, has acted as a mediator, refusing to take sides. On the same day, Erdogan held a phone call with Volodymyr Zelensky, a move seeking to emphasize Turkey's symmetrical approach to the war. Putin and Erdogan also discussed an initiative to create a base in Turkey for exports of Russian natural gas, making Turkey a key gas hub for Russian gas supplies to the EU. Alexei Miller, head of Russian energy giant Gazprom, held talks with Erdogan in Istanbul in the past week. Most importantly, the Turkish and Russian presidents discussed the situation in Syria. Turkey has renewed its threats of a new military offensive against Kurds, which is what both Russia and the United States denounce. Erdogan has called for a 30-kilometer "safe zone" to protect southern Turkey against cross-border attacks from Syrian territory. Through this corridor, Ankara would push away the Syrian Kurdish militia YPG, whom Turkey has designated a terrorist organization, from the border. At the same, the militia is the core of the SDF coalition involved in anti-Daesh operations with the support of the United States. What Erdogan suggested could be an attempt to reverse Turkey's retaliation efforts to conduct a land incursion after a deadly bomb attack in Istanbul back on November 13. Russia has for years sought to prevent Turkish ground incursions in Syria, positioning itself as an ally of both Kurds and the Damascus-based Assad regime. The rebel-held enclave of Idlib is critical in this game. Pressured by Turkey, Russian forces seek to stop a Syrian offensive there. Turkish threats yet seem idle now as forces loyal to Assad could launch an invasion of Idlib, which is possibly a Russian threat to Erdogan. What probably follows is more air strikes against Kurdish positions throughout Syria.
Support Us
If content prepared by Warsaw Institute team is useful for you, please support our actions. Donations from private persons are necessary for the continuation of our mission.
All texts published by the Warsaw Institute Foundation may be disseminated on the condition that their origin is credited. Images may not be used without permission.