Russia's Siloviki Visit Mideast Capitals
Encouraged by a military victory, Russia is now attempting to retrieve its diplomatic status in an effort to relegitimize al-Assad's regime worldwide in talks with Arab and Sunni countries. It appears that Moscow's priority is to restore Syria's full partnership in the Arab League, as exemplified by recent visits of Russia's high-ranking security officials to the Middle East.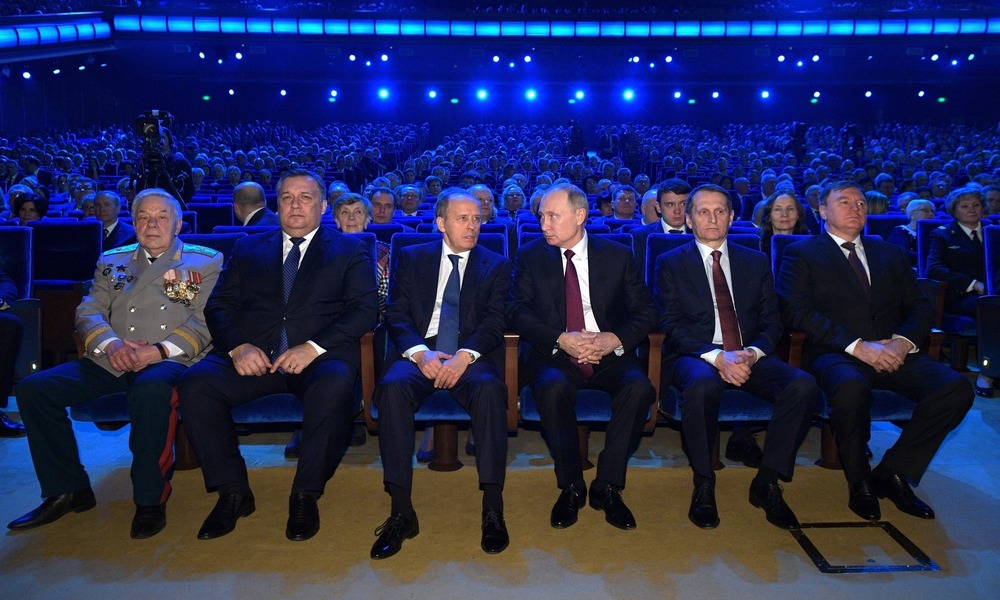 SOURCE: KREMLIN.RU
The Kremlin is lobbying the Arab League to readmit Syria as a member, which is going to be discussed at the organization's summit scheduled for March 31 in Tunis. The 22-nation Arab League suspended Syrian membership in 2011 in retaliation for brutal repression of a Sunni Muslim-driven revolt. In late January, the Kremlin launched a diplomatic offensive in the Middle East. Russia's top siloviki flew to Saudi Arabia, the United Arab Emirates and Egypt to hold talks on Syria and Libya.
Russian Foreign Intelligence Service (SVR) Director Sergey Naryshkin met with Saudi Arabia's Crown Prince Mohammed bin Salman and the head of the kingdom's intelligence services (GID) Khalid bin Ali Al Humaidan on January 21 in Saudi Arabia to discuss counteracting terrorism and efficient solutions to regional conflicts. On January 29, Russian Federation Security Council Nikolai Patrushev took part in bilateral Russian-Egyptian consultations in Cairo. The talks tackled such aspects as the situation in Libya and Syria, fight against terrorism and all issues related to so-called "color revolutions" that is now taking place in Sudan. Russia, Egypt, Saudi Arabia and the United Arab Emirates jointly agree to keep the country's president Omar Bashir in power: Sudan is a key ally of the Arab coalition that fights against the Iran-backed Houthi Shiite rebellion in Yemen. Sudanese troops constitute a large part of the land forces that fight in the war while suffering the greatest losses. Bashir's demise and Sudan's withdrawal from Yemen would be a massive blow to a joint coalition of the United Arab Emirates and Saudi Arabia. In its turn, Moscow keeps deepening military and political ties with Khartoum, intending to employ the Sudanese military ports by Russian navy vessels and Russian mercenaries are training local armed forces and security services.
On January 31, Patrushev paid a visit to Abu Dhabi to hold talks with the National Security Advisor of the United Arab Emirates Sheikh Tahnoon Bin Zayed Al Nahyan. Both parties exchanged views on the situation in North Africa and the Middle East, paying special attention to development assessment in Libya and Syria. The Russians may have made an attempt to find out more about provisions under which Cairo, Riyadh and Abu Dhabi will normalize their ties with Damascus and facilitate Syria's readmission to the Arab League. Among these conditions are probably limiting Iran's influence in Syria and preventing Turkish armed forces from performing operations, as evidenced by a lack of consent to establish a buffer zone. Moscow is clearly in search for an alternative for Turkish aid in Syria-related issues as it aims at cooperating with Egypt, the United Arab Emirates and Saudi Arabia, all of which compete with Turkey and Qatar in the Middle East. Further, these three countries have long supported the Syrian Democratic Forces (SDF) in northern Syria. A possibility of deploying Egyptian, Emirati and Saudi Arabian peacekeeping units cannot be ruled out while such an option would be criticized by the government in Ankara. In a bid to befriend Egypt, the UAE and Saudi Arabia in Syria Russia may provide its military support to Marshal Khalifa Haftar, backed mostly by the two first countries and to a lesser extent also by the third one. In late January, media reported that Russian contractors from the Wagner Group are helping to train the Libyan National Army (LNA) in the southwestern region of Fezzan in southwestern Libya. and they were involved in another offensive of Haftar's units in Sabha. Their presence is not a surprise as the main goal of the military assault is to seize control over Libya's biggest oil field El Sharara.
All texts published by the Warsaw Institute Foundation may be disseminated on the condition that their origin is credited. Images may not be used without permission.