Russia's Sechin Arrives in Minsk: "We Need to Continue to Cooperate"
The Belarusian-Russian dispute over the terms of oil supplies has not ended in Sochi on February 7. The threats made by Alexander Lukashenko that Belarus will begin to take oil from Russia's transit pipeline and look for alternative sources of oil supplies have done the trick. The head of Russia's largest oil company, who also happens to be one of the most influential politicians in Moscow, arrived in Minsk. It seems that, during the talks in Minsk, Igor Sechin represented not only his own company, but also the entire country of Russia and its oil interests in Belarus. It should be noted that he is definitely much more than just the head of Rosneft. For years, Sechin has played an important role in Russia's foreign policy, in particular, in places where oil is of major importance, for example, in Venezuela.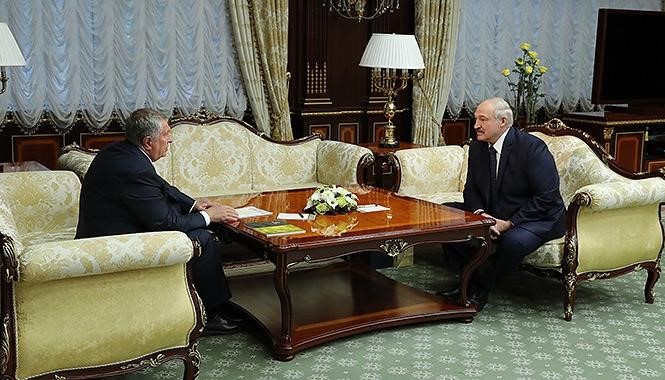 SOURCE: PRESIDENT.GOV.BY
On February 18, the President of Belarus met with the head of Rosneft, the largest Russian oil company. The talks with Igor Sechin concerned the issue of energy cooperation between Belarus and Russia. Since the beginning of this year, Russia has reduced oil supplies to a minimum to its western neighbour. The parties cannot agree on the price of oil. Since January 1, 2020, no agreement on oil supplies to Minsk has been signed. Two Belarusian oil refineries, one in Novopolotsk and the other in Mozyr, are operating at minimum capacity due to the shortage of the required amount of oil. Minor Russian companies provide small oil supplies to Belarus, allowing the refineries to operate at minimum capacity. The Belarusian authorities are looking for alternative oil sources and supply routes. The recent meeting between Presidents Lukashenko and Putin on February 7 in Sochi has confirmed the change in the terms of cooperation – because Minsk does not agree to deepen integration with Russia (de facto deepening political dependence on Moscow), the Kremlin announced that Belarus will have to purchase oil on commercial terms and deal individually with Russian suppliers. Until recently, Rosneft has been the largest oil supplier to Belarus. In 2019, Sechin's company supplied about half of the oil purchased by Minsk in Russia. However, Sechin's meeting with Lukashenko should not be considered only in this context.
Support Us
If content prepared by Warsaw Institute team is useful for you, please support our actions. Donations from private persons are necessary for the continuation of our mission.
Taking into account the role played by the head of Rosneft in Russia, it seems rather that Sechin was given the task of solving the "Belarusian problem". It is possible that a new model of Russian oil supplies to Belarus will finally be established, however, it would have to be more favourable to Minsk than the usual market terms. "I hope, taking advantage of the fact that we have known each other for a long time, you will think of something and we will be able to agree on further cooperation," Lukashenko said, to which Sechin replied: "We need to continue to cooperate, of course. We are ready for constructive cooperation". And by that he did not only mean his own company, but rather the entire Russian side, in general. Sechin arrived in Minsk a few days after Lukashenko had publicly announced that Russia suggested that Belarus and Russia be a unified state in exchange for favourable oil and gas prices, and threatened that if Belarus does not receive 2 million tonnes of oil agreed by the two governments in February, it will start taking it from the Druzhba export pipeline, which transports oil to the West through Belarus.
All texts published by the Warsaw Institute Foundation may be disseminated on the condition that their origin is credited. Images may not be used without permission.