Russia Wages Spy War with Ukraine
The Ukrainian counterintelligence services have detained a security service general on accusations of working for Russia as a spy. Many details were revealed about his activities, including an FSB officer who had recruited him. Also, the SBU collected many photos and footage corroborating the traitor's guilt. This is a massive flop of Russia's FSB, especially given who the detainee was. Russia attempted to mask its failure by announcing the next day that the Federal Security Service, or FSB, uncovered a sabotage and terrorism ring in annexed Crimea. Nonetheless, Russia has provided some general details while the narrative it has hinted raises severe doubts whether these were really Ukrainian spies that had been caught.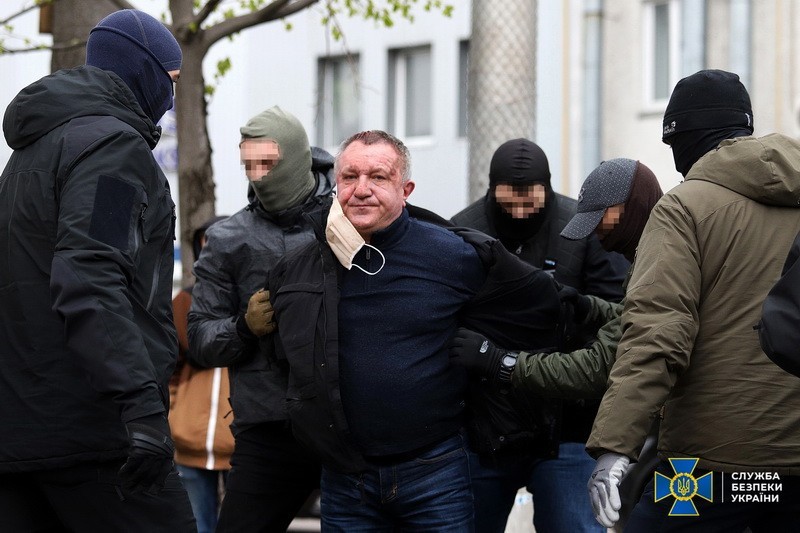 SOURCE: SSU.GOV.UA
Ukraine's Security Service of Ukraine (SBU) has arrested SBU Major General Valery Shaitanov on charges of high treason, terrorism and working for the Russian Federal Security Service, or FSB. The officer was detained on April 14. Shaitanov was allegedly conspiring to murder Adam Osmayev, the leader of Chechen volunteers fighting on the Ukrainian side against Russia-backed separatists in Donbas. The SBU said it had gathered enough audio and video recordings during the case to confirm the general's working for the Russian FSB. Ukraine's counterintelligence services said they had "undeniable evidence" that he had planned terrorist acts in Ukraine in exchange for $200,000 and a Russian passport. Shaitanov is said to have been recruited by the Russian services back in 2014. Ukraine disclosed personal details and a photo of Colonel Igor Yegorov, the FSB handler who had reportedly hired Shaitanov. The SBU said the officer collected data, notifying the FSB about fights in Ukraine's eastern region of Donbas, including the SBU activities in the area and the services' cooperation with their partners worldwide. But what grabbed the headlines was that Shaitanov was accused of plotting to kill Osmayev. Since 2012, the Chechen has been on Russia's list of wanted suspects over his plotting to kill President Vladimir Putin.
Support Us
If content prepared by Warsaw Institute team is useful for you, please support our actions. Donations from private persons are necessary for the continuation of our mission.
Moscow says Osmayev was accused of allegedly planning to assassinate Chechen regional leader Ramzan Kadyrov, too. Back in 2017, the Chechen, who served as a commander of a volunteer battalion fighting separatists in eastern Ukraine between 2014 and 2015, became the target of the first attack. In a failed attempt, Amina Okuyeva, his wife, wounded an attacker who was posing as a French journalist of the Le Monde daily. But these two eventually fell victim to yet another attack, leaving Osmayev injured and killing the woman. The FSB took action only a day after its senior official had been detained, saying it had uncovered a Ukrainian intelligence "sabotage and terrorism" group in annexed Crimea. It reportedly included a female Russian military officer. According to the FSB, the Russian servicewoman had handed state secrets to Ukraine's military intelligence between 2017 and 2018. The second detainee was a Ukrainian national. Both suspects are being investigated for treason and espionage. The operation was directed by Colonel Oleg Akhmedov, the head of military intelligence in the Ukrainian city of Kherson, the FSB said. No further details were provided, though, while what raises doubts is the fact that the Russian military officer, who was allegedly spying on Ukraine, was put under house arrest because she is a single mother.
All texts published by the Warsaw Institute Foundation may be disseminated on the condition that their origin is credited. Images may not be used without permission.