Russia Responds to Trump-Duda Summit Fearing U.S.-Made Reaper Drones
As expected, what was concluded at the U.S.-Poland meeting has received an immediate reaction from Moscow, whose political elites lambasted Poland for mounting tensions in the region while accusing Warsaw of implementing Washington's aggressive policy. The Kremlin's rhetoric is nothing new, given Russia's stance towards cementing strategic cooperation between Poland and the United States. Interestingly, representatives of the Russian political elite have this time focused on the issue of armaments. Russian propaganda outlets denounced Poland's intention to purchase U.S.-made F-35 fighters while a plan to send to Poland a squadron of flying unmanned MQ-9 Reaper drones sparked outcry in Moscow. What was said by Russian politicians shows that how Poland and the United States tighten their military alliance may seriously affect the balance of power on NATO's eastern flank, mainly on its northern section. This should consist of bolstering the security of Poland and its neighboring countries that are viewed as hostile by the Kremlin.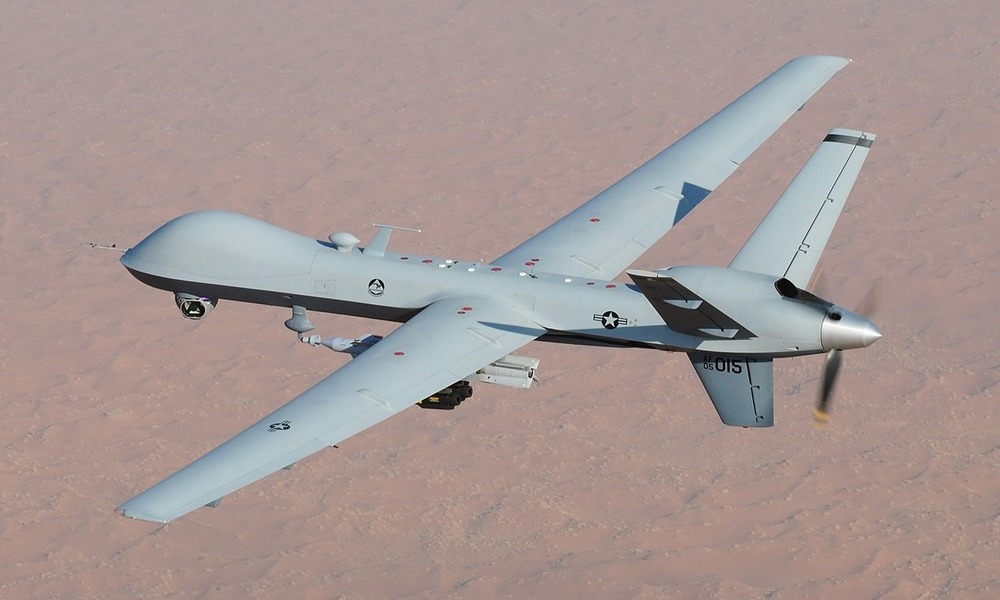 SOURCE: WIKIPEDIA.ORG
Following the visit of the Polish President Andrzej Duda in the White House on June 12, the United States officially declared its plan to boost military presence in Poland. Up to 4,500 American troops so far have been deployed to Poland on a rotating basis, and Washington will soon send an additional 1,000 soldiers to the country. Also, the United States plans to establish a forward-deployed division headquarters on Polish soil. For its part, Poland has confirmed its willingness to buy over 30 fifth generation F-35 fighter jets. But a batch of flying unarmed MQ-9 Reaper surveillance drone is to be delivered sooner to the country in a move agreed under a joint declaration on defense signed by the American and Polish leaders.
Moscow has for years struggled to prevent the U.S. military presence from expanding in our region, also in Poland, and it was intended to hinder the development of Poland's defense potential. Any conclusions from the Trump-Duda summit were doubly unpleasant for Russia whose politicians reacted to the news on June 13. And in what they said most attention was paid to deploying a squadron of Reaper drones to Poland. Vladimir Dzhabarov, deputy head of the upper house of parliament's international affairs committee, said that having accepted to deploy U.S.-made unmanned aerial vehicles, Poland might become a target for a retaliatory attack if Russia was attacked. "The Poles have become hostages of their love to America," he said. Similar remarks were made by another Russian lawmaker, Vladimir Shamanov, who now runs the lower house of parliament's defense committee. As an ex-commander of Russia's airborne forces, he claimed that Russia has adequate weapons in their "vast armory" that could be used as retaliatory measures in response to sending MQ-9s to Poland. Franz Klintsevich, a ranking member of the Defense Committee of the Federation Council, the upper chamber of Russia's parliament and one of the key Russian people standing behind sending "little green men" to Crimea in 2014, seems to have assured that deploying MQ-9s to Poland will by no means change the balance of military power but he undermines his own words, adopting a similar stance to that represented by his peers. So if deploying MQ-9s to Poland has no intention to change the existing balance of power, why did Shamanov warn that "the world is gradually slipping towards a dangerous moment comparable to the Caribbean crisis"? Also, Shamanov's remarks have referred to Belarus as he views the country as Russia's "brotherly nation in our Union State" so the Polish-Belarusian border "is our border under the Collective Security Treaty." This may imply Moscow's readiness to push extra pressure on Belarus to expand its military presence in the country. But the question is whether Lukashenko will this time resist the tension.
Support Us
If content prepared by Warsaw Institute team is useful for you, please support our actions. Donations from private persons are necessary for the continuation of our mission.
Interestingly, the issue of MQ-9s was widely commented not only by lawmakers who can boast of their military experience in the past. In his turn, Russian Deputy Foreign Minister Sergey Ryabkov said that "Moscow is concerned about a U.S.-Polish decision to send to Poland a squadron of unmanned aerial vehicles" in a step he viewed as "raising military tensions in Europe, particularly on NATO's so-called eastern flank." And Moscow's rhetoric brought yet again NATO's obligations to be fulfilled under the 1997 NATO-Russia Founding Act, with Ryabkov suggesting that U.S.-Polish arrangements allegedly breached these commitments. And even though a common stance adopted by Warsaw, Washington and Brussels has long been clear, stating that an increased U.S. military presence in Poland has no reference to what was agreed by NATO and Russia, Moscow has a long tradition of violating the provision of the treaty.
It is to be expected that Russia will soon sharpen its rhetoric against Poland, saying that Warsaw becomes heavily dependent on the United States, the U.S.-made military hardware is of an alleged poor quality and Poland exposes itself to the risk in the name of Washington's interests. Generally speaking, the U.S.-Polish alliance has surged as one of the key themes of a conflict between Washington and Moscow, with the latter eyeing the latest arrangement as part of an American strategy aimed at weakening Russia. In an interview with the Mir TV channel on June 13, Vladimir Putin noted that U.S.-Russia ties are getting worse and worse. This remains a major unknown whether Putin will meet Trump at the G-20 summit in Osaka.
All texts published by the Warsaw Institute Foundation may be disseminated on the condition that their origin is credited. Images may not be used without permission.