Russia Monitor is a review of the most important events related to Russian internal and external security, as well as its foreign policies.
Date: 10 February 2022 Author: Grzegorz Kuczyński
Russia Ramps Up Amphibious Landing Capacities In Black Sea
A flotilla of Russian amphibious ships of the Northern Fleet and the Baltic Fleet passed to the Black Sea, which makes a navy operation against Ukraine quite likely. But it is just the beginning of Russia's massive navy buildup––by deploying some of its vessels, the Russian navy seems to plan a deterrence strategy against NATO forces.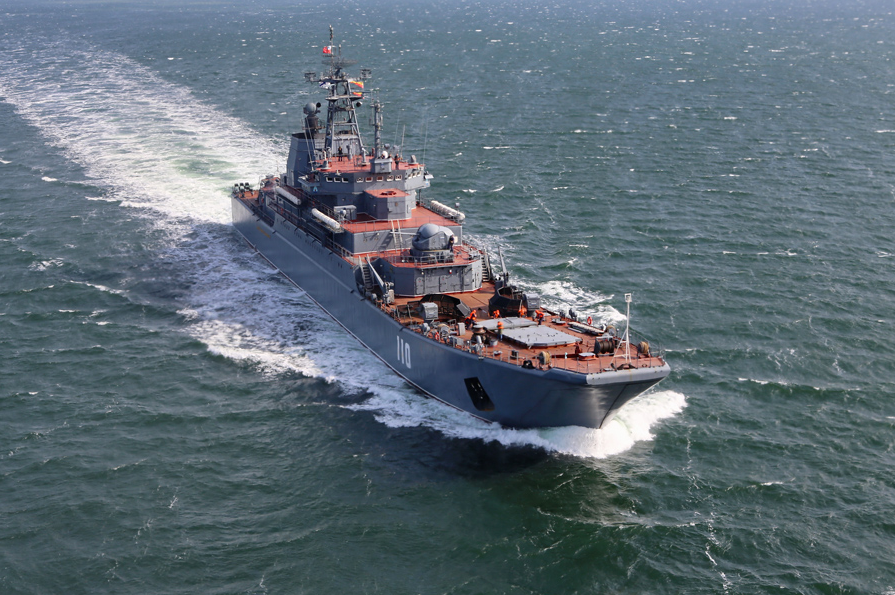 SOURCE:https://structure.mil.ru
Six Russian amphibious landing ships sailed to the Black Sea through the Turkish straits on February 8–9. On the evening of February 8, Russia sent its Project 775 Ropucha class amphibious warfare ships Kaliningrad, Korolev, and Minsk to the Black Sea. These three had stayed in the Mediterranean Sea since early February. On February 4, the vessels stopped at the Russian Navy's base in Tartus, Syria. A day later, the Northern Fleet sent to the Black Sea three other vessels: Project 775 Ropucha, the Georgy Pobedonosets, and the Olenegorsky Gornyak, along with the Project 11711 Ivan Gren class Pyotr Morgunov. The vessels will raise the number of troops that could be delivered in the first wave of an assault in the Black Sea. But there is more to that. On February 7, the Northern Fleet's missile cruiser Marshal Ustinov, frigate Admiral Kasatonov, and warfare ship Vice Admiral Kulakov passed east through the Strait of Gibraltar and are likely to conduct exercises in the Mediterranean. Missile cruiser Varyag, destroyer Admiral Tributs, and tanker Butoma had already been deployed to the Mediterranean Sea after they had left Vladivostok last December. They passed the Mediterranean through the Suez Canal. Perhaps Russia will keep some of its forces in the Black Sea––also in the event of its attack against Ukraine––to watch U.S. and NATO vessels. On January 20, the Russian defense ministry announced a surge of 140 warships and support vessels, 60 aircraft and a total of 10,000 personnel were participating in simultaneous naval exercises "in all places for which the Russian navy is accountable," so in the Mediterranean Sea, the Black Sea, the North Sea, the Okhotsk Sea, the Pacific, and the Atlantic Oceans.
Support Us
If content prepared by Warsaw Institute team is useful for you, please support our actions. Donations from private persons are necessary for the continuation of our mission.
All texts published by the Warsaw Institute Foundation may be disseminated on the condition that their origin is credited. Images may not be used without permission.