Russia Forms Anti-Turkish Coalition Over War in Syria
The spat in Russia-Turkey ties over the Idlib offensive may lead to a severe breakdown in cooperation between these two countries. As it stands now, it is yet difficult to determine whether Russia's bid to revive ties with Turkey's regional enemies –– Saudi Arabia and the United Arab Emirates –– over the Syria issue is just a tactical move, an attempt to exert pressure on Ankara, or the first step towards Moscow's renewed policy on Syria.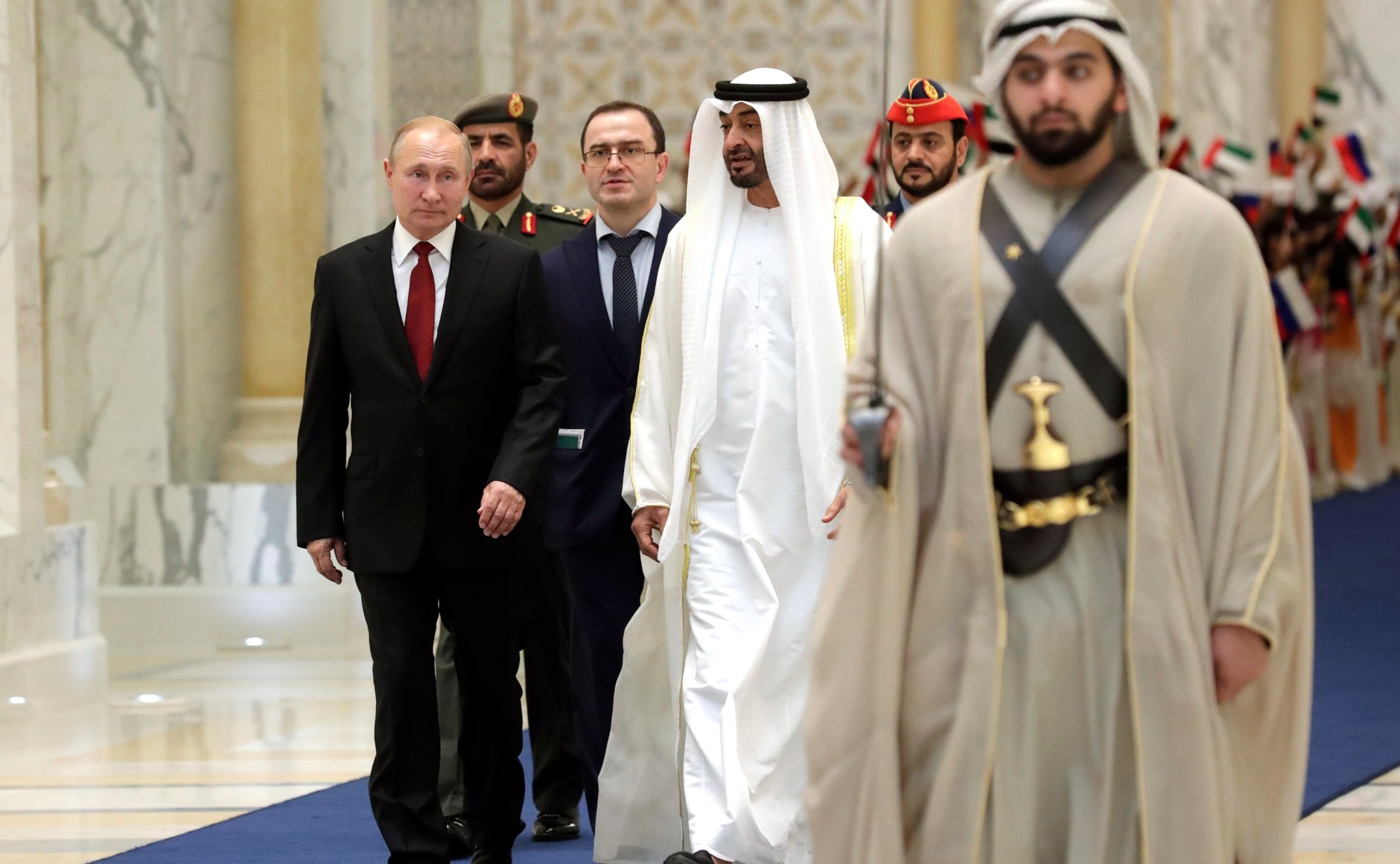 SOURCE: KREMLIN.RU
What Russia is seeking is to engage Saudi Arabia, the United Arab Emirates, and Jordan more in Syrian affairs. The Kremlin's activities are steered towards striking a blow to Turkey, whose forces remain hostile to Saudi Arabia and the UAE also in Libya, while having a long-term goal. At stake are funds to rebuild Syria's destroyed infrastructure after the final victory of the Bashar al-Assad regime. Moscow is willing to take advantage of the fact that the Sunni monarchies of the Persian Gulf wield a profound influence on a significant part of the Syrian opposition forces.
Support Us
If content prepared by Warsaw Institute team is useful for you, please support our actions. Donations from private persons are necessary for the continuation of our mission.
Russian Foreign Intelligence Service Director Sergei Naryshkin flew on February 12 to Dubai to meet top officials of the special services of the United Arab Emirates. High on the meeting's agenda were regional crises and solutions to them. A meeting between the United Arab Emirates' diplomatic mission in Syria and Damascus regional governor Alaa Ibrahim took place a few days later, focusing on foreign investments in Syria. This indicates a gradual improvement in ties between Syria and the United Arab Emirates, with Russia serving a mediating role. Moscow hopes to see financial support to Damascus to revive the country's war-torn economy. UAE senior officials are said to have promised to pressure the Syrian opposition in the Constitutional Committee to be more cooperative with Bashar al-Assad. In late 2019, Saudi Arabia made an anti-Turkish decision to reshuffle the High Negotiations Committee that represents the Syrian opposition in the UN-backed talks. On February 26, Russian Deputy Foreign Minister Mikhail Bogdanov accused Turkey of helping foreign fighters cross into Libya. Earlier that day, the Russian official met with Saudi Ambassador to Moscow Raid bin Khalid Krimli to honor him with an award for his "personal contribution to strengthening Saudi-Russian relations." Krimli has just completed his service in Russia. A week earlier, on February 19, Russian Foreign Minister Sergey Lavrov met with his Jordanian counterpart to hold talks on re-establishing the civilian infrastructure in Syria.
Moscow's revamped contacts with the Sunni monarchies –– while trying to get them into the reconstruction of Syria and normalized relations with al-Assad –– do not exclusively consist in weakening Turkey and finding money to revive Syria's war-ridden economy. What Moscow may seek is to create a platform for peace talks, with Bashar al-Assad, Syrian opposition factions and the Kurds amongst top participants, an idea endorsed by the United States, Saudi Arabia, the United Arab Emirates, and Egypt. But Turkey is reluctant to see the Kurds at the negotiating table. Furthermore, it was a long time ago that the Persian Gulf monarchies forged friendly ties with Sunni tribes living in northeastern Syria, an area dominated by the U.S-backed mainly Kurdish SDF coalition.
All texts published by the Warsaw Institute Foundation may be disseminated on the condition that their origin is credited. Images may not be used without permission.