Russia-Africa Summit: Will Malofeev Take Over Prigozhin's Role?
The inaugural Russia-Africa summit was held in October 23–24 in the Black Sea resort of Sochi, Russia. With the attendance of some 40 African heads of state and a vast group of 10,000 guests from both Russia and African countries, the Russia-Africa summit confirms the continent's high level of interest in cementing cooperation with Moscow.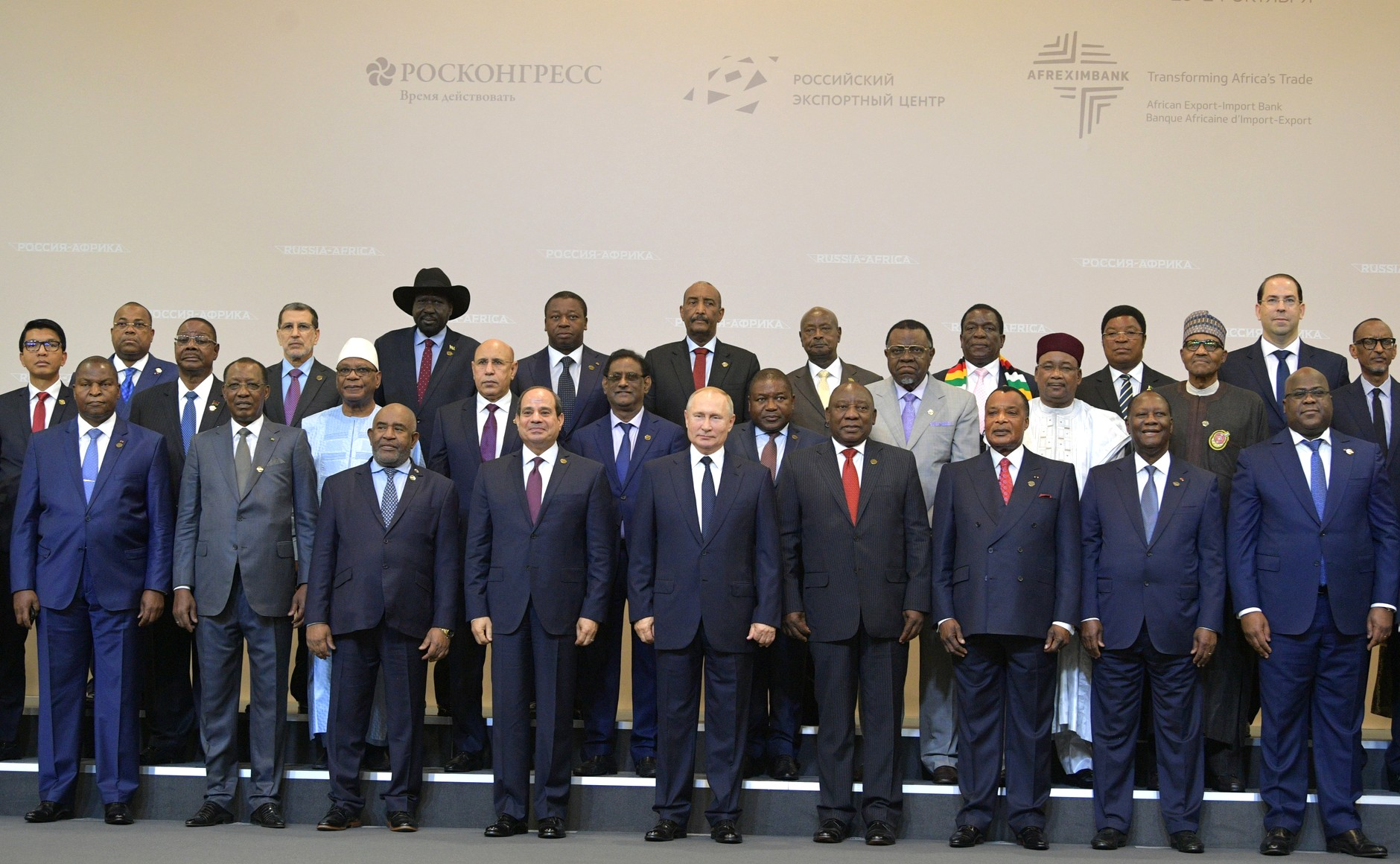 SOURCE: KREMLIN.RU
This was the biggest and most costly international conference ever staged in Russia. The event cost Moscow 4.5 billion roubles more than the St. Petersburg International Economic Forum. Its very first edition was co-chaired by Russian President Vladimir Putin and his Egyptian counterpart, President Abdel Fattah Al-Sisi, who serves as the current president of the African Union. Speaking at the opening of the summit, Vladimir Putin said Russia would pour billions into investments and double its trade with Africa within five years. Besides weaponry, Russia wants to export grain and agricultural machinery, aircraft, trucks, chemical and pharmaceutical products. Putin said Russia might help African countries explore deposits, as illustrated by Moscow's recent deals with Mozambique and Congo. Russia had forgiven a total of more than $20 billion of African debt that dated back to the Soviet era, Putin said.
At the Sochi event, Russia and African nations inked a batch of agreements worth more than 800 billion roubles ($12.5 billion). Moscow and its African peers settled that they would hold regular summits every three years. But Russia lags far behind China when it comes to economic cooperation. Chinese trade with African nations is eighteen higher than Russia's. Trade between Russia and Africa has doubled in the past five years to more than $20 billion. Vladimir Putin expressed hope that Russia would increase twofold this trade within the next four to five years. China is the largest foreign investor in Africa. Since 2005, it has pumped over $300 billion into African countries located south of the Sahara desert. Russian investments still pale in comparison with China's. Between 2010 and 2018, trade between Russia and sub-Saharan Africa started at low levels but increased rapidly to $4.8 billion last year from $1.8 billion. In 2017, China took the lead in its trade with Africa ($55 billion) while the value of U.S. exports to the continent was $25 billion. With its exports to Africa worth a total of $3 billion, Russia came only twentieth.
Support Us
If content prepared by Warsaw Institute team is useful for you, please support our actions. Donations from private persons are necessary for the continuation of our mission.
The country is building its position as the principal arms supplier to Africa. Moscow has signed military agreements with nearly 30 African nations, mostly over the last five years. Some 40 percent of Russian arms exports go to Africa. Russia is the largest supplier of arms to the continent, accounting for more than 30 percent of arms exports to the region. Besides economic cooperation, the Kremlin has an appetite for using some of Africa's military ports and air bases by Russian aircraft and navy fleet. The Kremlin's other top goal is to develop its role as a political arbiter. In Sochi, Russian diplomacy offered to help mediate a mounting spat between Egypt and Ethiopia over the latter's efforts to build a dam on the Blue Nile.
Interestingly, absent at the Sochi summit was Yevgeny Prigozhin, a Russian oligarch who gained notoriety for dispatching mercenary forces to Africa in exchange for permits to mine diamonds in Sudan and the Central African Republic, among others. Another tycoon that endeavors to push forward his businesses in Africa is Konstantin Malofeev, who promised to advise three African countries on ways to raise $2.5 billion. Malofeev's International Sovereign Development Agency is to help the Democratic Republic of Congo, Guinea and Niger secure funds for infrastructure projects.
RUSSIAN EXPANSION IN AFRICA – read more in our special report
All texts published by the Warsaw Institute Foundation may be disseminated on the condition that their origin is credited. Images may not be used without permission.