Russia Monitor is a review of the most important events related to Russian internal and external security, as well as its foreign policies.
Date: 31 October 2022 Author: Grzegorz Kuczyński
Putin Seeks To Destroy Ukraine, Fight Western States
What Russian President Vladimir Putin said in recent days meant no change in his policy that indeed exacerbated since mid-September. In just three days, Russian President Vladimir Putin had a flurry of activities: he observed exercises by his nation's strategic nuclear forces, attended meeting with heads of security services of the Commonwealth of Independent States (CIS), held an operational meeting of the Russian Security Council, delivered a speech at the Valdai Discussion Club summit, took part in an emergency meeting of the Collective Security Treaty Organization (CSTO) Collective Security Council, and received Sergei Shoigu, the defense minister, for talks. They all have one common––the Kremlin flexes its muscles, claiming it could further escalate the war in Ukraine and ignite tensions with Western states.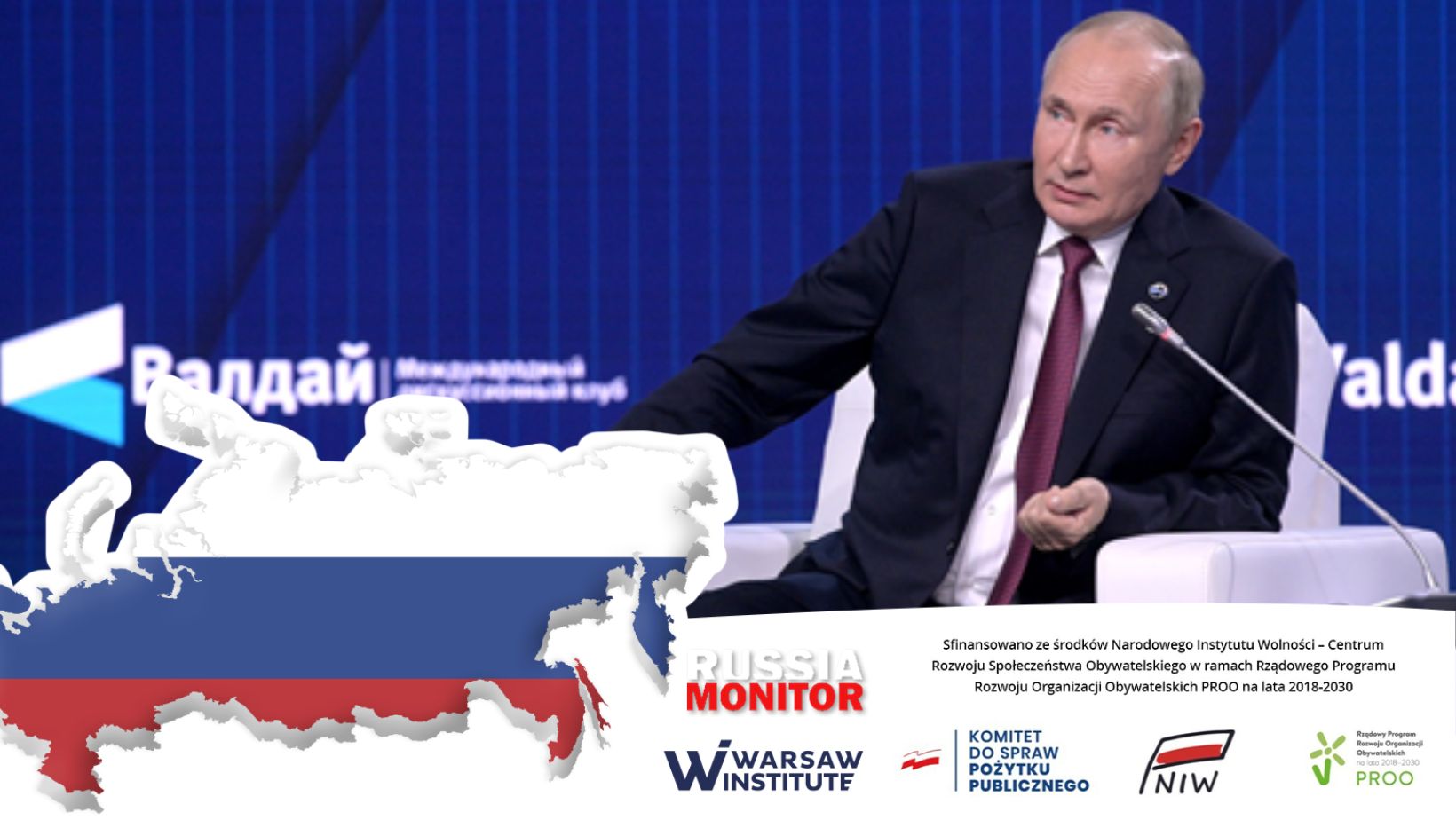 SOURCE: (kremlin.ru)
All eyes were on Putin's speech at the conference organized by Valdai Discussion Club, a Kremlin-sponsored think tank, and the security conference of the CIS countries, the latter of which comes as a channel of communication with most post-Soviet republics. The Russian leader keeps denying Ukraine's legitimacy as a sovereign nation. With his tailored messages, Putin sought to find an excuse for invading Ukraine in what he referred to as an aggressive policy of Western countries. "We are in for probably the most dangerous, unpredictable and at the same time most important decade since the end of World War II," according to Putin. "Now this historical period of boundless Western domination in world affairs is coming to an end," he was quoted as saying. Speaking at the Valdai Club discussion forum in Moscow on October 27, Putin blamed Western nations for a fragile situation worldwide, accusing them of throwing aside all rules to maintain dominance and block countries they look upon as "second-rate people". Putin cast the conflict in Ukraine as a battle between the West and Russia for the fate of the second-largest Eastern Slav country. "Russians and Ukrainians are one people historically. It's almost like civil war happening right now," he continued. The speech Putin delivered at the Valdai Club meeting resembles what he said in late September while annexing four Ukrainian regions. While many recognize the war in Ukraine as a top issue, Putin ranted about Western culture. At the October 27 meeting, Putin reiterated the claims he had delivered back on September 30, saying Western states simply have nothing to offer the world, except "perpetuating their dominance". Russia's efforts served as an excuse to justify its right to take decisions in all domains ranging from energy policy to same-sex marriages. "Russia, as a country that made Ukraine, is the real guarantee of its sovereignty," Putin added. This echoes Putin's narrative of the Ukrainian state as a gift from Lenin––earlier the president had claimed the annexation of Crimea was a legacy of Khrushchev. What Putin said means that now he is not eager to sit at the negotiating table with Ukrainian officials. Despite many setbacks along the front line, the Kremlin has not revised its grandiose plans to defeat Ukraine and install a Moscow-obedient puppet government in Kyiv. Speaking via videoconference at a meeting with heads of security services of the Commonwealth of Independent States (CIS), Putin said Ukraine was turned into "a tool of the U.S. policy" used in an attempt to preserve global domination. Russian State Duma Speaker Vyacheslav Volodin amplified this narrative, stating that Ukraine is occupied by NATO and it has lost the ability to exist as a state. Perhaps the Kremlin has stiffened its already radical policy and––in addition to installing a Moscow-loyal government in Kyiv and grabbing swathes of land in Ukraine's south and southeast––its officials seek to wipe out Ukrainian identity and culture. Undoubtedly, the Kremlin gave Volodin the green light to state this, as he is a hawkish politician siding with the Russian "party of war".
Support Us
If content prepared by Warsaw Institute team is useful for you, please support our actions. Donations from private persons are necessary for the continuation of our mission.
All texts published by the Warsaw Institute Foundation may be disseminated on the condition that their origin is credited. Images may not be used without permission.