Putin Meets China's Parliament Chairman in the Kremlin
On September 25, Russian President Vladimir Putin received for talks Li Zhanshu who serves as a member of the Standing Committee of the Central Political Bureau of the Communist Party of China and the chairman of the Standing Committee of the National People's Congress of China. Putin's talks with the newly appointed chairman of the Chinese parliament is yet another top-level political meeting between Russian and Chinese officials, a step that confirms ever-closer ties between Moscow and Beijing.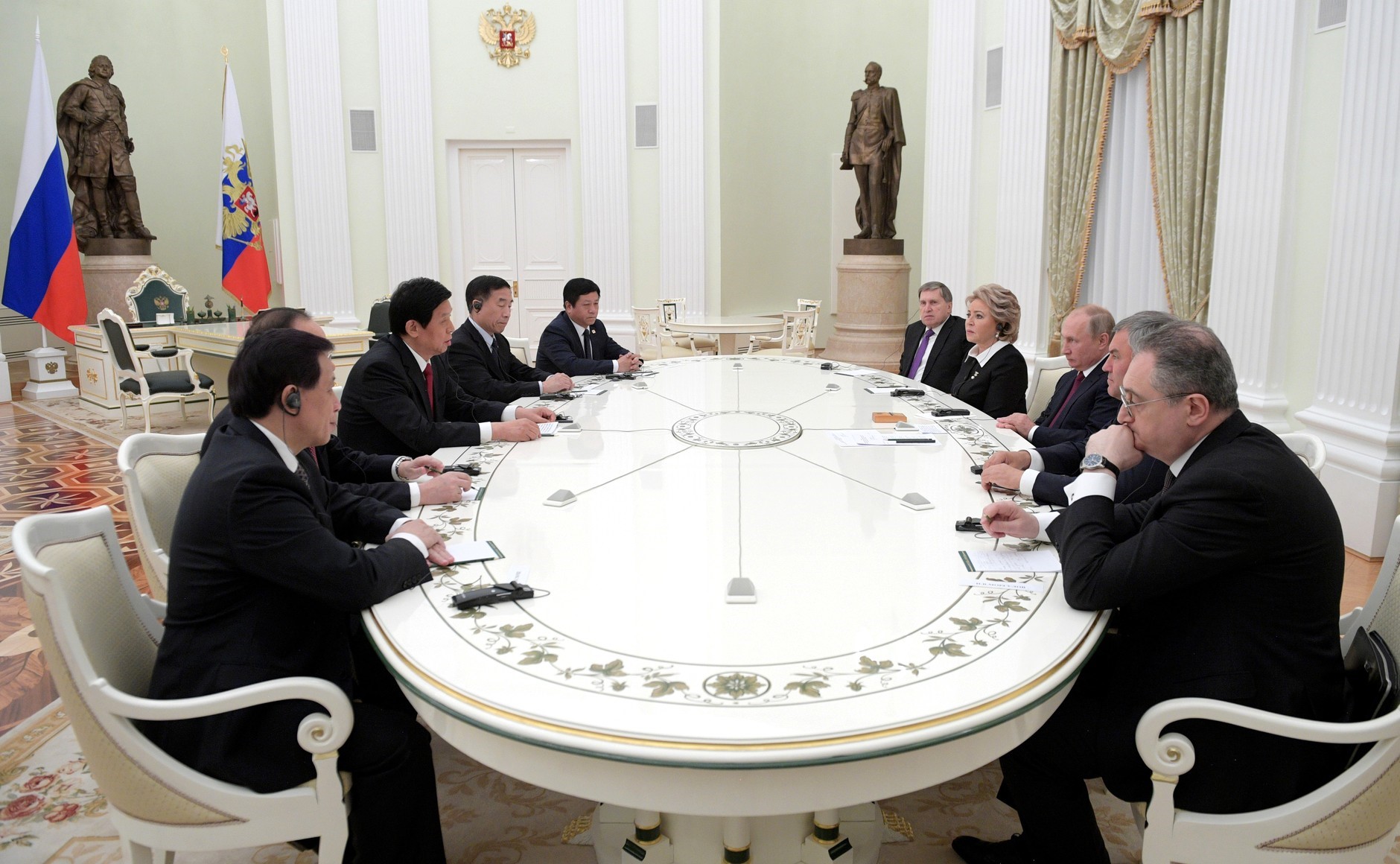 SOURCE: KREMLIN.RU
Russia remains open to the biggest Chinese investments possible, as was evidenced by a batch of bilateral deals inked during Xi Jinping's recent state visit to Moscow. The Kremlin sees that the more it has economic ties with Russia, the more durable are its foundation of the partnership with Beijing, and Putin's ambition is even to ally with the People's Republic of China. But this cooperation is chiefly buoyed up by the export of Russian hydrocarbons to China. The Power of Siberia energy trunkline is scheduled to become operational by the end of this year. The Kremlin yet seeks to diversify its economic ties with Beijing, pushing for becoming for China something more than just a resource base, both at the nation-wide level (gas and oil) and regionally, with chiefly timber resources being exploited by Chinese companies in the Far East. China's investing in various areas of activity of the Russian economy intends to sustain its technological development, as the 5G case has shown, while granting access to Chinese bankrolling for the economy that is currently undergoing severe problems.
Support Us
If content prepared by Warsaw Institute team is useful for you, please support our actions. Donations from private persons are necessary for the continuation of our mission.
Not so long ago, Russia introduced new export tariffs on logs and tightened environmental protection around Lake Baikal by signing a batch of new protocols. But these steps are by no means intended to narrow down Moscow's economic partnership with China, or a robbery economy pursued by Chinese investors, either in the long-term or strategic dimension. Instead, it is all about cooling off anti-China moods said to be spreading amidst a large part of the inhabitants of the Far East and Siberia. Added to this mounting dissatisfaction with local authorities, often said to stay corrupt and favorable to Chinese investors, even acting against regional interests, anti-China resentments are a threat to the regime, which affects the local election results of the Kremlin-endorsed candidates. The plan is to mitigate anti-China sentiments that ran high amidst a China-backed project to build a facility to bottle water from Lake Baikal that swept throughout the country, with a petition signed by hundreds of thousands of Russians and public figures being involved in upholding environmental protection issues. And secondly, this may be referred to the Russian authorities' urge for pushing forward a stricter control of the Sino-Russian regional economic partnership. It is therefore dubious for China to see its long-term business plans deal a massive blow because Moscow would by no means seek its endeavors to be viewed in such a way.
All texts published by the Warsaw Institute Foundation may be disseminated on the condition that their origin is credited. Images may not be used without permission.