Russia Monitor is a review of the most important events related to Russian internal and external security, as well as its foreign policies.
Putin Intimidates Ukraine, Blackmails EU
Moldova is now on the verge of a gas crisis after Russia imposed exorbitant conditions for gas supplies. Gazprom seeks to repeat the same scenario in Romania. In addition, Russia is waging an information campaign involving ambassadors and President Putin himself to force the EU, now in the middle of an energy crisis, into concessions to Gazprom, and to be able to launch the Nord Stream 2 gas pipeline. At the same time, Moscow no longer hides that halting gas transit through Ukraine is just a matter of time.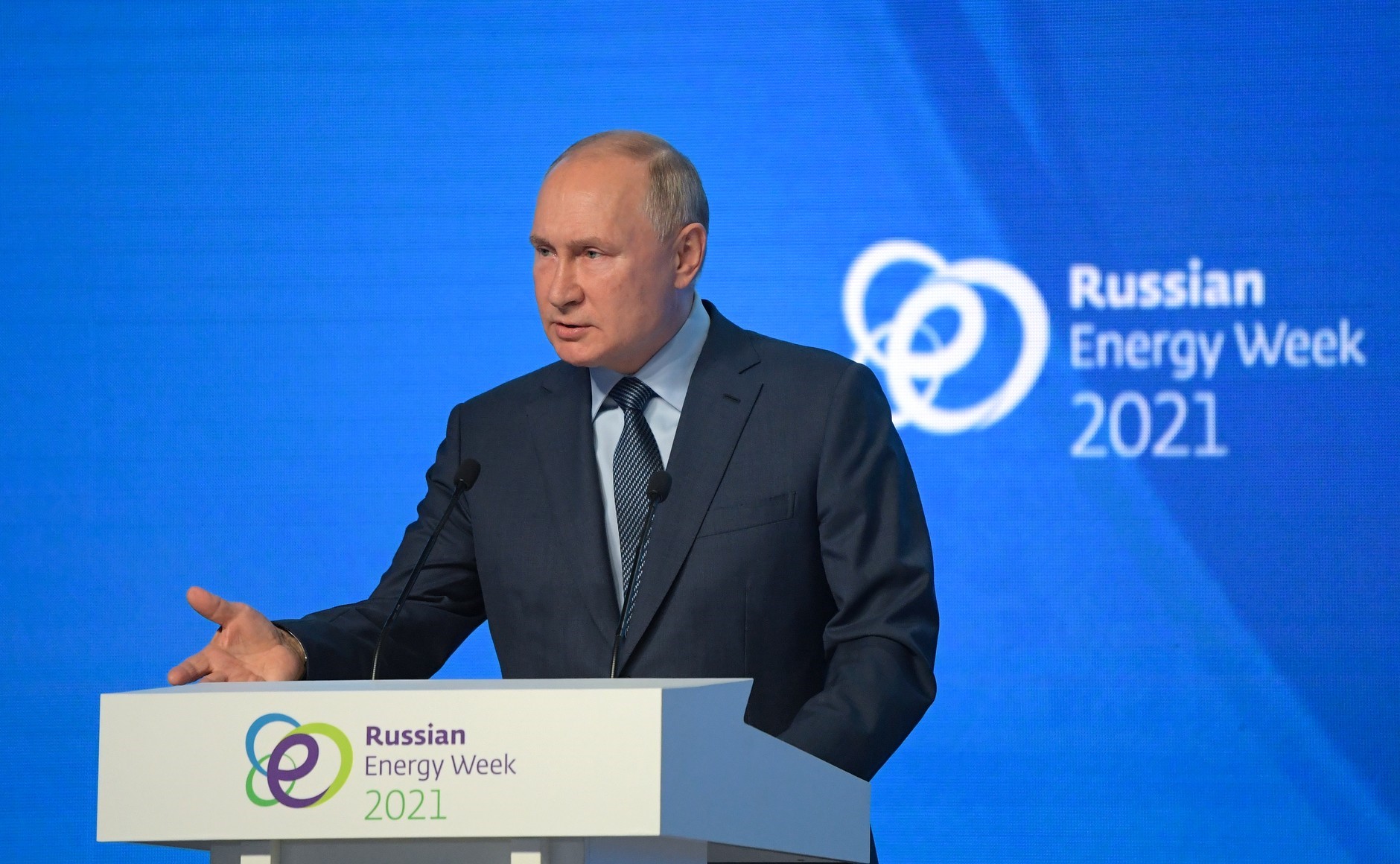 SOURCE: KREMLIN.RU
Addressing the plenary session at Russian Energy Week, Russian President Vladimir Putin outlined the main theses of the Kremlin's energy strategy. He started with a false claim, insisting the country was not using gas as a geopolitical weapon. In fact, it is precisely the opposite. Putin also reiterated that his country denied any responsibility for a large increase in gas prices in EU states. He said this was related to energy shortages in Europe while Moscow is ready to start talks to make some suggestions on how to balance the market. The Russian leader blamed Europe for higher gas rates as its countries are seeking to diversify energy supplies by purchasing more liquefied natural gas. Putin pointed to a fall in supplies with cargoes drawn to higher-priced Asian markets, and not to Europe. The recipe for turmoil is long-term gas deals with Gazprom, according to the Russian leader. What Putin said is a classic Russian disinformation campaign. Gazprom is not a recipe for crisis, but one of the main sources of the problem. Russia has contributed to an eye-watering increase in gas prices in Europe and is pursuing a panic-stricken policy, saying some countries may simply run out of gas, as in the case of the Kremlin's policy towards Moldova. Gazprom's goal is to force the European Union into treating the Russian energy giant advantageously. Meanwhile, it is about overwhelming Ukraine. With Nord Stream 2 and possible concessions Brussels could make to Russia, Kyiv's position will only worsen. German and U.S. "paper" guarantees for Ukraine's energy security is somewhat that could be forgotten, which Putin almost directly articulated at the Moscow summit. Putin also warned of the risk of supplying more gas to Europe via Ukraine, saying it would be "dangerous to increase deliveries given that the Ukrainian equipment was 80–85 percent outdated. Putin said these pipelines should be refurbished, an idea that suggests bringing back a Russian-German-Ukrainian consortium in charge of the entire network. This would mean Moscow taking control of Ukrainian pipelines. Putin said Russia was ready to maintain the transit contract with Ukraine after 2024 "if the economic and environmental conditions are there." So Russia may offer transit conditions that are suitable just for Gazprom.
Support Us
If content prepared by Warsaw Institute team is useful for you, please support our actions. Donations from private persons are necessary for the continuation of our mission.
All texts published by the Warsaw Institute Foundation may be disseminated on the condition that their origin is credited. Images may not be used without permission.