Pompeo Pledges US Support For Sovereign Belarus During Minsk Visit
Held in a warm atmosphere, the U.S. top diplomat's meeting with Belarusian President Alexander Lukashenko has come as a vital signal of Washington's support for sovereign Belarus. The move has grown in importance amid Moscow's escalating pressure on Minsk in its effort to integrate more closely, or rather to absorb Belarus. Lukashenko, for his part, has no intention to bow to pressure, hence his country's crude spat with Russia.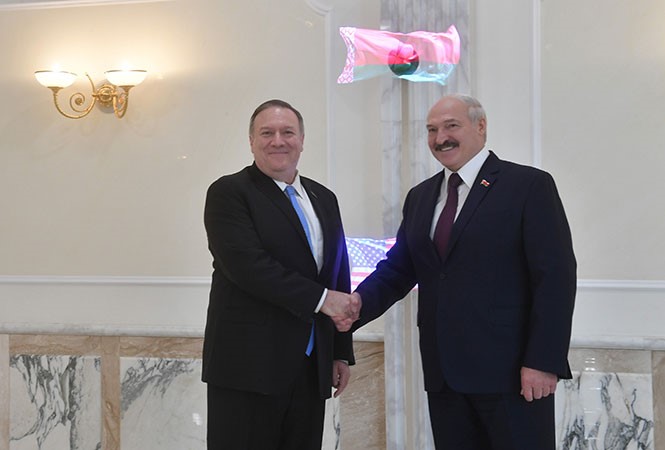 SOURCE: PRESIDENT.GOV.BY
Pompeo's visit was the first by a senior U.S. representative to Belarus since then-President Bill Clinton arrived in Minsk in 1994. U.S. Secretary of State was initially due to visit the country on January 4, but his visit, as were Pompeo's other trips, was rescheduled amidst strains in the Middle East in the wake of an attack on the U.S. embassy in Iraq. The U.S. top diplomat on February 1 flew from Kyiv to Belarus, where he met with Belarusian President Alexander Lukashenko and Foreign Minister Vladimir Makei.
"We are not asking Belarus to choose between East and West," Pompeo said, but his trip to Minsk, followed by some declarations, has mirrored U.S. pursuits to take Belarus's side in its ongoing dispute with Russia. Pompeo told the meeting that U.S. energy producers stand ready to deliver 100 percent of the oil Belarus needs at competitive prices. Pompeo's proposals prove Washington's readiness to engage in a U.S.-Russian competition for Belarus, Belarusian experts said. What Pompeo offered may serve as support for Belarus's sovereignty amidst the country's conflict over oil and gas prices with Russia. But this is not a breakthrough yet. Lukashenko seeks to make use of his contacts with the Americans in the game he is playing with the Kremlin. As for now, this resembles a gradual process of having warmer ties with Washington. In another boost to its relations with Belarus, the United States will bring back its ambassador to Minsk, Pompeo said. Since 2008, the U.S. Embassy in Minsk has been operating without an ambassador. In March 2019, Belarus lifted a restriction on the number of U.S. diplomats in Minsk, trying to fix ties with Washington. It is worth noting that the U.S. top official was greenlighted to raise the topic of human and civil rights in Belarus, while he then held a half-hour meeting with representatives of independent circles, including human rights defenders.
Support Us
If content prepared by Warsaw Institute team is useful for you, please support our actions. Donations from private persons are necessary for the continuation of our mission.
This was the second visit of a senior U.S. official in the past six months. In August 2019, John Bolton, who at that time served as the U.S. national security advisor, paid a visit to the Belarusian capital. Makei said openly Minsk would be pleased to see Washington playing a more active role in Belarus. Belarus's senior diplomat iterated Minsk's support for the U.S. participation in negotiations to settle the conflict in Ukraine's Donbas. Prior to Pompeo's visit, on January 29, Secretary of the Security Council of Belarus Andrei Ravkov met with Charge d'Affaires of the United States in Belarus Jenifer Moore as well as a group of military attachés of the United States, Poland, and Germany. The meeting touched upon the Defender Europe 2020 military drills, dubbed the largest deployment of U.S.-based troops for an exercise to Europe in the past 25 years.
All texts published by the Warsaw Institute Foundation may be disseminated on the condition that their origin is credited. Images may not be used without permission.