New developments in US-German relations: energy, security, EU, Russia, NATO
Warsaw Institute & The Warsaw Institute Review quartely have an honour to invite you to our upcoming online event – part of the Warsaw Institute's "Diplomacy Talks Series": New developments in US-German relations: energy, security, EU, Russia, NATO.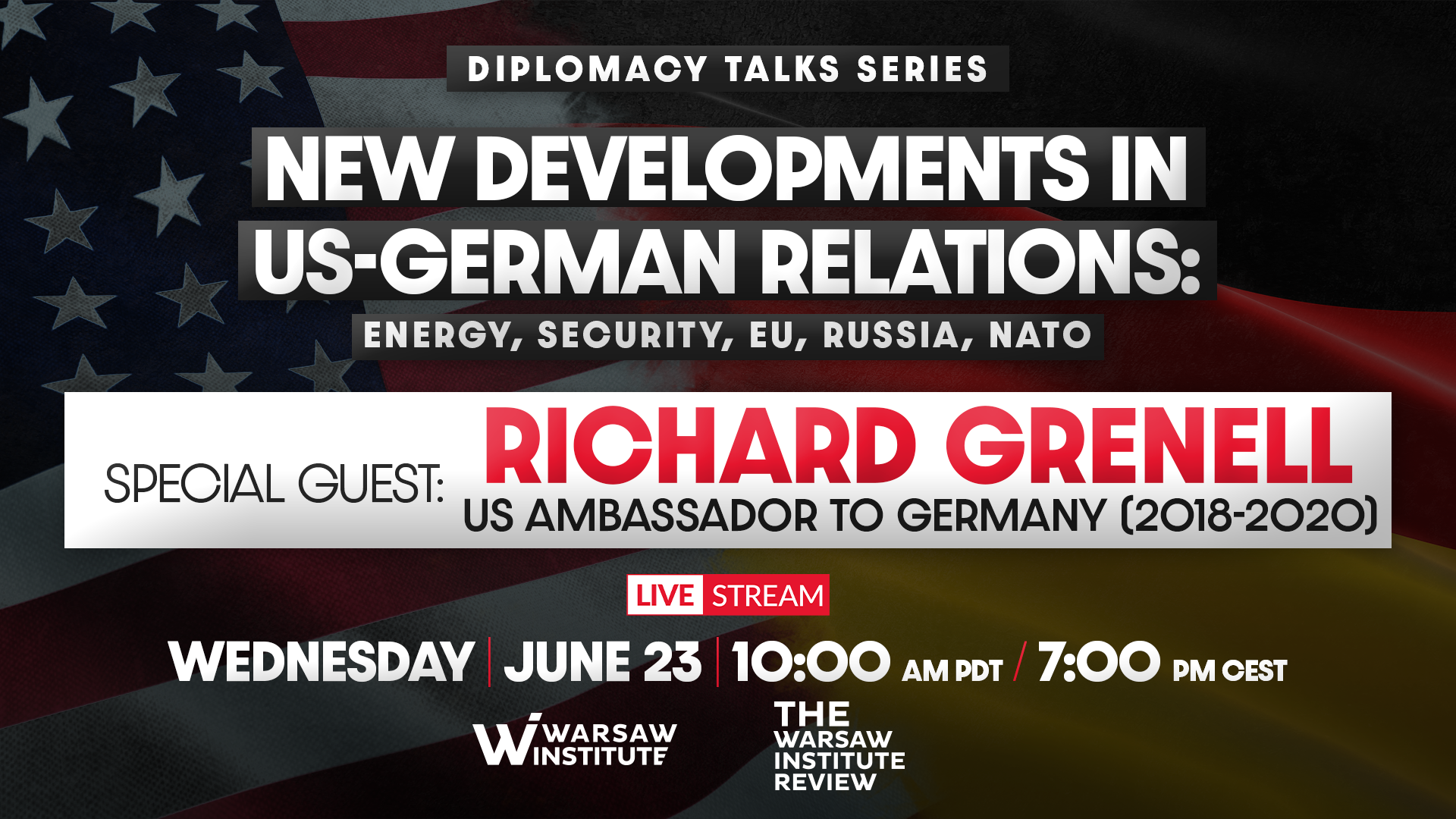 Date: Wednesday, June 23, 2021
Time: 10:00 am PDT | 7:00 pm CEST
The main points of the discussion will include, among others:
• What are the main areas of economic cooperation between the USA and Germany?
• How will the German autumn elections affect US-Germany and Germany-NATO relations?
• Will Germany maintain its stance that Russia is not a threat to NATO and how will it affect the unity of the Alliance?
• How do the current shifts in geopolitics affect the place of Germany in Europe?
• Might Biden's travel across Europe be seen as an attempt to work more closely with Washington on China? If so, how could Germany leverage on this matter?
• How could the US-German partnership contribute to pushing the G7 project against Russia?
Don't forget to register here https://www.eventbrite.com/e/new-developments-in-us-german-relations-energy-security-eu-russia-nato-tickets-159470766355 and see you there!
SPECIAL GUEST
Richard Allen Grenell
Mr. Grenell is an American diplomat, political advisor, and media consultant who served as Acting Director of National Intelligence and the United States Ambassador to Germany from 2018 to 2020. He has been also the Special Presidential Envoy for Serbia and Kosovo Peace Negotiations from 2019. Mr. Grenell has expressed interest in running in the 2021 California gubernatorial recall election.
In 2001, Mr. Grenell was appointed as Director of Communications and Public Diplomacy for the United States Permanent Representative to the United Nations in New York. Serving in that role until 2008, he advised four different U.S. Ambassadors. During his tenure, Mr. Grenell promulgated U.S. official position and strategy on such issues as the War on Terror, global peacekeeping operations, nuclear proliferation, and the UN Oil for Food corruption scandal. He received a master's degree in Public Administration from Harvard University's John F. Kennedy School of Government.
MODERATOR
Tomasz Kijewski
Mr. Tomasz Kijewski is the president of the Warsaw Institute – a leading think-tank in the Central and Eastern Europe focusing on international relations, hybrid warfare and energy security.
He is a graduate of the national security study program (PASS) at the George C. Marshall European Center for Security Studies (Garmisch-Partenkirchen / Washington DC). For many years he served as a diplomat in North America. The areas of Tomasz's expertise include hybrid warfare and asymmetric conflicts, counter-terrorism, and energy security. He is currently preparing his doctoral dissertation (PhD).
All texts published by the Warsaw Institute Foundation may be disseminated on the condition that their origin is credited. Images may not be used without permission.