NATO in the 21st Century
Preparing the Alliance for the Challenges of Today and Tomorrow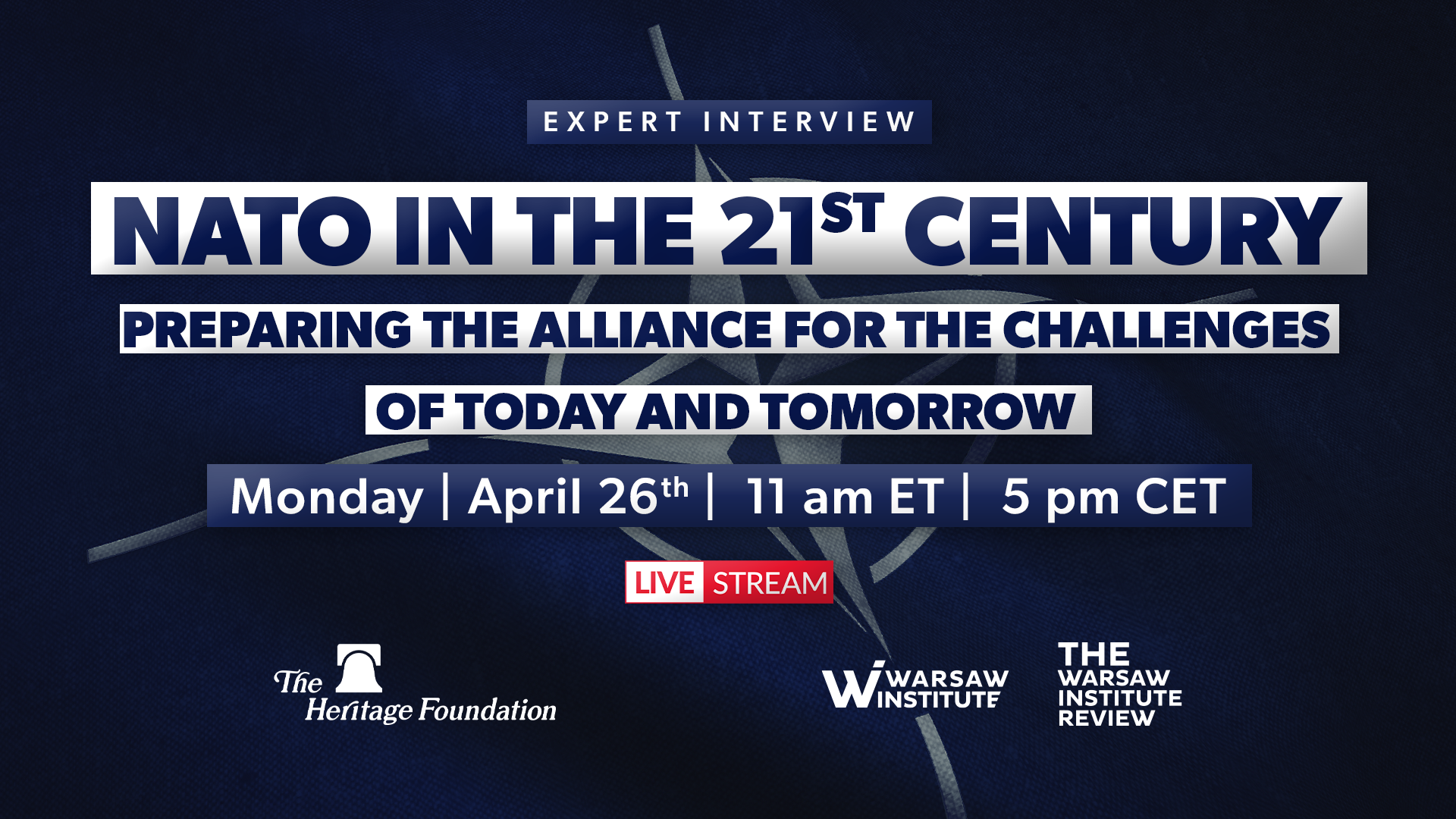 Warsaw Institute & The Warsaw Institute Review quartely with The Heritage Foundation have an honour to invite you to our upcoming online Expert Interview:
NATO in the 21st Century
Preparing the Alliance for the Challenges of Today and Tomorrow
Date: Monday, April 26th, 2021
Time: 11:00 am ET | 5 pm CEST
Register via Eventbrite to receive a reminder and a direct link to the stream 10 minutes before the event:
SPECIAL GUEST
Daniel KOCHIS Senior Policy Analyst in European Affairs, The Heritage Foundation
MODERATOR
Tomasz Kijewski President of Warsaw Institute
The main points of the discussion will include, among others:
Would NATO, especially on its Easter flank, be able to successfully defend itself in case of a military aggression of the Eastern superpowers?
Is disinformation recognized by NATO as a means of malign foreign influence? How does NATO counter information laundering and false narratives? How does it support its member states in doing so?
What are the biggest challenges of NATO in the next 10 years? Will NATO adjust to the latest threats in a form of natural evolution or rather a revolution?
Don't forget to register and see you there!
ABOUT THE PARTICIPANTS
Daniel KOCHIS
Mr. Daniel Kochis is a Senior Policy Analyst in European Affairs at The Heritage Foundation. He specializes in trans-Atlantic security issues regularly publishing on U.S. policy in Europe, NATO, U.S.-Russia relations, and Arctic issues. Kochis is also a regional author for the Heritage Foundation's annual Index of U.S. Military Strength.
He holds a Master of Arts Degree in Comparative Political Science from Fordham University in New York where we received the Richard A. Bennett Graduate Assistantship. He received his Bachelor of Arts Degree in Political Science from the Catholic University of America in Washington, DC
Tomasz KIJEWSKI [MODERATOR]
Mr. Tomasz Kijewski is the president of the Warsaw Institute – a leading think-tank in the Central and Eastern Europe focusing on international relations, hybrid warfare and energy security.
He is a graduate of the national security study program (PASS) at the George C. Marshall European Center for Security Studies (Garmisch-Partenkirchen / Washington DC). For many years he served as a diplomat in North America. The areas of Tomasz's expertise include hybrid warfare and asymmetric conflicts, counter-terrorism, and energy security. He is currently preparing his doctoral dissertation (PhD).
Support Us
If content prepared by Warsaw Institute team is useful for you, please support our actions. Donations from private persons are necessary for the continuation of our mission.
All texts published by the Warsaw Institute Foundation may be disseminated on the condition that their origin is credited. Images may not be used without permission.