Macron-Putin Meeting: Russia Gains More Friends in EU
Bilateral ties between Paris and Moscow are now getting stronger than ever. The June meeting between French and Russian heads of government will be soon followed by a high-level visit to France by a Russian leader. French President Emmanuel Macron said that he will receive Vladimir Putin for talks at the Fort de Brégançon summer residency on August 19, a few days before hosting the G7 heads of state meeting in the French city of Biarritz. What Macron has suggested has both a serious undertone for French-Russian relations, but may also help put an end to Moscow's isolation on the world stage.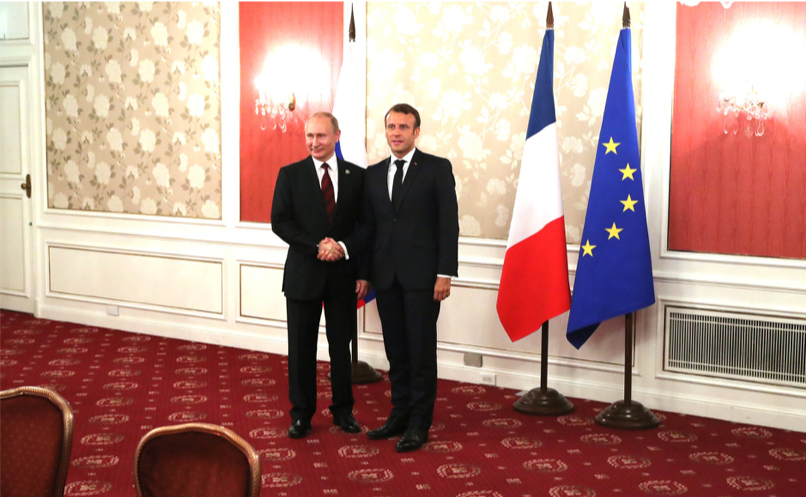 SOURCE: KREMLIN.RU
Macron's initiative may prompt doubled efforts to readmit Russia to the elite club of the world's richest and most developed countries. Russia formally joined the G8 group in 1998, reformatted as G7 in 2014 due to the suspension in Moscow after it had annexed the Crimean Peninsula from Ukraine. The G7 summit will take place on August 24–26. A group of world leaders is set to gather for talks, among whom are those of France, Japan, Germany, the United States, the United Kingdom, Italy Canada, as well as the President of the European Council and the President of the European Commission. For at least a year, Macron has been in favor of letting Russia back into the grouping while asserting that Moscow must first fulfill its obligations under the Minsk agreements. The Kremlin, for its part, hopes to see the very same thing that happened in the Council of Europe, with Western countries inviting Russia back to the grouping, even though Moscow does not meet formal criteria for being readmitted. Among all G7 members, Russia may count on U.S. and Italian leaders, and perhaps also the French one. The very fact that the French leader invited his Russian counterpart to a summer residency shows the friendly character of French-Russian ties, proving how much attention Macron draws to the upcoming meeting.
According to Macron, France, which holds the presidency of the G7 this year, believes that "it is essential that we take this initiative" in order to explore all the forms of cooperation on key topics of destabilization or conflict. Among such issues may be the Ukrainian conflict. This matter was also brought up in the talks between French and Russian prime ministers in late June this year. Following a meeting with his Russian counterpart in the northern French city of Le Havre, French Prime Minister Edouard Philippe called on Medvedev to "take advantage of the new political context in Ukraine" after Volodymyr Zelensky's election as the country's new president. Paris is now believed to exert pressure on the newly elected authorities in Kiev to execute the Minsk agreements that could act to the detriment of Ukraine if entered into force. Medvedev's visit to France sought to renew reciprocal relations between the two states a time of mutual sanctions and frosty ties between Moscow and the West. This comes after the time when intergovernmental meetings at ministerial level were suspended following Moscow's annexation of Crimea from Ukraine and the outbreak of the war being waged by pro-Russian separatists in eastern Ukraine. Russia is open for establishing cooperation with France as such a decision would be equivalent to yet another step towards lifting EU sanctions. So Paris is likely to join some of its EU peers that seek a business-as-usual attitude in their relations with Moscow. Such an endeavor opens up the Kremlin's opportunity to forge bilateral ties with one of the EU's biggest countries – independently of existing Russian-German partnership.
All texts published by the Warsaw Institute Foundation may be disseminated on the condition that their origin is credited. Images may not be used without permission.