Russia Monitor is a review of the most important events related to Russian internal and external security, as well as its foreign policies.
Date: 23 November 2022 Author: Grzegorz Kuczyński
Less Gas and Electricity: Moscow Sets Stage for Moldova Coup
The energy crisis has hit Moldova especially hard, with Russian state energy giant Gazprom threatening to cut gas supplies and Moscow's attacks on Ukrainian energy infrastructure that trigger blackouts throughout the country.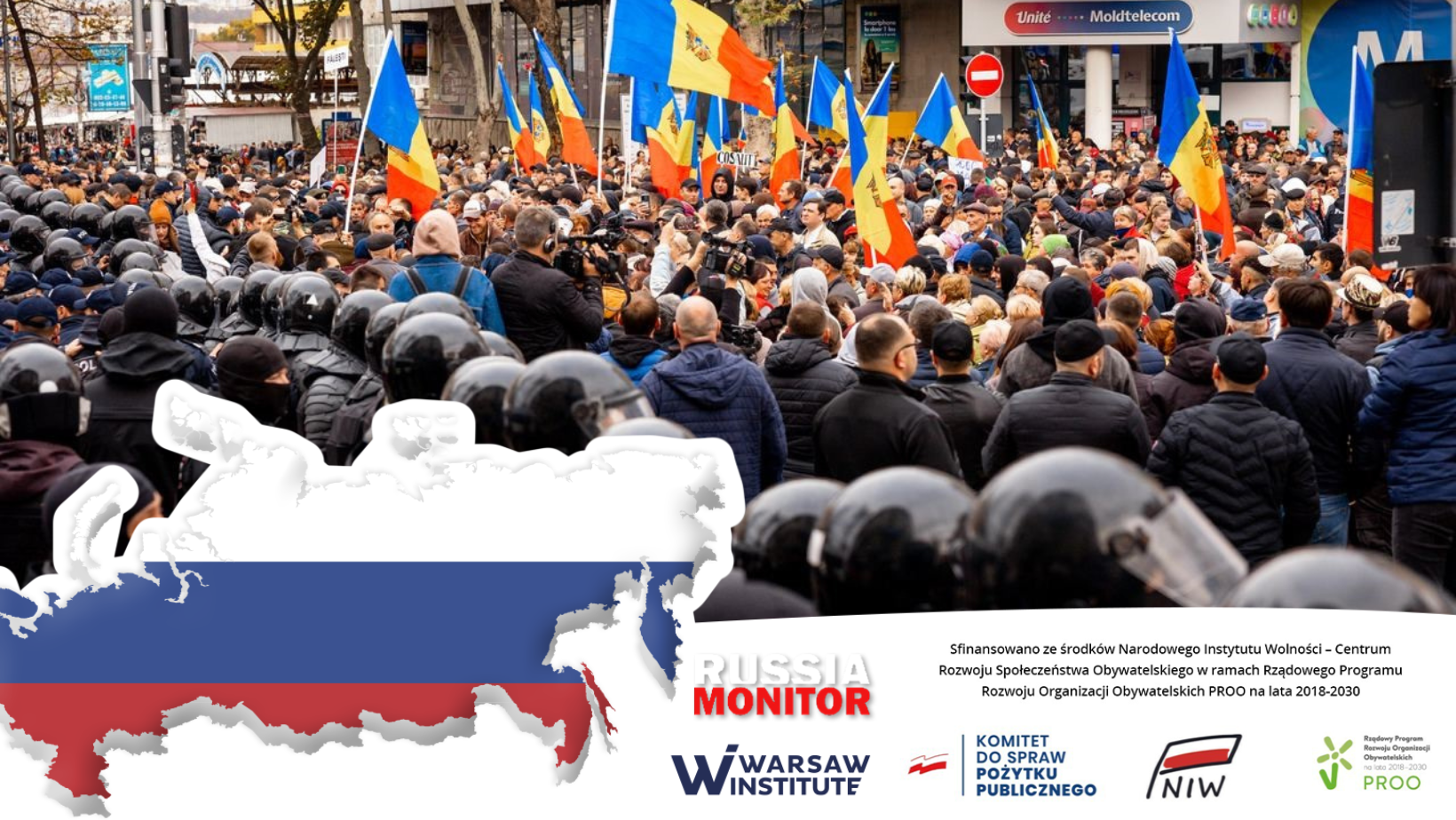 SOURCE: Peste 65 de mii de oameni au protestat în data de 30 octombrie împotriva regimului Maiei Sandu – Partidul Şor (partidulsor.md)
The energy crisis will exacerbate the country's fragile economic posture and poses a greater risk of a coup. To make matters worse, pro-Russian political forces in Moldova have stirred unrest in Moldova for weeks. Russia's Gazprom has long used energy supplies to destabilize Moldova but the situation for the country might still get worse, according to the government. Gazprom, which has traditionally supplied all of Moldova's gas, said it would slash flows by 56.6 percent in early December. Russia's Gazprom first cut natural gas supplies to Moldova in early October by around 30 percent. Now the gas flows to the country have seen a 40 percent decrease. In addition, what makes the biggest problem is that Moldova has faced rolling blackouts as Russian missile strikes target the Ukrainian energy infrastructure. Back on November 23, Moscow's attacks on Ukraine's energy infrastructure triggered massive blackouts in several cities in Moldova. The country's systems remain interconnected with Ukraine, which is why the missile barrages set off the automatic shutdown of a supply line. Ukraine has reduced its energy supply export to Moldova to just a few percent since mid-October. In early November Moldova made an electricity supply deal with neighboring Romania that supplies Moldova with 90 percent of its electricity needs. However, supplies are delivered through a transit line in Ukraine, also targeted by Russian missiles. With energy prices and inflation already high, social discontent is on the rise. The country's pro-Russian forces are seeking to exploit these vulnerabilities. Since September, protests have been organized by the Shor Party, a populist Moldovan political party, whose founder and leader, Ilan Shor, is a fugitive oligarch who now lives in Israel. He might be seeking to destabilize the country to remove the pro-Western president Maia Sandu from power and install a Russian-loyal socialist government including former Moldovan leader Igor Dodon. The ex-president was placed under house arrest on suspicion of treason. According to a Moldovan state security agency, Shor is alleged to be on the payroll of Russia's Federal Security Service (FSB), which is eager to stir up unrest in Moldova. Moldova also faces a double challenge that also includes pro-Russian separatists in Transnistria and Gagauzia.
Support Us
If content prepared by Warsaw Institute team is useful for you, please support our actions. Donations from private persons are necessary for the continuation of our mission.
All texts published by the Warsaw Institute Foundation may be disseminated on the condition that their origin is credited. Images may not be used without permission.