Russia's Lavrov and Shoigu Visit Japan But Fail to Make Breakthrough on Kuril Islands
On May 30, Russian foreign and defense ministers paid a visit to Japan to hold talks with their Japanese counterparts Takeshi Iwaya and Taro Kono. The meeting ended in failure as no progress has been made in the years-long territorial dispute over the Kuril Islands. So Russia and Japan chose to focus on military issues, with the latter protesting against Moscow's military buildup plans in the disputed area.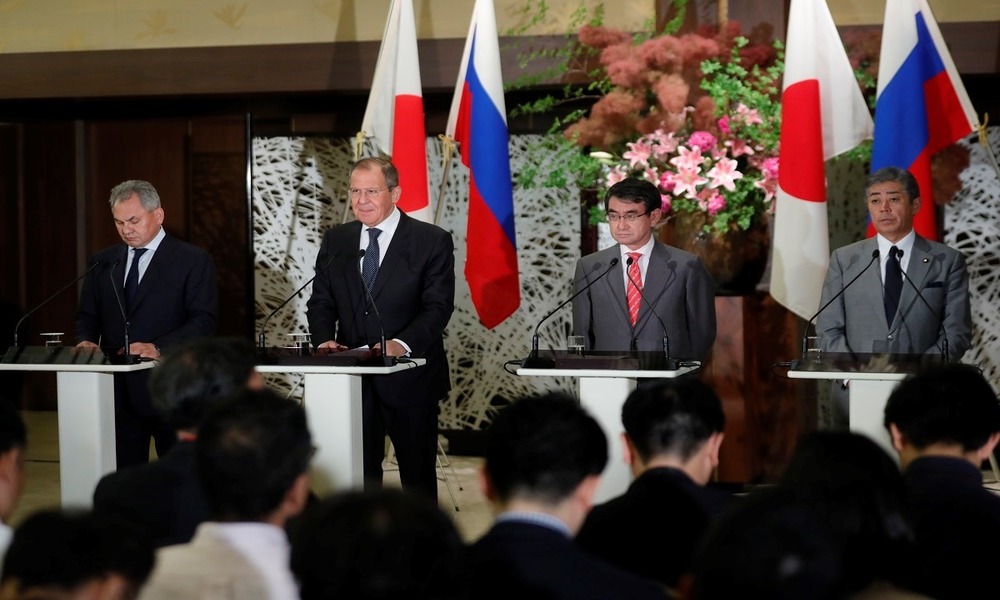 SOURCE: MID.RU
Speaking at a press conference in Tokyo, Russian Foreign Minister Sergei Lavrov said that Russia was concerned over Tokyo's plan to build a pair of Aegis Ashore missile defense systems, saying they pose a "potential threat to Russia." As informed, the Aegis Ashore systems, which are planned for deployment in Akita on Japan's northern coast and in Yamaguchi in the southwest, will bolster Japan's ability to counter potential threats from North Korea and China. Japanese Defense Minister Takeshi Iwaya told Shoigu and Lavrov that the Aegis Ashore systems are "purely for defensive purposes and never for use to intimidate Russia or other countries."
Support Us
If content prepared by Warsaw Institute team is useful for you, please support our actions. Donations from private persons are necessary for the continuation of our mission.
For his part, Japan's Foreign Minister accused Russia of a military buildup in the disputed islands, referred to as the Southern Kurils by Russia and the Northern Territories by Japan. The Japanese government does not accept Russian military drills held in the area, deploying aircraft or Moscow's military buildup. Tokyo opposed Russian war games held in the Kuril Islands in April this year. In March, Russia carried out military drills on the two other disputed islands, Kunashiri and Iturup. Up to 500 troops, including artillery units, took part in the exercises. Shortly after the talks in Tokyo, Lavrov dismissed Japanese claims, saying that Russia is entitled to do whatever it finds appropriate in its own territory.
Japan upheld its stance of retrieving four islands that had been occupied by the Soviets along with the entire archipelago in the summer of 1945. This is why Russia and Japan have not yet signed a formal peace agreement. In September 2018, Russian President Vladimir Putin said both countries should sign a peace deal with Japan "without any preconditions" yet Japanese Prime Minister Shinzo Abe rebuffed Moscow's offer, saying that efforts should be first made to tackle the dispute over the Kuril Islands. In November 2018, Abe and Putin agreed to accelerate talks toward concluding a peace treaty based on a 1956 declaration, which stipulated the return of two of four disputed islands to Japan. So progress has stalled ever since.
All texts published by the Warsaw Institute Foundation may be disseminated on the condition that their origin is credited. Images may not be used without permission.