Date: 10 October 2022 Author: Dawid Krupa
Jan Karski: Emissary of the Free World
Jan Karski was a great man who briefed the whole world on Nazi atrocities in occupied Poland during World War II. Karski became a courier for the Polish Underground resistance and the Polish government-in-exile, spreading his eyewitness account of the Holocaust. A Polish patriot, soldier and professor.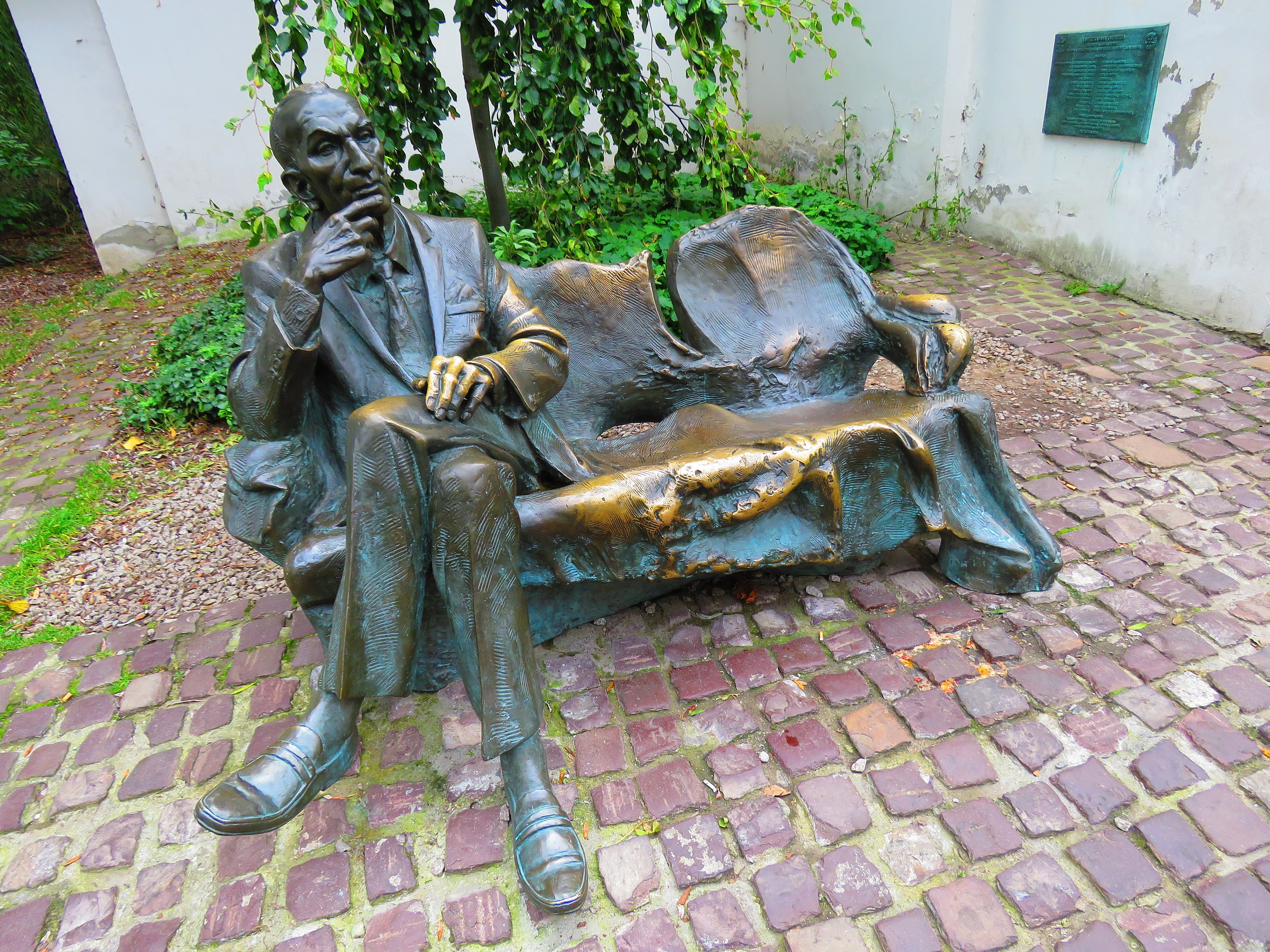 SOURCE: WIKIMEDIA COMMONS (WOJCIECH DOMAGAŁA)/ HTTPS://CREATIVECOMMONS.ORG/LICENSES/BY/3.0/DEED.EN
Jan Karski was born Jan Romuald Kozielewski in 1914, shortly before the outbreak of World War I. He was one of the eight children in a zealous Catholic family of a craftsman, who had lived in Lodz, Poland. Among his siblings was Marian, a police commissioner in Warsaw, member of the Polish Military Organization, and prisoner in KL Auschwitz, who proved to have had a great influence on young Jan. Karski obtained a master's degree in law and diplomatic studies from Lviv University and then enrolled into the Volhynia Cadet School of the Artillery Reserve. From both, he graduated as one of the best students. He joined the diplomatic service and took a job in the Polish foreign ministry.
After the war broke out, Karski was ordered to the 5th Regiment of Mounted Artillery in Oswiecim, Poland. After his battery was captured by German forces on September 23, 1939, Karski found himself in Soviet captivity. By concealing his name and rank, he thus escaped the fate that met most Polish officers, who were mass-murdered in Katyn. Thanks to the prisoner exchange between the Third Reich and the USSR, he eventually made his way to Warsaw in December 1939.
In Warsaw, he had a clandestine meeting with Marian Kozielewski, his elder brother and a state police commissioner in Warsaw, which directly led to Karski's joining the Polish Underground. On his first-ever mission, Karski traveled to the territories incorporated into the Third Reich and the USSR. With some help from a Yugoslav diplomat, he handed in a report both his brother and him had written while on that trip. In January 1940, he traveled to Angers, France, where he joined General Sikorski's government-in-exile. His job was to report on the situation in the country, including the Nazi extermination of Jews. With his capacity to speak different languages, analytical talent, and excellent photographic memory, Karski made the best impression in Angers. He was appointed a courier between the government-in-exile and the resistance movement at home.
Once back in Poland, Karski held many meetings with top Underground figures and returned to France. Yet he was arrested in Slovakia in June 1940 while on his second mission. After being tortured by the Gestapo, Karski tried to slit his wrists, but eventually he was resuscitated. He was transferred to the hospital, from which he was smuggled out with the help of the Polish Underground. After a brief period of recovery, Karski returned to working for the underground back in 1941. His job was to analyze press articles and listen to foreign radio outlets.
In 1942, the Polish Government Delegate's Office at Home and the Political Consultative Committee, and the Commander-in-Chief of the Home Army again entrusted him with the task of contacting the government-in-exile. In London, Karski's mission as a courier was to report on the situation in Poland and its many political factions; he also smuggled a microfilm hidden in the keys. He represented some organizations, including the Front for a Reborn Poland, a clandestine movement led by Zofia Kossak, perhaps also as its member. But his best-known mission was to spread the word––both in Poland and Western states–– about the Holocaust.
To gather evidence, Karski met Bund activist Leon Feiner who smuggled him twice into Warsaw's Jewish Ghetto to witness its horrors. Karski subsequently posed as a Ukrainian guard at the Izbica transit camp. He recalled these shocking images many years later.
He also spoke to British Foreign Secretary Anthony Eden, other British officials, and journalists, giving a detailed account of the Jewish Holocaust. Karski's testimony influenced Arthur Koestler, a renowned BBC journalist, who made a broadcast for the BBC about the tragedy of Polish Jews. More importantly, the Allies made a statement condemning the Holocaust, in which they pledge to bring the perpetrators to justice.
Karski also traveled to the United States, where in July 1943 he met with President Franklin D. Roosevelt and other prominent U.S. officials in the White House. In a 20-minute version of his report Karski would deliver to any officials he had met, he spoke about the Jewish Holocaust for some five minutes. Sadly enough, his message fell on deaf ears and many of his interlocutors either seemed indifferent or disbelieved his account. Roosevelt asked no questions about the Jews. "I am unable to believe in what I have just heard, in all the things that you have just told me," Supreme Court Justice Felix Frankfurter reacted to Karski's account.
Upon his return from the United States, the London-based government-in-exile prevented Karski from traveling to Poland and refused to deploy him in the Polish Armed Forces in western Europe. He again made his way to the United States, where he wrote his best-selling memoir, The Story of Secret State. Upon publication, the book sold 400,000 copies. Karski could then conduct an extensive speaking tour on the Holocaust and the Polish Underground, which made him financially secure.
After the war, Karski completed a doctorate and taught for decades at Georgetown University. In 1985 Karski published The Great Powers and Poland, 1919-1945: From Versailles to Yalta, considered his most insightful political analysis. He also worked for the U.S. Department of State, the FBI, the Pentagon, and the CIA. He married Pola Nireńska, a Polish-Jewish dancer and choreographer. For many years Karski did not speak publicly about his wartime missions until 1985 when he was featured in Claude Lanzmann's film Shoah.
In 1982, Yad Vashem recognized Jan Karski as Righteous Among the Nations and in 1994, Karski was made an honorary citizen of Israel and Lodz, his hometown. In 1995, Lech Walesa, former president of Poland, awarded Karski with the Order of the White Eagle, the highest Polish civil decoration. In 2012, Barack Obama, then-president of the United States, granted him posthumously the country's highest civilian honor, the Presidential Medal of Freedom.
Support Us
If content prepared by Warsaw Institute team is useful for you, please support our actions. Donations from private persons are necessary for the continuation of our mission.
All texts published by the Warsaw Institute Foundation may be disseminated on the condition that their origin is credited. Images may not be used without permission.