Ingushetia's Head Quits Amid Kadyrov Deal and Crisis
The head of the Russian region of Ingushetia Yunus-bek Yevkurov has announced his intention to step down. But it is not known whether his resignation will help alleviate tensions sparked by an unfavorable border agreement with the neighboring region of Chechnya. What happened in the republic got out of the control, and Russian federal siloviki even came to the region after some representatives of the local uniformed services had refused to use force against protestors. But now the question is what direction Moscow will be likely to follow, opting for either keeping pace with and even tightening the repression or mitigating the political course in a bid to change the accord with Chechnya. And Yevkurov's successor as Ingushetia's next governor may be the answer to this problem. However, what is certain is that modifying the deal with Chechnya may prompt an uneasy task as the head of the republic, Ramzan Kadyrov, enjoys strong support from the Kremlin.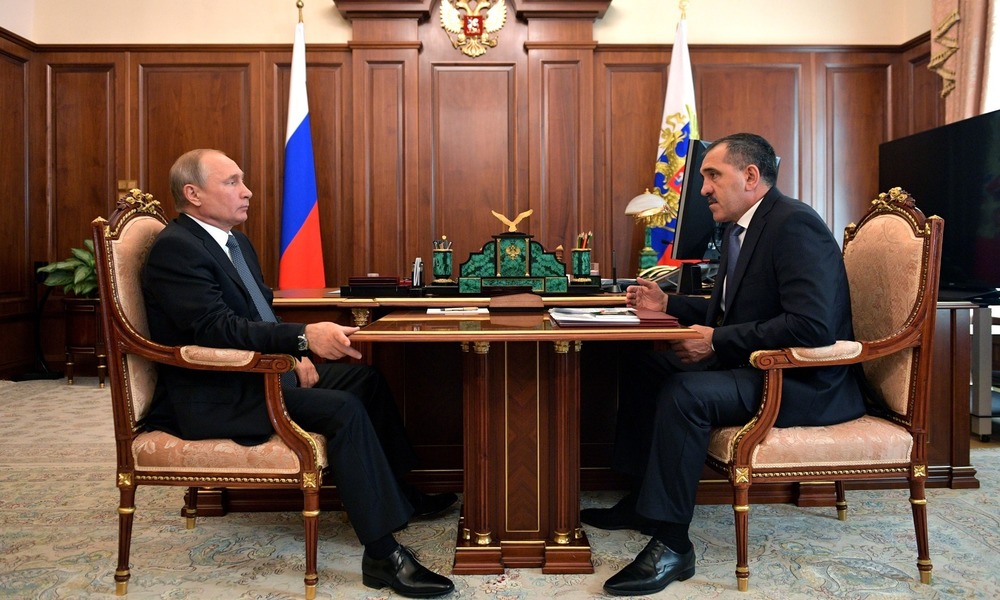 SOURCE: KREMLIN.RU
On June 24, the head of Ingushetia announced his resignation in a televised address broadcast by a Republican TV channel, officially because of dissociation of the region's authorities and the public.
The beginning of his years-long authority over the republic was sealed by a deal he had signed back on September 26, 2018, with Chechen president Ramzan Kadyrov on delineating the Ingush-Chechen border that had not been formally established since the dissolution of the Soviet Union. The document provided for swapping territories but experts have argued that Ingushetia gave up 26 times more land than Chechnya. After information about the accord became public, Ingushetia was shaken by mass protests no one had ever before seen since the establishment of the Russian Federation. Also, among those who spoke out against Yevkurov were the council of elders of Ingush clans and Muslim priests. Mass rallies and clashes with the police were followed up by further repressions, including searches and detainments of activists.
Support Us
If content prepared by Warsaw Institute team is useful for you, please support our actions. Donations from private persons are necessary for the continuation of our mission.
Yunus-bek Yevkurov had run Ingushetia since 2008. In September 2018, he was re-elected by the republic's legislative assembly to perform the function of the head of Ingushetia until 2023. He used to be a professional military man and to serve in airborne forces. Back in 1999, he was one of the commanders in charge of the operation of transferring the battalion of Russian paratroopers from Bosnia and Herzegovina to the airport in Pristina, Kosovo. This adventuresome operation had, however, ended in embarrassment for Russia. Yevkurov later served as the deputy chief of staff of the Volga–Ural Military District, which was his last high-ranking position held in the military.
All texts (expect images) published by the Warsaw Institute Foundation may be disseminated on condition that their origin is stated.