Gas Transit Through Ukraine
Russia enhanced its position in negotiations concerning a possible prolongation of gas transit through Ukraine to European markets. This time, Gazprom used its partners from Hungary and political satellites in Kiev. The message from both meetings, which took place the same day, is clear: Gazprom is preparing for gas export to Europe, bypassing Ukraine, yet at the beginning of 2020. Taking into consideration the infrastructural capabilities, it is rather PR than a real threat. However, it can be considered as preparing a safe ground in Europe in case of a gas conflict with Kiev.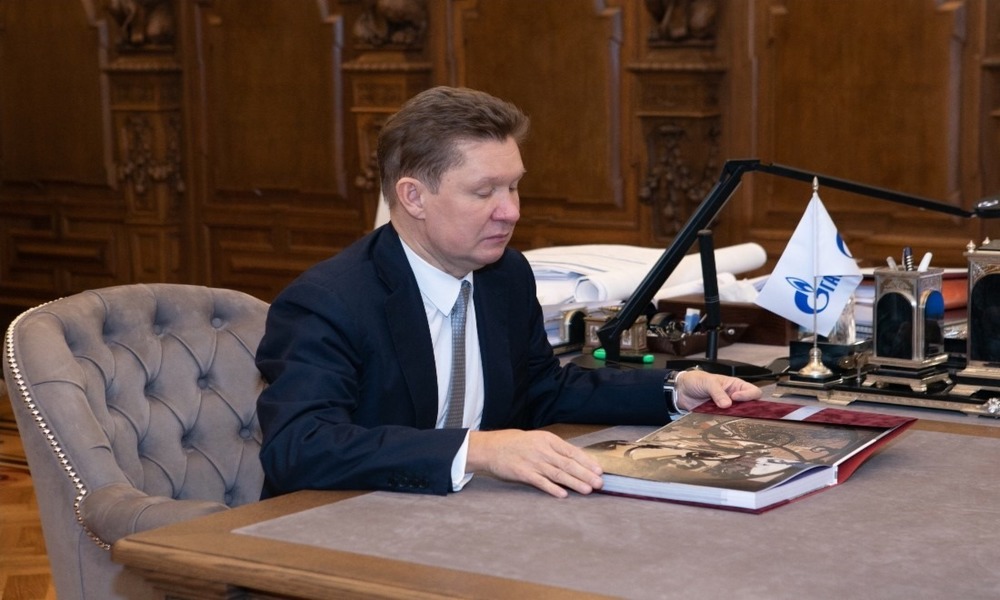 SOURCE: GAZPROM.RU
CEO of Naftogaz Andriy Kobolyev claims that Gazprom has already started informing its contractors about ceasing transit through Ukraine with the beginning of 2020. Earlier, authorities of Bulgaria informed about such writing: Gazprom Export was supposed to inform Sofia about plans of ceasing gas transit via the Trans Balkan Pipeline from Ukraine to Turkey. But at that time Gazprom denied it.
However, on March 22, Minister of Foreign Affairs of Hungary Péter Szijjártó after talks with CEO of Gazprom Alexey Miller in Moscow announced that gas supplies to Hungary in 2020 would be provided even if Russia and Ukraine did not reach an agreement on transit of this raw material. Gazprom promised Hungarians the supply of the raw material through Austria, which means the supply through Nord Stream. But this is rather unlikely because, in the case of a great demand for gas (e.g. severe winter), gas transported through Nord Stream will not be enough for all customers – this, of course, concerns a situation in which there will be no transit through Ukraine. Szijjártó also said that when it comes to long-term gas supplies, Hungary counted on a new pipeline from the south (Turkish Stream). The second option is storing up great reserves of gas by Hungary. According to Szijjártó, an agreement with Gazprom was made that this year Hungarians will buy gas to store up for the next year. Such a plan is confirmed by specific data. In 2018, Hungary increased the import of Russian gas by 9.3 percent – to 7.6 billion cubic metres. And it is still rising. From January 1 to March 20, 2019, Gazprom supplied 1.3 billion cubic metres of gas to Hungary – this is 12.1 percent more than in the corresponding period in 2018.
The declaration of Hungary weakens the negotiation position of Naftogaz in talks about prolonging gas transit through Ukraine because now, Gazprom can say that it will provide the raw material to particular countries which now are receiving gas via Ukraine anyway. A candidate for the President of Ukraine Yuri Boyko and the chairman of the political council of the political party For life, Viktor Medvedchuk visited Moscow the same day as head of the Hungarian diplomacy. They met PM Dmitry Medvedev and CEO of Gazprom Alexey Miller. Talks concerned the transit situation. Russians presented Ukrainian guests with their proposals: maintenance of gas transit through Ukraine after 2019 by establishing a Russian-Ukrainian consortium and a new contract on gas supplies to Ukraine (for several years Naftogaz has not been buying the raw material from Gazprom).
The transit contract between Naftogaz and Gazprom is due to end on December 31, 2019. It is known, however, that neither Turkish Stream, nor Nord Stream 2 will be finished until that day. Declarations after meetings with Szijjártó, Boyko and Medvedchuk are more of political than business nature. There is much bluffing. Russia cannot entirely resign from transit through Ukraine if it wants to at least maintain (and declarations point to an increase) gas export to Europe. Besides, if Russia ceases gas transport through Ukraine, it will not reach Moldova and Transnistria. And as long as Chisinau can count on the help from Romania, separatists from Transnistria do not have such an option; and this is a highly industrial region, dependent on gas. What is the reason for threatening with ceasing gas transit? This is about weakening the negotiation position of Kiev and about preparing the European public opinion for a new version of gas conflict between Russia and Ukraine – an attempt of making Kiev guilty of possible problems with gas supplies to European markets.
All texts published by the Warsaw Institute Foundation may be disseminated on the condition that their origin is credited. Images may not be used without permission.